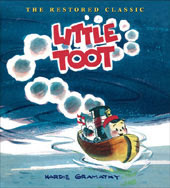 Little Toot is being celebrated this year because it is the 100th birthday of author/illustrator Hardie Gramatky. See additional programming ideas.
Young readers are invited to create a watercolor picture of Little Toot; this reflects the medium Hardie Gramatky used.
They may use watercolor paints/markers/crayons to create their picture.
To enter, contestants must create an illustration featuring a tugboat. Librarians will choose one entry to submit in each of two age categories: five and under and six to 10. Entries will be judged according to originality and creativity. The final product must be the child's own original work.
One Grand Prize winner and three runners-up will be chosen in each of the two age categories: five and under and six to 10.
All entries must be submitted with: librarian's name; title; organization name; address; city, state, zip code; email; phone number; name and age of child entering (first name only).
The libraries that are Grand Prize winners in each age category will each receive a framed giclée print of an illustration from the book, Little Toot, for the library and a copy of the newly restored classic edition of Little Toot, autographed by Linda Gramatky Smith, to give to the child whose art has won. Three libraries chosen as runners-up in each age category will each receive two autographed copies of Little Toot—one copy for the library and one copy for the child whose work has won.
Deadline for entries is November 1st. All entries must be sent in a .jpg format to: www.littletoot.org/contest.
Each participating library will receive an e-mail message with a printable certificate that can be given to all of the children who entered from the library.
Winners will be notified by Nov. 8th. Winning artwork will be posted at www.littletoot.org. By accepting a prize, winning libraries grant Web host, Linda Gramatky Smith, the right to use the library's name, show an image of the winning piece of art, and list the first name and age of the artist who submitted the entry for promotional purposes without further compensation or permission.