The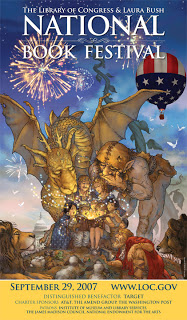 2007 National Book Festival, organized and sponsored by the Library of Congress and hosted by First Lady Laura Bush, was held Sept. 29 on the National Mall in Washington, D.C. I had the honor of speaking about my new YA Gothic fantasy, Tantalize.
Featured authors and titles also included: Jennifer L. Holm; María Celeste Arrarás, The Magic Cane; Ashley Bryan/Jan Spivey Gilchrist, My America; Carmen Agra Deedy, Martina the Beautiful Cockroach: A Cuban Folktale; Mercer Mayer, The Bravest Knight and There's a Nightmare in My Closet; Megan McDonald, Judy Moody & Stink: The Holly Joliday; Judy Schachner, Skippyjon Jones and the Big Bones; Rosemary Wells, Red Moon at Sharpsburg and Max's ABCs; David Wiesner, Flotsam; Jacqueline Wilson, Candyfloss; M.T. Anderson, The Astonishing Life of Octavian Nothing, Traitor to the Nation, Vol. 1; Holly Black, Ironside; E.L. Konigsburg, The Mysterious Edge of the Heroic World; Gail Carson Levine, Fairy Haven and the Quest for the Wand; Patricia MacLachlan, Edward's Eyes; Patricia McCormick, Sold; Shelia P. Moses, The Baptism; Gene Luen Yang, American Born Chinese.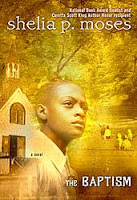 The event opened with the National Book Festival Gala at the Library of Congress on Sept. 28. Fellow NBF author M.T. "Tobin" Anderson was kind enough to accompany me (authors were not invited to bring guests). I wore a black shell and skirt with a shimmery silver shoulder wrap and black dress cowboy boots.
Meanwhile, my husband, author Greg Leitich Smith, attended the "Alternate Event," which was more casual, at United States Botanic Garden.
A reception in the great hall of the Library of Congress preceded opening ceremonies at Coolidge Auditorium. Speakers included benefactor Laysha Ward, vice president, community relations and Target foundation, followed by James H. Billington, the Librarian of Congress, and Laura Bush (see remarks and more), who partnered with the Library of Congress to launch the first National Book Festival in 2001. Speakers also included Sheila P. Moses, author of The Baptism (Simon & Schuster, 2007).
It was a big, bustling crowd, but sightings included Gene Luen Yang, Jennifer L. Holm, Holly Black, Professors Junko Yokota and William Teale, and ALA president Loriene Roy.
Assigned seating placed me at a table hosted by Stephen L. Johnson, the Administrator of the Environmental Protection Agency. He was an upbeat, gracious host and introduced me to Henry Merritt "Hank" Paulson Jr., the Treasury Secretary, and Mary A. Peters, the Secretary of Transportation. The tables were decorated with floral centerpieces featuring pale blush roses with blue begonias and pale pink lilies.
National Book Festival Gala Menu
***
Gravlax with fall salad
Whitehall Lane Sauvignon Blanc 2005
***
Fillet of Beef with Mustard-Cognac Reduction
haricots verts and turned carrots
double cream celery root and Yukon gold potato puree
Sebastiani Cabernet Sauvignon 2004
***
Chocolate Corinthian Glace
demitasse cafe and tea
Upon exiting, we received a keepsake bookmark and National Book Festival bookplates.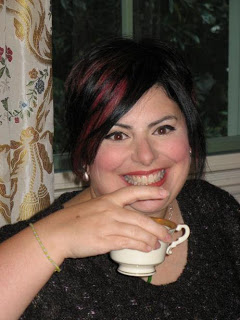 The following morning, I enjoyed breakfast at the White House with Holly Black (see photo alongside), Jennifer L. Holm, and M.T. Anderson (see photo below) as well as our respective and charming escorts.
A written menu wasn't provided, but essentially, we were served a high-end breakfast buffet (see below). I selected a salmon roll, cheese-and-tomato roll, and mini croissant with orange juice.
Our centerpiece was another floral arrangement, this one featuring white, gold, and peach roses with green berries and hydrangea in a small silver vase.
I wore matching black slacks and a shell with a brown jacket and brown dress cowboy boots.

Afterward, we took a trolley bus to the National Mall. The going was rather slow due to various intersecting streets having been blocked off for a marathon.
A cool morning melted into a warm, dusty afternoon, though festival authors could take refuge and refuel in a private tent with its own restrooms and snacks (for lunch, I had a turkey wrap in a spinach tortilla). My author escort was Dr. Frederick J. Augustyn, Jr., of the Library of Congress.
Highlights included sightings/chats with a few alumni of the Vermont College MFA program in Writing for Children and Young Adults, including one of my own former advisees, Glenda Carlile of the Oklahoma Center for the Book, author Michelle Meadows, Cathi Dunn MacRae (of VOYA fame), Greg's former Little Brown editor Amy (Hsu) Lin, and a number of personal pals, whose support meant a great deal.
Thank you to Mrs. Bush, Dr. Billington, the Library of Congress, Candlewick Press, Dr. Augustyn, Greg Leitich Smith, and all those who turned out to celebrate reading!
Cynsational Notes
See Greg's three-part report (with additional photos and information): I, II, III.
Greg and I enjoyed visiting DC for a couple of days prior to the festival. See my informal report at Spookycyn.
2007 marked my second time at the National Book Festival. I presented Rain Is Not My Indian Name (HarperCollins, 2001) at the 2002 National Book Festival.