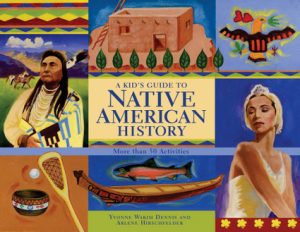 A KID'S GUIDE TO NATIVE AMERICAN HISTORY: MORE THAN 50 ACTIVITIES by Yvonne Wakim Dennis (Cherokee), and Arlene Hirschfelder (Chicago Review Press, 2009). From the promotional copy:
"Hands-on activities, games, and crafts introduce children to the diversity of Native American cultures and teach them about the people, experiences, and events that have helped shape America, past and present.

"Nine geographical areas cover a variety of communities like the Mohawk in the Northeast, Ojibway in the Midwest, Shoshone in the Great Basin, Apache in the Southwest, Yupik in Alaska, and Native Hawaiians, among others. Lives of historical and contemporary notable individuals like Chief Joseph and Maria Tallchief are featured, and the book is packed with a variety of topics like first encounters with Europeans, Indian removal, Mohawk sky walkers, and Navajo code talkers.

"Readers travel Native America through activities that highlight the arts, games, food, clothing, and unique celebrations, language, and life ways of various nations. Kids can make Haudensaunee corn husk dolls, play Washoe stone jacks, design Inupiat sun goggles, or create a Hawaiian Ma'o-hauhele bag. A time line, glossary, and recommendations for Web sites, books, movies, and museums round out this multicultural guide."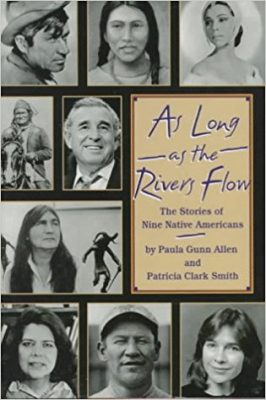 AS LONG AS THE RIVERS FLOW: THE STORIES OF NINE NATIVE AMERICANS by Paula Gunn Allen (Laguna Pueblo/Sioux) and Patricia Clark Smith (Micmac) (Scholastic, 1996). Brief but well-done biographies of Weetamoo, Geronimo, Will Rogers, Jim Thorpe, Maria Tallchief, Senator Ben Nighthorse Campbell, Wilma Pearl Mankiller, Michael Naranjo, and Louise Erdrich. Notable both for the quality of the writing and presentation of information as well as the diversity of figures, past and present, male and female, and the variety of their pursuits. Ages 12-up.
BLACK INDIANS: A HIDDEN HERITAGE by William Loren Katz (Atheneum, 1986). A thorough but clear look at a critical and traditionally (by mainstream historians) discounted population withinn Indian Country. Ages 10-up.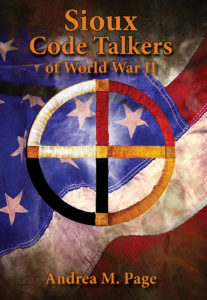 CODE TALKERS OF WORLD WAR II by Andrea M. Page (Standing Rock Sioux) (Pelican, 2017). In World War II code making and code breaking reached a feverish peak. The fabled Enigma cipher had been broken, and all sides were looking for a secure, reliable means of communication. Many have heard of the role of the Navajo Code Talkers, but less well known are the Sioux Code Talkers, who used the Lakota, Dakota, and Nakota dialects. Told by the great-niece of John Bear King, who served in the First Cavalry as a Sioux Code Talker, this informative title explores not only the importance of the indigenous peoples to the war but also their culture and values. Follow the seven Sioux who put aside a long history of prejudice against their people and joined the fight against Japan. Ages 10-up. More on this title from Cynsations.
MY HEROES, MY PEOPLE: AFRICAN AMERICANS AND NATIVE AMERICANS IN THE WEST portraits by Morgan Monceaux (Muscogee (Creek)-Seminole), text by Morgan Monceaux (Muscogee (Creek)-Seminole) and Ruth Katcher (Frances Foster, 1999). A collection of biography sketches that features stylized, interpretative portraits and historical notes. Highlights well-and-lesser known figures of interest. Ages 12-up.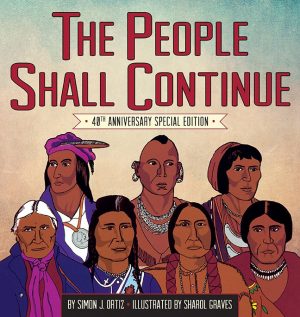 THE PEOPLE SHALL CONTINUE by Simon Ortiz (Acoma), illustrated by Sharol Graves (Children's Book Press, 1988). For all of its poetry and brevity, this oral chronicle of the history of Native peoples to present day is honest, inspiring, and surprisingly complete. Ages 5-up. Look for the 40th anniversary edition from Lee & Low (2017).