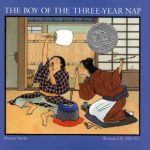 This bibliography features Japanese heritage literature for children and young adults. The intent is not to be comprehensive but rather to highlight.
THE BOY OF THE THREE-YEAR NAP by Dianne Snyder, illustrated by Allen Say (Houghton Mifflin, 1988). Taro is smart but lazy. He won't help his own mother around the house. He sets in motion a plan to have all his wishes fulfilled without working, but his mother has plans for him, too. Ages 4-up.
THE FRIENDS by Kazumi Yumoto, translated by Cathy Hirano (FSG, 1996). Kiyama and his friends, Kawabe and Yamashita, become fascinated by the subject of death and study an old man in their neighborhood. Ages 12-up.

HIROSHIMA: A NOVELLA by Laurence Yep (Scholastic, 1995). The story of Sachi, caught in the midst of the bombing of her city. The afterword and list of sources make this an especially complete account. Ages 7-up.
I LIVE IN TOKYO by Mari Takabayashi (Houghton Mifflin, 2001). In a clear, child's voice, young readers are treated to an illustrated tour of one of the great cities. Ages 3-up.
INK AND ASHES by Valynne E. Maetani (Tu Books, 2015). High school junior Claire Tanaka never really knew her father, and loves her stepfather, but then she discovers that the two actually knew each other.  A bit more sleuthing reveals that her father had been in the yakuza. And they neither forgive nor forget. Naturally enough, what follows puts Claire and her friends and family in danger of extreme bodily harm…INK AND ASHES is a rarity: a compelling suspense-thriller with fantastic characterization of both the primary and secondary characters. Ages 12-up. Recommendation by Greg Leitich Smith.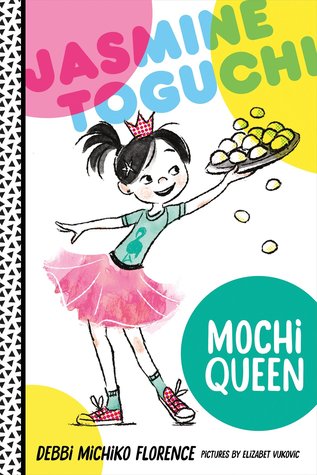 JASMINE TOGUCHI, MOCHI QUEEN (JASMINE TOGUCHI, Book 1) by Debbie Michiko Florence (FSG, 2017). At age eight, Jasmine Toguchi can't wait to make mochi for the New Year's celebration. But it's a rule in her family that you can't until you're ten! Maybe, though, she can help pound the rice. But how will she lift the heavy wooden mallet? Told in a fresh, fun voice, JASMINE TOGUCHI will engage readers with wit and heart. Ages 6-up. Look for more books in the series. Recommendation by Greg Leitich Smith.
LITTLE SISTER by Kara Dalkey (Harcourt, 1996). Set in twelfth century Japan, Mitsuko has grown up the sheltered daughter. But when her family falls victim to raiders, she bravely journeys to the land of the dead. Ages 7-up.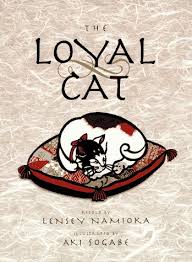 THE LOYAL CAT by Lensey Namioka, illustrated by Aki Sogabe (Browndeer, 1995). The Loyal Cat was recognized with a Golden Kite Award by the Society of Children's Book Writers and Illustrators. Ages 5-up.

THE MAGIC FAN by Keith Baker (Harcourt, 1989). The story of Yoshi, who loves to build, and how he realizes he can rebuild the village, even without the magic fan. A uniquely designed picture book with pages cut like fans. Ages 4-up.

MOONSHADOW: RISE OF THE NINJA by Simon Higgins (Little, Brown, 2010). In this historical fantasy based on medieval Japan, the orphan Moonshadow has been raised as a ninja warrior spy by the members of the Grey Light Order to serve the shogun and preserve the peace against fractious warlords. In addition to being a master of stealth and swordsmanship, Moonshadow possesses the "eye of the beast," the ability to see through the eyes of animals.  Now, on his first mission, he must put all his skills to the test as he goes in alone to the the castle of a rebel warlord who wants to overthrow the shogunate… A thoroughly fun, action-packed yarn. Ages 10-up. Recommendation by Greg Leitich Smith.
ONE BIRD by Kyoko Mori (Henry Holt, 1995). Set in 1975, Megumi's work caring for birds helps her come to terms with her mother's decision to leave her husband and family. Ages 12-up.

PASSAGE TO FREEDOM: THE SUGIHARA STORY by Ken Mochizuki, illustrated by Dom Lee, with an afterword by Hiroki Sugihara (Lee & Low, 1997). A fictionalized account about the Japanese consul to Lithuania, who defied the refusals of his government and saved the lives of thousands of Jewish refugees. Told from the point of his son, Hiroki Sugihara, at age five. Ages 5-up.
SHIZUKO'S DAUGHTER by Kyoki Mori (Holt, 1993). When her mother commits suicide, Yuki struggles against her loneliness and their shared qualities that challenge cultural expectations. Ages 12-up.

TSUBU THE LITTLE SNAIL by Carol Ann Williams, illustrated by Tatsuro Kiuchi (Simon & Schuster, 1995). A baby snail given by the Water God to a rice farmer and his wife to raise as their son. The snail goes on to marry a kind-hearted young woman, and they all are rewarded for their patience, respect, and love. Note at the back gives history of the author's relationship to this story. Ages 4-up.

WABI SABI by Mark Reibstein, illustrated by Ed Young (Little Brown, 2008). "Wabi Sabi" is the Japanese concept of the beauty of impermanence. In WABI SABI, it's also the name of a cat driven to learn what his name means… Told in haiku and sparse prose, and illustrated in collage, WABI SABI beautifully explores the concept of wabi sabi and is an altogether lovely and elegant picture book. Ages 4-up. Recommendation by Greg Leitich Smith.