This bibliography features Japanese heritage literature for children and young adults. The intent is not to be comprehensive but rather to highlight.
GRANDFATHER'S JOURNEY by Allen Say (Houghton Mifflin, 1993). A study of Say's grandfather's life in Japan and the United States as well as his love and longing for both. Excellent companion book for Say's TEA WITH MILK. Ages 4-up.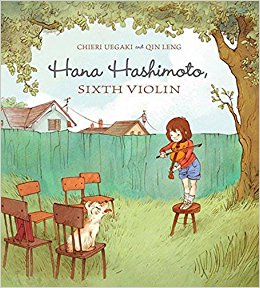 HANA HASHIMOTO, SIXTH VIOLIN by Chieri Uegaki, illustrated by Qin Leng (Kids Can Press, 2014). When Hana announces she's going to play violin at the talent show, no one takes her seriously. After all, she's only had three lessons and is nothing like her grandfather, who played violin for the Kyoto Symphony. But she's determined to practice and present something just a little fun, although less than Mozart. Charming illustrations and prose accompany this ode to thinking outside the box. Ages 5-up. Recommendation by Greg Leitich Smith.
HOW MY PARENTS LEARNED TO EAT by Ina R. Friedman, illustrated by Allen Say (Houghton Mifflin, 1984). In this historical story of love and respect, the child narrator tells the story of how her Japanese mother and American sailor father learned the ways of eating in each other's cultures in an effort to better fit together. Ages 4-up.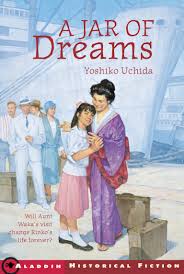 A JAR OF DREAMS by Yoshiko Uchida (Paper, Aladdin, 1993). Rinko wishes that she didn't stick out because of her Japanese-America heritage. She wants to be like everyone else. A visit from Aunt Waka and her Japanese lessons and ways changes Rinko's mind about who she is. Set during the depression in California. Ages 8-up.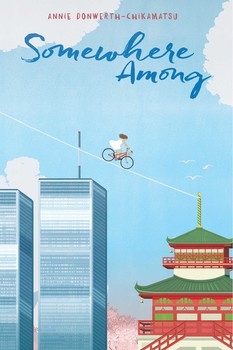 SOMEWHERE AMONG by Annie Donwerth-Chikamatsu (Atheneum, 2016). In this debut novel in verse, Ema travels with her mother to Japan, to stay with her paternal grandparents for the duration of her mother's pregnancy. Ema's grandparents are much more traditional than she is used to, and school is very different, and she longs for home. Then come the 9/11 terror attacks and they receive word that Ema's grandfather in the U.S. has fallen ill. Worried about her grandfather's health, and her mother, whose grief over 9/11 may affect the pregnancy, Ema must finally come to terms with her new life and relationships.  A fascinating, evocative read. Ages 9-up. Recommendation by Greg Leitich Smith.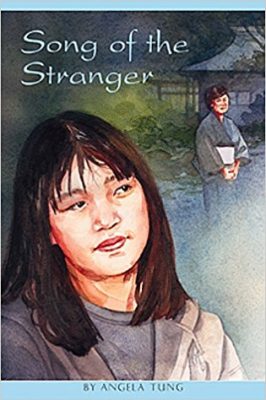 SONG OF THE STRANGER by Angela Tung (Roxbury, 1999). Karen Nomura, 13, is a talented young artist who thinks she knows "her Japanese self." What she doesn't know is how Obasan (Grandmother) from Hokkaido can be so unfriendly. The two don't know each other at the beginning of the story because Obasan was born and raised in California, went to the camps, and then moved to Japan. Now because of a death bed promise, Obasan takes Karen to Japan to learn more about her cultural heritage. But Karen doesn't want to go and is unhappy to be in Obasan's house in part because of Obasan's very negative attitude toward Karen's art. But perhaps there is a reason for Obasan's feelings and it traces all the way back to the United States and to WWII. Ages 9-up.

TEA WITH MILK by Allen Say (Houghton Mifflin, 1999). When May's parents move back to Japan because they are tired of being seen as foreigners, May finds herself feeling like a foreigner for the first time. She learns many customs and the language but eventually decides to move to the city and get a job. Will she find a love and a home with a like soul? Excellent companion book to Say's GRANDFATHER'S JOURNEY. Ages 4-up.
TREE OF CRANES by Allen Say (Houghton Mifflin, 1991). Told with quiet charm and dignity, the story of a mother who shares with her son in Japan a part of her American childhood: Christmas. Ages 4-up.
YOSHIKO AND THE FOREIGNER by Mimi Otey Little (FSG, 1996). The author shares a story of her family history, about how a Japanese young woman broke custom and defied caution to speak to a foreigner, changing both of their lives forever. Ages 4-up.