This bibliography features Japanese heritage literature for children and young adults. The intent is not to be comprehensive but rather to highlight.
ALLISON by Allen Say (Houghton Mifflin, 1997). When she tries on her kimono, Allison realizes that she looks more like Mei Mei, the doll she's always had, than she does either of her parents. She breaks some of her parents' things, and she says she doesn't belong to them. But by befriending a stray cat, Allison subtly comes to find there are many ways to create a family. Ages 4-up.

BLACK MIRROR by Nancy Werlin (Dial, 2001). Frances has always felt isolated at her New England prep school, but more so now that her brother has killed himself by overdosing on heroin. When Frances joins the social services charity her brother belonged to, she discovers that all is not as it seems, and realizes how little she really knew him. Ages 12-up.
THE BEST BAD THING by Yoshiko Uchida (McElderry, 1983). Rinko's mother asks her to spend one of her much-anticipated summer vacation helping out the challenging Mrs. Hata. Set in 1930s California. Ages 8-up.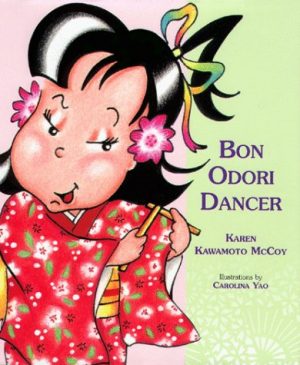 BON ODORI DANCER by Karen Kawaamoto McCoy, illustrated by Carolina Yao (Polychrome, 1998). Keiko wants to perform traditional Japanese dances at the Obon festival, but she's not naturally graceful. A friendship story with stylized art, notably including both black and brown haired Japanese American children. Ages 4-up.
CANDLE IN THE WIND by Maureen Wartski (Ballantine, 1995). When he approaches a house to ask to use the phone because his car has stalled, Harry Mizuno is shot by an elderly white man who claims he looked like an intruder. His sister Terri is left to try to help her family and navigate the subsequent chaos in her small Massachusetts town. Ages 14-up.
EMMA'S RUG by Allen Say (Houghton Mifflin, 1996). Emma has always had her rug and has also been recognized as a great artist. When the rug is washed, Emma feels it has lost its special-ness. Along with her art supplies, she throws the rug away. Ages 4-up.
HEROES by Ken Mochizuki, illustrated by Dom Lee (Lee & Low, 1995). Donnie's friends try to bully him into playing the enemy in their war games, but they don't know yet about the distinguished history of American military service in Donnie's family. Ages 5-up.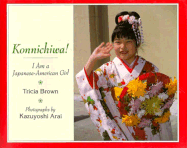 KONNICHIWA! I AM A JAPANESE-AMERICAN GIRL by Tricia Brown, illustrated by Kazuyoshi Arai (Henry Holt, 1995). This photoessay picture book focuses on the family of Lauren Kamiya in San Francisco, emphasizing ways in which they celebrate their Japanese heritage. Focus is on the Cherry Blossum Festival. Other cultural references include Japanese language, classical dance, origami, and calligraphy. Although a page featuring Lauren doing something not specifically of Japanese culture (like any other American kid) would've been a welcome addition to round out this book, it is nevertheless well photographed and a good introduction to the Japanese American community. Ages 4-up.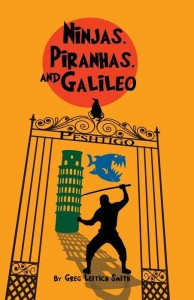 NINJAS, PIRANHAS, AND GALILEO by Greg Leitich Smith (Little Brown, 2003). From the flap copy: Elias, Shohei, and Honoria have always been a trio united against That Which Is The Peshtigo School. But suddenly it seems that understanding and sticking up for a best friend isn't as easy as it used to be. Elias, reluctant science fair participant, finds himself defying the authority of Mr. Ethan Eden, teacher king of chem lab. Shohei, all-around slacker, is approaching a showdown with his adoptive parents, who have decided that he needs to start "hearing" his ancestors. And Honoria, legal counsel extraordinaire, discovers that telling a best friend you like him, without actually telling him, is a lot harder than battling Goliath Reed or getting a piranha to become vegetarian. What three best friends find out about the Land of the Rising Sun, Pygocentrus nattereri, and Galileo's choice, among other things, makes for a hilarious and intelligent read filled with wit, wisdom, and a little bit of science. Ages 10-up. Read The Story Behind The Story from Greg Leitich Smith. Don't miss the companion book, TOFU AND T. REX (Little Brown, 2005).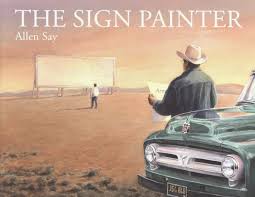 THE SIGN PAINTER by Allen Say (Houghton Mifflin, 2000). A young wanderer with dreams of becoming a painter takes a job as an assistant to a sign painter. The pair are hired to paint a series of billboards each featuring a depiction of the same woman and a single word, "Arrowstar." Where? The desert, where no one may ever see them. Why? And what will that discovery mean to the young man? These are answers worth finding out. Ages 4-up.
SUKI'S KIMONO by Chieri Uegaki, illustrated by Stepane Jorish (Kids Can, 2003). Suki loves the kimono her grandmother gave to her last summer and so she wears it to school. But Suki's sisters think she's being silly, and what about everyone in class? A wonderful celebration of a young girl with her own sense of style, of self. Charming! Ages 4-up.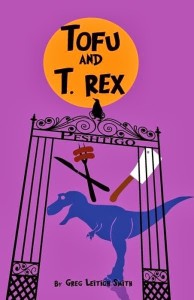 TOFU AND T. REX by Greg Leitich Smith (Little Brown, 2005). Vegan Frederika Murchison-Kowalski is back at the Peshtigo School. The bad news is that now Freddie has to live with her cousin, Hans-Peter, a diehard carnivore, and grandfather, who happens to own a butcher shop and sausage deli. Freddie and Hans-Peter are soon at odds with each other over bathroom sharing, dinner menus, and more. To complicate matters, Hans-Peter needs Freddie's insider knowledge to get accepted into the Peshtigo School himself. Hans Peter is Japanese-Polish-German American. Ages 10-up. Read The Story Behind The Story from Greg Leitich Smith. Don't miss the companion book, NINJAS, PIRANHAS, AND GALILEO.
TWO MRS. GIBSONS by Toyomi Igus, illustrated by Daryl Wells (Children's Book Press, 1995). Delightful celebration of a child's love for the two Mrs. Gibson's in her life, her Japanese American mother and her African-American grandmother. Ages 3-up.

WHALE TALK by Chris Crutcher (HarperCollins, 2001). Popular YA author Crutcher presents T.J. Jones (a.k.a. The Tao), a Japanese-African-European American whose biological mother abandoned him in large part due to the influence of drugs and whose white hippie parents are a treasure. T.J. takes on the school's outcasts as a cause, and he helps to form a swim team to give them an outlet, a safe place, and a forum to triumph on their own terms. Meanwhile T.J.'s father, plagued by guilt over a tragic accident, faces another bully. Dark, funny, sarcastic, thought-provoking. Ages 12-up.