This bibliography features children's and young adult books with Asian and Asian American characters (mostly anthologies) that were published in the United States. If you have any suggestions for additions, please let us know. This bibliography was compiled by Greg Leitich Smith.
anthologies
AMERICAN DRAGONS: TWENTY-FIVE ASIAN-AMERICAN VOICES edited by Laurence Yep (HarperCollins, 1993). Targeted at young adult readers, these stories will resonate with anyone who has ever struggled to find their place. Ages 12-up.
AMERICAN EYES: NEW ASIAN-AMERICAN SHORT STORIES FOR YOUNG ADULTS edited by Lori M. Carlson with an introduction by Cynthia Kadohata (Henry Holt, 1994). For a frank, refreshing discussion on literature by Asian Americans, read the introduction to this collection. Ages 12-up.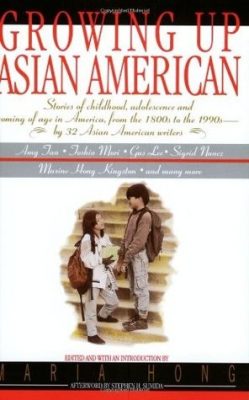 GROWING UP ASIAN AMERICAN: STORIES OF CHILDHOOD, ADOLESCENCE, AND COMING OF AGE IN AMERICA FROM THE 1800S TO THE 1990S BY THIRTY-TWO ASIAN AMERICAN WRITERS (Avon, 1993) edited and with an introduction by Maria Hong, including an afterword by Stephen H. Sumida. Features stories by such well-respected voices as Amy Tan, Toshio Mori, Gus Lee, and Maxine Hong Kingston. Ages 12-up.