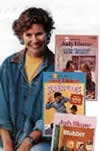 ARE YOU THERE GOD? IT'S ME MARGARET by Judy Blume (Bradbury Press, 1970). Reading this book is a rite of passage for most young teen girls, concerned like Margaret Simon about their breast sizes, when they'll have their first periods, and how they fit with God and the universe. Ages 8-up.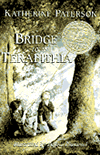 BRIDGE TO TERABITHIA by Katherine Paterson (HarperCollins, 1977). Jess Aarons plans to be the fastest boy in fifth grade, but then Leslie Burke moves next door and leaves him in the dust. The two grow into best friends until the day Leslie is lost to Jess forever. Perhaps the first time a book made me cry and in the best possible way. Ages 8-up.
FROM THE MIXED-UP FILES OF MRS. BASIL E. FRANKWEILER by E.L. Konigsburg (Dell, 1977). Run away with Claudia and her little brother to The Metropolitan Museum of Art in New York. I've never been there, but through this book it's more real to me than many places I've actually visited. Ages 9-up.
THE WITCH OF BLACKBIRD POND by Elizabeth George Speare (Houghton Mifflin, 1958). After the death of her father, Kit has no choice but to leave her home in the Caribbean to live with family in the colony of Connecticut. When she becomes friends with a Quaker woman, Kit is accused of being a witch. One of my favorite romantic happy endings. Ages 8-up.