Acceptance and Kindness
AFGHAN TALES: STORIES FROM RUSSIA'S VIETNAM by Oleg Yermakov, translated by Marc Romano (Morrow, 1993). Provides a kaleidoscopic view of the Afghan War and its effects on both those who actually participated in it and those who remained at home. A collection of stories written by a soldier who served a two year tour of duty in Afghanistan during the early 1980's. Ages 12-up.
THE BREADWINNER by Deborah Ellis (Groundwood, 2001). Based on a true story, this book is about 11-year old Parvana who lives with her family in a bombed out apartment building in Kabul in Afghanistan. When her father is arrested the family is left without a "breadwinner" so Parvana disguises herself as a boy so that she can provide food for her family. Ages 8-up.

ESCAPING TO AMERICA by Rosalyn Schanzer (HarperCollins, 2000). This book introduces young readers to the author's grandparents and their children as they journey from their native Poland to the United States, facing oppression, violence, anti-semitism, illness, and uncertainty along the way. The text is clean, clear, and immediate–as though Schanzer speaks to readers gathered at her knee. The illustrations simultaneously convey the period and yet, because of the design, almost offer the feel of a film. Ages 8-up.

HABIBI by Naomi Nye (Simon & Schuster, 1997). This novel is about a fourteen-year-old Arab-American girl's move from St. Louis to Jerusalem and her experiences with prejudice and religious intolerance that stem from her budding romance with a Jewish boy. Ages 12-up. Also see SITTIE'S SECRETS.
JERUSALEM SKY: STARS, CROSSES, AND CRESCENTS by Mark Podwal (Doubleday, 2005). Celebrating faith and the city itself, poetic prose and vivid paintings evoke peace and hope. Respectful and inclusive, the author/illustrator acknowledges that "no place has been fought over more" and suggests, "[p]erhaps possessing Jerusalem is like trying to own the sky." Yet the upraised prayers to one God suggest a belief in a brighter future. A miraculous book that more than meets its great challenge of expressing both the sacred and humanity's potential. Ages 3-up.
GANDHI by Demi (McElderry Books, 2001). An inspiring picture book about the tireless crusader for peace through nonviolence. Ages 7-10.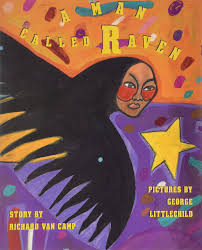 A MAN CALLED RAVEN by Richard Van Camp, illustrated by George Littlechild (Children's Book Press, 1997). Chris and Toby go after a raven with their hockey sticks, but a mysterious man enters their lives and his story changes their view. Ages 5-up.
PICTURES, 1918 by Jeanette Ingold (Harcourt, 1998). Asia, 15, grieves when someone burns down her family's chicken house, killing her pet rabbit. Her love of photography and new appreciation of loss leads her to buy a camera and use it to record those close to her. Meanwhile, she finds romance and discovers who burned down the chicken house. Set in World War I Texas. Touches on anti-German American sentiment. Ages 10-up.
RULER OF THE COURTYARD by Rukhsana Khan, illustrated by R. Gregory Christie (Viking, 2003). Saba is afraid of the chickens in her courtyard, but she must cross it to get to the bathhouse–only to find a snake! A story about dealing with fear. Ages 4-up.
SCARED STIFF by Katie Davis (Harcourt, 2000). A girl learns to cope with everyday fears. This book is not about "violence/tolerance" per se, but rather one of the resulting emotions. Ages 4-up.

THE STORYTELLER'S BEADS by Jane Kurtz (Harcourt, 1998). Two very different Ethiopian refugee girls, Sahay of the Kemant people and Rahel who is a blind Beta-Israeli, reconcile their differences and help one another with compassion, a flute, a small bag of Ethiopian soil, and the stories connected to the beads of Rahel's grandmother's necklace. ges 8-up.
THE TEENY TINY GHOST by Kay Winters, illustrated by Lynn Munsinger (HarperCollins, 1997). A sweet story of a timid ghost. This book is not about "violence/tolerance" per se, but rather one of the resulting emotions. Ages 4-up.
WALKER'S CROSSING by Phyllis Reynolds Naylor (Jean Karl, 2001). Set in Wyoming, a young boy tries to come to terms with his own beliefs when his older brother becomes involved in a militia group that believes that it must defend itself against the US government, immigrants, and racial minorities. Ages 12-up.
Kindness Generally
CARAVAN by McKay Lawrence, Jr., illustrated by Darryl Ligasan (Lee & Low, 1995). Accompanying his father on a caravan trading trip through the mountains of Afghanistan, ten-year-old Jura carefully tends the camels, observes the beauty of nature, and admires his father's winning commerce skills. Sparkles with the warmth of family and cultural traditions of the Kirghiz of Afghanistan. Ages 4-up.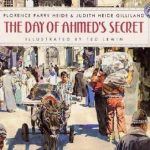 THE DAY OF AHMED'S SECRET by Florence Parry Heide, illustrated by Ted Lewin (Mulberry, 1995). Featuring the universal experience of learning to write one's name. Publication information is for paperback edition.
MUSKRAT WILL BE SWIMMING by Cheryl Savageau, illustrated by Robert Hynes, featuring a Seneca traditional story retold by Joseph Bruchac (Northland, 1996). When a young Native girl is called "Lake Rat," she is comforted by Grampa who both reveals how he was once called "Frog" because of his French-Indian heritage and shows how those intended insults are signs that the bullies don't appreciate the joy of the frog and wonder of the lake. Ages 4-up.
MUSLIM CHILD by Rukhsana Khan (Whitman, 2002). A collection of short stories, poems and prose that examines the world through the eyes of Muslim children. Written especially for North American children, both Muslim and non-Muslim, each story represents a tenet of Islam in a way that is both entertaining and enlightening. Non-fiction sidebars help to explain and amplify the Islamic references. Some of the stories are humorous, others are touching, but all are compelling stories of children learning and growing withing their culture. Ages 4-up.
NECESSARY ROUGHNESS by Marie G. Lee (HarperCollins, 1996). Chang Jung Kim encounters racism and struggles to fit in after moving to a small town in Minnesota from Los Angeles. Ages 12-up.

THE OTHER SIDE by Jacqueline Woodson, illustrated by E.B. Lewis (G.P. Putnam's, 2001). The story of two girls, one white and one African-American, who don't let a fence stand between their friendship. Yet this is not a didactic book. It's simple and beautiful and real and inspiring. It's one of those books you read and think every child should have that same experience. Ages 4-up.
IN THE SHADE OF THE NISPERO TREE by Carmen T. Bernier-Grand (Orchard, 1999). Teresa, 9, is caught between the mother who wants her to attend an exclusive school as a member of high society, and her father, who doesn't want her to become a snob. Because of her own lies, she runs from her old life, following her mother's wishes, and losing the friend who is dearest to her. This poignant novel, set in 1960s Puerto Rico, is at once the story of one very realized girl and an exploration of the complexity of class and ethnicity. Ages 7-up.
THE SILLY CHICKEN by Idries Shah, illustrated by Jeff Jackson (Hoopoe Books, 2000). Afghan author Shah's presentation of a centuries-old tale from Afghanistan that is also told throughout Central Asia and the Middle East. A talking chicken causes havoc among the people who believe everything he says. Ages 3-8.
SWIMMY by Leo Lionni (Knopf, 1991). Swimmy's school of fish is gone. Now how will he protect his new school? Ages 4-8.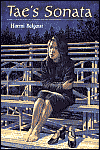 TAE'S SONATA by Haemi Balgassi (Clarion, 1997). Tae has to sort out her feelings when she is assigned to do a school report on South Korea with a popular guy. An interracial romance and a sweet look at Korean-American family life that also deals with what it's like to feel spotlighted for your race. Ages 10-up.