ALL THE SECRETS OF THE WORLD by Jane Yolen, illustrated by Leslie Baker (Little, Brown, 1993). A young girl's father leaves for war. Ages 4-up. This title is out of print in trade hardcover but still available used, in library edition, and in paperback.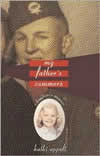 MY FATHER'S SUMMERS: A DAUGHTER'S MEMOIR by Kathi Appelt (Henry Holt, 2004). Heartfelt and hopeful, Appelt describes the impact of her father's departure, her first kiss, and a surprisingly close connection to a defining day in American history. Ages 12-up. Recommendation by Anne Bustard. 
MY CHILDHOOD UNDER FIRE: A SARAJEVO DIARY by Nadja Halilbegovich (Kids Can, 2006). This publication of the diary Nadja began at age 12, continuing through the seige of Sarajevo (1992-1995), offers poignant insights into the life of a tween/teen during wartime. "Looking Back" sections are interspersed to offer a broader perspective, and Nadja's experience is further illuminated by black-and-white photos. It's an affecting, timely title, especially recommended to mother-daughter book clubs. Ages 10-up.
PATROL: AN AMERICAN SOLDIER IN VIETNAM by Walter Dean Myers, illustrated by Ann Grifalconi (HarperTrophy, 2002). A poetic, hearwrenching look at one soldier's mission. Emotionally evocative, sufficiently sophisticated, appropriately accessible. Illustrations are in collage. Ages 8-up.

PEACEBOUND TRAINS by Haemi Balgassi, illustrated by Chris Soentpiet (Clarion, 1996). Sumi misses her mother, who is in the Army, but she still has Harmuny (grandmother). They sit on Sumi's favorite rock and ' at the sound of a train whistle ' Harmuny recalls when she and Sumi's mother escaped war in Seoul, Korea on the roof of a peacebound train. A touching treatment of the effects of war on a family. Illustrated with great beauty and sensitivity. Ages 7-up.
SHATTERED: STORIES OF CHILDREN AND WAR edited by Jennifer Armstrong (Knopf, 2002). A young adult short stories collection, set in the U.S. and abroad, including in Afghanistan. Featured authors include Dian Curtis Regan. Ages 12-up.
SEPTEMBER ROSES by Jeanette Winter (FSG, 2004). The story of how two South African sisters brought roses, comfort, and rememberance in the wake of 9-11. Ages 5-up.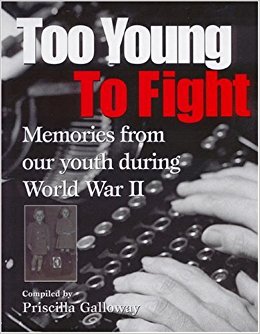 TOO YOUNG TO FIGHT: MEMORIES FROM OUR YOUTH DURING WORLD WAR edited by Priscilla Galloway (Stoddart, 1999). Interest for children is increased because contributors to this collection include well-known children's authors who were themselves children during WWII. Ages 13-up.
AMERICA THE BEAUTIFUL by Katharine Lee Bates, illustrated by Neil Waldman (Atheneum, 1993). Fourteen paintings of America depicted in 1893 illustrate the first stanza of Bates's poem. Ages 4-8.
HAND IN HAND: AN AMERICAN HISTORY THROUGH POETRY Selected by Lee Bennett Hopkins, illustrated by Peter M. Fiore (Simon & Schuster, 1994). Ages 8-up.

LIBERTY by Lynn Curlee (Atheneum, 2000). A lavishly illustrated history of the building of the Statue of Liberty. Ages 7-up.
MY AMERICA: A POETRY ATLAS OF THE UNITED STATES edited by Lee Bennett Hopkins, illustrated by Peter M. Fiore (Simon & Schuster, 2000). Ages 8-up.
THIS LAND IS YOUR LAND by Woody Gutherie, illustrated by Kathy Jakobsen (Little, Brown, 1998). "Includes a beautiful illustration of the Twin Towers–might offer a way into discussion without directly prompting it." Ages 4-up.
UNCLE SAM AND OLD GLORY: SYMBOLS OF AMERICA by Jean West and Delno West (Atheneum, 2000). Ages 4-up.
Featured Series

"I'm a Navy brat. Like Piper's dad, my dad was a Navy chief. And also like her, I'm one of three girls. However I'm the oldest daughter. I was a pretty serious kid, and I wasn't sure if that would be a fun point of view for young readers. My middle sister was the clown in the family. She was clever and funny. She certainly inspired Piper, although as I wrote the character became different."