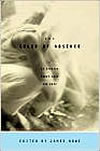 THE COLOR OF ABSENCE: 12 STORIES ABOUT LOSS AND HOPE edited by James Howe (Atheneum, 2001). A collection of short stories for teens. Contributors include Avi, C. B. Christiansen, James Howe, Angela Johnson, Annette Curtis Klause, Chris Lynch, Norma Fox Mazer, Walter Dean Myers, Naomi Shihab Nye, Michael J. Rosen, Roderick Townley, Virginia Euwer Wolff, and Jacqueline Woodson. Ages 12-up.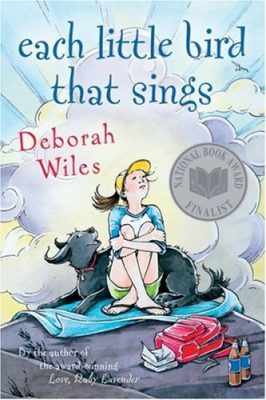 EACH LITTLE BIRD THAT SINGS by Deborah Wiles (Harcourt, 2005). Comfort Snowberger, age 10, and her family "live to serve." As owners of a small-town funeral home, they honor the dead and support those left behind. Comfort has grown-up sensitive but matter-of-fact about death, even when it strikes those she loves most. Her cousin Peach, on the other hand, is a messy, mortifying disaster, a burden and an embarrassment, and her best friend Declaration at times a prickly mystery. Not that Comfort is left to cope alone. She has a family, a whole community behind her, and the world's best funeral dog, Dismay. Ages 8-up. More on this title from Cynsations.
GRANDMA'S SHOES by Libby Hathorn, illustrated by Elivia Salvadier (Little, Brown, 1992; Hodder Headline (Austrailia, 200). A young girl slips on her late grandmother's shoes and finds herself on a journey of memories. Ages 4-up.
GOODBYE MOUSIE by Robie Harris, illustrated by Jan Ormerod (McElderry, 2001). The story of a little boy who wakes up to discover that his pet mouse has died. After expressing anger and disbelief, the boy learns that sadness and memories are part of saying goodbye. Ages 4-up.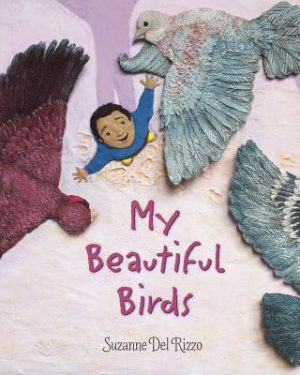 MY BEAUTIFUL BIRDS by Suzanne Del Rizzo, illustrated by Suzanne Del Rizzo (Pajama Press, 2017). Behind Sami, the Syrian skyline is full of smoke. The boy follows his family and all his neighbors in a long line, as they trudge through the sands and hills to escape the bombs that have destroyed their homes. But all Sami can think of is his pet pigeons―will they escape too? When they reach a refugee camp and are safe at last, everyone settles into the tent city. But though the children start to play and go to school again, Sami can't join in. When he is given paper and paint, all he can do is smear his painting with black. He can't forget his birds and what his family has left behind. One day a canary, a dove, and a rose finch fly into the camp. They flutter around Sami and settle on his outstretched arms. For Sami it is one step in a long healing process at last. A gentle yet moving story of refugees of the Syrian civil war, My Beautiful Birds illuminates the ongoing crisis as it affects its children. It shows the reality of the refugee camps, where people attempt to pick up their lives and carry on. And it reveals the hope of generations of people as they struggle to redefine home. Ages 4-up. More on this title from Cynsations. Compiled from promotional materials.
ONE APRIL MORNING: CHILDREN REMEMBER THE OKLAHOMA CITY BOMBING by Nancy Lamb, illustated by Floyd Cooper (Lothrop Lee & Shepard, 1996). Out of print, but you can still hunt down copies if you try. Ages: all.
RAIN IS NOT MY INDIAN NAME by Cynthia Leitich Smith (HarperCollins, 2001). Cassidy Rain Berghoff didn't know that the very night she decided to get a life would be the night that Galen would lose his. It's been six months since her best friend died, and up until now, Rain has succeeded in shutting herself off from the world. But when controversy arises around her aunt Georgia's Indian Camp in their mostly white Kansas community, Rain decides to face the world again—at least through the lens of a camera. (Features interracial individuals, families and relationships, overlapping between African, European, and Native Americans). Ages 10-up.
THE TENTH GOOD THING ABOUT BARNEY by Judith Viorst, illustrated by Erik Blegvad (Atheneum, 1999). A young boy copes with the death of his cat, Barney. Ages 4-up.

A TERRIBLE THING HAPPENED by Margaret M. Holmes, illustrated by Cary Pillo (Magination Press, 2000). A bibliotherapy-style look at the symptoms that can plague children who've witnessed something traumatic and how such children might work through/communicate about them. A springboard for discussion. Ages 4-up. Magination Press (American Psychological Association) offers a complete line of self-help books.
THIS BOOK IS FOR ALL KIDS, BUT ESPECIALLY MY SISTER, LIBBY. LIBBY DIED. by Jack Simon, illustrated by Annette Simon (Idea University Press, 2000). Highly graphic and touching. Written by a young boy. Ages 4-8.