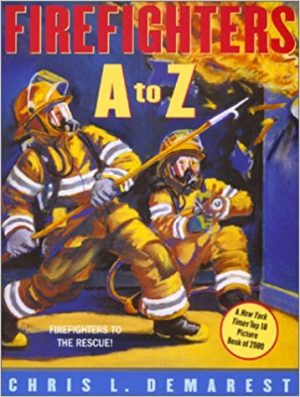 We are particularly looking for books in this category for older children and books that focus on police, EMTs, etc. If you have any suggestions for additions, please let us know.
FIREFIGHTERS A-Z by Chris Demerest (McElderry Books, 2000). Written and illustrated by volunteer firefighter Demerest, this alphabet book details the dramatic but serious job of the fire fighter. Ages 4-8.
FIGHTING FIRES by Susan Kuklin (Aladdin, 1999). A behind-the scenes photo essay tour of the vehicles, equipment, and hard work involved in firefighting. Ages 4-8.

FIRE FIGHTERS by Norma Simon, illustrated by Pam Paparone (Simon & Schuster, 1998). To teach fire safety, this book follows a team of firefighting Dalmatians from the firehouse where they live to the scene of a fire. Ages 4-8.
FIRE NIGHT! by by Monica Driscoll Beatty, illustrated by Christie Allan-Piper (Health Press, 1999). Touches on the emotions a child might experience during a fire in a proactive, safety-oriented context. Ages 4-8.
STOP, DROP, AND ROLL: A JESSICA WORRIES BOOK by Margery Cuyler, illustrated by Arthur Howard (Simon & Schuster, 2001). Jessica, the prone-to-worrying young girl from 100th DAY WORRIES, is very nervous about fire prevention week. After many humorous practice mishaps, Jessica learns that taking proper precautions and knowing what to do in an emergency is the best cure for her fire safety worries. Basic rules for year-round fire safety are included. Ages 5-8.
THE MOON CAME DOWN ON MILK STREET by Jean Gralley (Henry Holt, 2004). The moon has come down softly, and who will put it up again? Who will make things right? The fire chief, the rescue workers, the people. This brilliantly simple book speaks to our universal need for comfort, for heroes, for hope. Ages 3-up. Read The Story Behind The Story from Jean Gralley.
Rethinking Books about Police: Putting Oakland Public Library's Toolkit to Use by Amy Martin from Reading While White. PEEK: "The guiding questions it offers can certainly be used to evaluate nonfiction "community helper" books, but they can also be used with picture books and fiction."