THE CREEK by Jennifer L. Holm (HarperCollins, 2003). Penny Carson and the rest of the neighborhood kids just want to build their treehouse above the creek and have a fun summer. But the infamous Caleb Devlin-who was sent away after terrorizing the town-has returned. A realistic and suspenseful thriller. Ages 12-up. Recommendation by Greg Leitich Smith.
GIRL STOLEN by April Henry (Henry Holt, 2010). Sixteen-year-old Cheyenne Wilder is asleep in the back of her mom's car when it's stolen from the pharmacy parking lot. Cheyenne is not only sick with pneumonia—she's also blind. Griffin, the teenager who was stealing packages out of parked cars, hadn't meant to kidnap her; he just impulsively stole the car with her in it. But once Griffin's dad finds out that Cheyenne's father is the president of Nike, everything changes—now there's a reason to keep her. Will Cheyenne be able to survive this harrowing ordeal and escape? And if so, at what price? Ages 12-up. More on this title from Cynsations. Compiled from promotional materials.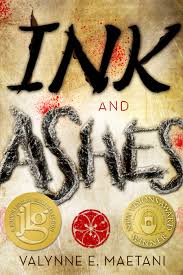 INK AND ASHES by Valynne E. Maetani (Tu Books, 2015). Claire Takata has never known much about her father, who passed away ten years ago. But on the anniversary of his death, she finds a letter from her deceased father to her stepfather. Before now, Claire never had a reason to believe they even knew each other. Struggling to understand why her parents kept this surprising history hidden, Claire combs through anything that might give her information about her father . . . until she discovers that he was a member of the yakuza, a Japanese organized crime syndicate. The discovery opens a door that should have been left closed. The race to outrun her father's legacy reveals secrets of his past that cast ominous shadows, threatening Claire, her friends and family, her newfound love, and ultimately her life. Packed with romance, intrigue, and heart-stopping action. Ages 12-up. Compiled from promotional materials.
THE KILLER'S COUSIN by Nancy Werlin (Delacorte, 1998). Having been acquitted of murdering his girlfriend, David, 17, becomes withdrawn from guilt, fear, and mourning. At his parents' prompting, he moves in with his aunt, uncle, and eleven-year-old cousin Lily to escape media attention and start anew. But this new beginning heightens family tensions, rekindles feelings of another loss, and triggers more than one kind of haunting. Fully realized characters. Convincingly contemporary in voice and setting. Suspenseful and brilliant. Ages 12-up.
LOCKED INSIDE by Nancy Werlin (Delacorte, 2000). Marnie Skyedottir, 16, sees an online game, Paliopolis, as an escape from her exclusive boarding school and identity as a deceased icon's daughter. As the Sorceress Llewellyne, her rival is the quick-thinking Elf. As Marnie her grades are tumbling and interpersonal relations suffering. Then her attraction and uncertainty both rise when Elf finds out personal information about Marnie's real life, but when she is kidnapped by a psychotic, it's Elf who attempts rescue. His failure leaves him with a gunshot wound and both of them in locked inside the basement of a dangerous and delusional captor. Ages 12-up.
MISSING ABBY by Lee Weatherly (David Fickling, 2004). Emma and Abby used to be best friends and share their love of fantasy and sci fi, but that was back when Karen Sipp called Emma a "freak." A new school offered a new chance to start over, to be cool, and so Emma left Abby and their friendship behind. Then one day Emma sees Abby on a bus, and the next she knows, no one may ever see Abby again. Ages 10-up.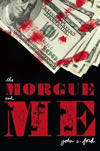 THE MORGUE AND ME by John C. Ford (Viking, 2009). The summer after high school graduation, Christopher lands a job in the morgue of his small town in Michigan. But when he discovers the coroner apparently took money to cover up a murder, he takes action, and his efforts to uncover the murderer lead to a web of deceit and intrigue that reaches the town's highest levels of political power, as well as closer to home than he'd like. An intriguing tale of death, lies, blackmail, corruption, and the evils of golf. Ages 12-up. Recommendation by Greg Leitich Smith. Read The Story Behind The Story from John C. Ford.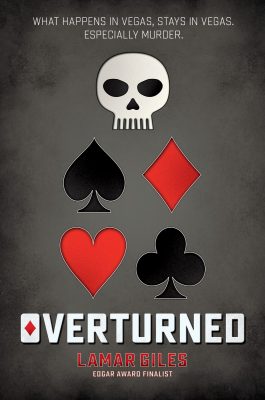 OVERTURNED by Lamar Giles (Scholastic, 2017). Nikki Tate is infamous, even by Las Vegas standards. Her dad is sitting on death row, convicted of killing his best friend in a gambling dispute turned ugly. And for five years, he's maintained his innocence. But Nikki wants no part of that. She's been working on Operation Escape Vegas: playing in illegal card games so she can save up enough money to get out come graduation day. Then her dad's murder conviction is overturned. The new evidence seems to come out of nowhere and Nikki's life becomes a mess when he's released from prison. Because the dad who comes home is not the dad she remembers. And he's desperately obsessed with finding out who framed him–and why. As her dad digs into the seedy underbelly of Vegas, the past threatens everything and Nikki is drawn into his deadly hunt for the truth. But in the city of sin, some sinners will do anything to keep their secrets, and Nikki soon finds herself playing for the biggest gamble ever–her life. Ages 14-up. More on this title from Cynsations. Compiled from promotional materials.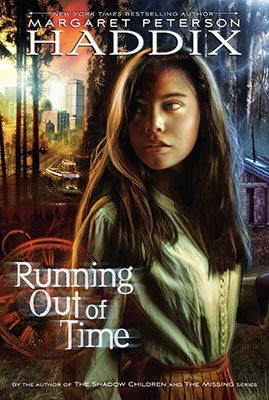 RUNNING OUT OF TIME by Margaret Peterson Haddix (Simon & Schuster, 1995). Jessie has always thought that she lived in a small frontier town. She always thought she knew what year it was. In this realism suspense thriller, Jessie finds out she was wrong. Children's lives are at risk as she runs to find help in a time and place very different than the world she thought she was growing up in. Compelling, high interest story. Ages 8-up.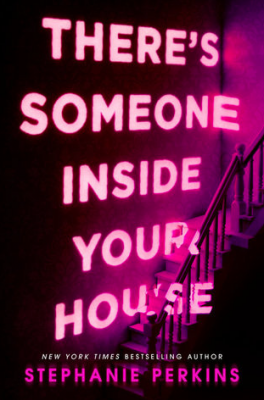 THERE'S SOMEONE INSIDE YOUR HOUSE by Stephanie Perkins (Dutton, 2017). Makani Young has been keeping a secret since she moved from Hawaii to her grandmother's home in Nebraska. But now, students at her new, small-town high school are being brutally murdered. The hunt for the killer is on, and Makani must confront her past and battle for survival. A page-turning, romantic suspense novel in the slasher tradition. Ages 12-up.
THIS SIDE OF PARADISE by Steven L. Layne (Pelican, 2002). Jack Barrett's perfectionist dad has finally taken things too far — expecting his family to leave their whole lives behind and move to a corporate-owned town called Paradise, one ruled by Dad's obsessive CEO, Mr. Eden. But that's just the beginning. Paradise may be "perfect," but that perfection comes at the ultimate price. A fast-paced, fascinating read. Ages 10-up.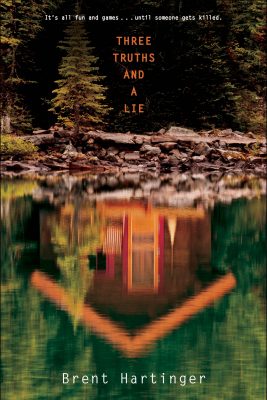 THREE TRUTHS AND A LIE by Brent Hartinger (Simon Pulse, 2016). Deep in the forest, four friends gather for a weekend of fun. Truth #1: Rob is thrilled about the weekend trip. It's the perfect time for him to break out of his shell…to be the person he really, really wants to be. Truth #2: Liam, Rob's boyfriend, is nothing short of perfect. He's everything Rob could have wanted. They're perfect together. Perfect. Truth #3: Mia has been Liam's best friend for years…long before Rob came along. They get each other in a way Rob could never, will never, understand. Truth #4: Galen, Mia's boyfriend, is sweet, handsome, and incredibly charming. He's the definition of a Golden Boy…even with the secrets up his sleeve. One of these truths is a lie…and not everyone will live to find out which one it is. Ages 14-up. More on this author from Cynsations. Compiled from promotional materials.