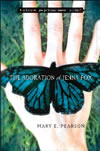 This bibliography is drawn from books published between 1995 and 2020. While some award-winners and bestsellers are included, part of the goal is to feature underappreciated gems. For more recent titles, visit Cynsations.
THE ADORATION OF JENNA FOX by Mary E. Pearson (Henry Holt, 2008). Long after the accident, Jenna finally wakes from a coma with no memories. Who is she now, and how can she begin again? Does she have a right to? A compelling near-future story that will haunt readers long after the last page. Masterful. Ages 12-up. Read The Story Behind The Story from Mary E. Pearson. Look for more books in the series.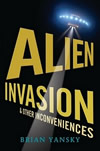 ALIEN INVASION AND OTHER INCONVENIENCES by Brian Yansky (Candlewick, 2010). High-schooler Jesse thinks he's just a typical teen-ager, bored in class and trying to figure out his life. But then, ten seconds after the Sanginians arrive, most of mankind are dead. A handful, like Jesse, have latent telepathic abilities and survive as slaves with no hope of manumission for themselves or the earth. But then Jesse and his friends discover that the Sanginians just might not be as omnipotent as they appear… Quirky, thought-provoking, and insightful. A dryly funny post-apocalyptic YA novel. Ages 12-up. Recommendation by Greg Leitich Smith.

ALIENS ON VACATION by Clete Barrett Smith (Hyperion, 2011). When thirteen-year-old Scrub is sent to live with his grandmother in a small town in the Pacific Northwest, he soon comes to realize there's more to her than just an aging hippie. Instead, her house is an intergalactic bed and breakfast, sort of a rustic vacation spot for advanced aliens who want to get away from it all. To his chagrin, Scrub is immediately sent to work helping the aliens blend in as humans and generally keep out of the way of the suspicious sheriff… A light and funny romp, with quirky characters and an even quirkier situation.  Scrub and his travails will engage and entertain the extraterrestrial in everyone. Ages 8-up. Recommendation by Greg Leitich Smith. 
AMONG THE HIDDEN by Margaret Peterson Haddix (Simon & Schuster, 1998). In the not-too-distant future, Luke has to spend his days in hiding because he's the third child in his family. Why? The government only allows two. But then Luke catches a glimpse of an young face in a new neighboring house that he knows to be already home to two other kids. An unusually compelling and memorable read that takes a look at totalitarianism, the concept of population control, and the risky but sometimes important need to try to fight back. Accessible to young readers but still thought-provoking for older ones. Excellent for fans of darker fantasy. Ages 9-up. Look for more books in THE SHADOW CHILDREN series.

ATTACK OF THE FLUFFY BUNNIES by Andrea Beaty (Amulet, 2010). Eleven-year-old twins Kevin and Joules Rockman have been dropped off at Campwhatsitooya by their parents, who are on their way to an international Spam festival. But instead of a summer of campfires and hiking and ghost stories, they find themselves in the middle of an invasion by big, giant bunnies from outer space! Can they save the earth from the leporine pestilence? A hilarious parody, offering a unique take on the tropes of both horror and summer camp movies. Ages 7-up. Recommendation by Greg Leitich Smith.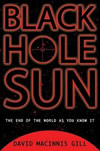 BLACK HOLE SUN by David Macinnis Gill (Greenwillow, 2010). For seventeen-year-old (in earth years) mercenary chief Durango, things keep getting worse. Once a member of an elite military corps, now he's just trying to get by. It was one thing to attempt (for hire, of course) to thwart the bizarre kidnapping of the children of a noblewoman, but now he's taken a job protecting a group of reclusive miners from humanoid cannibals in the antipodes of an anarchic Mars. But the miners are harboring a secret, and even the cannibals are not quite what they seem. Can Durango and his group hold it together, overcome their past, protect the miners, and still get paid? Plot is well-wrought, fast-paced, with an intriguing back-story; Durango, his AI implant Mimi, and Vienne (Durango's number two) are intense, sarcastic, and sometimes brutal in a society whose law has deteriorated into "kill or be killed." An exciting, action-packed read on a Mars that is red in tooth and claw. Ages 12-up. Recommendation by Greg Leitich Smith.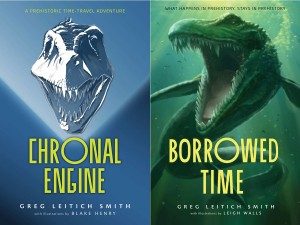 CHRONAL ENGINE by Greg Leitich Smith, illustrated by Henry Blake (Clarion, 2012). When Max, Kyle, and Emma are sent to live with their grandfather, they think their summer is ruined. But after Emma is kidnapped at the exact time that her grandfather predicted, Max and Kyle are forced to believe his story about the time machine in the basement. To save Emma, Max, Kyle, and their new friend Petra must take the trip of a lifetime — to the Cretaceous period. Soon they find themselves dodging killer insects, velociraptors, and the terrifying T. rex. Can these three contemporary teens hunt down a kidnapper, forage for food, and survive long enough to return home? Sequel: BORROWED TIME (2015). Ages 10-up. More on this title from Cynsations. Compiled from promotional materials.
THE COLOR OF THE RAIN by Cori McCarthy (Running Press, 2013).If there is one thing that seventeen-year-old Rain knows and knows well, it is survival. Caring for her little brother, Walker, who is "Touched," and losing the rest of her family to the same disease, Rain has long had to fend for herself on the bleak, dangerous streets of Earth City. When she looks to the stars, Rain sees escape and the only possible cure for Walker. And when a darkly handsome and mysterious captain named Johnny offers her passage to the Edge, Rain immediately boards his spaceship. Her only price: her "willingness." The Void cloaks many secrets, and Rain quickly discovers that Johnny's ship serves as host for an underground slave trade for the Touched . . . and a prostitution ring for Johnny's girls. With hair as red as the bracelet that indicates her status on the ship, the feeling of being a marked target is not helpful in Rain's quest to escape. Even worse, Rain is unsure if she will be able to pay the costs of love, family, hope, and self-preservation. With intergalactic twists and turns, Cori McCarthy's debut space thriller exists in an orbit of its own. Ages 14-up. More on this title from Cynsations. Compiled from promotional materials.
DANCING WITH AN ALIEN by Mary Logue (HarperCollins, 2000). Branko's mission is to find a woman to take home to his female-starved home planet so they can help repopulate. Tonia is a simultaneously extraordinary and ordinary Earth girl in the midst of first love. What she doesn't know is that if she agrees to go with Branko, she'll essentially become a breeding machine—a far life from the happily ever after she imagines. Ages 12-up.
THE DARK SIDE OF NOWHERE by Neal Shusterman (Little, Brown, 1997). Jason, 14, is living one nice, dull life in Billington. At least until his friend Ethan dies (or does he?) of appendicitis, the girl-of-his-dreams Paula becomes his girlfriend, and Jason discovers there's something surprising in his heritage. Before he knows it, Jason and his parents are standing between the invasion of his new world by their old one. Kind of romantic but mostly action packed with a strong voice and some hard questions about being caught up in a racist, elitist, or group-thought mentality. Ages 12-up.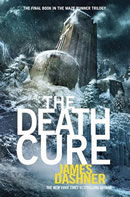 THE DEATH CURE by James Dashner (Delacorte, 2011).  In this follow-up to THE MAZE RUNNER and THE SCORCH TRIALS, Thomas and the Gladers, having survived the challenges of the Maze and the gauntlet of the Scorch Trials, are now confronted directly with those behind WICKED itself. Although told their trials are over, Thomas doesn't know whom he can trust.  When some of his memories begin to come back and when he learns that WICKED is planning another set of trials with another set of Immunes, he knows he has to do everything in his power to destroy WICKED. But what can a handful of Gladers do to take down the most powerful organization on the planet? THE DEATH CURE offers edge-of-your-seat excitement and dystopian chills, while providing a satisfying conclusion to the trilogy and Thomas's story. Recommendation by Greg Leitich Smith.
DOWNSIDERS by Neal Shusterman (Simon & Schuster, 1999). Journey with Linsay into Talon's world, the world of the Downsiders, built far beneath the city streets. A sometimes dark, surprisingly affecting update on young people from very different worlds and what happens when one world threatens to destroy the other. Ages 12-up.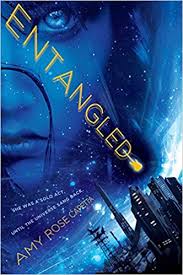 ENTANGLED by Amy Rose Capetta (Houghton Mifflin, 2013). Seventeen-year-old Cade is a fierce survivor, solo in the universe with her cherry-red guitar. Or so she thought. Her world shakes apart when a hologram named Mr. Niven tells her she was created in a lab in the year 3112, then entangled at a subatomic level with a boy named Xan. Cade's quest to locate Xan joins her with an array of outlaws—her first friends—on a galaxy-spanning adventure. And once Cade discovers the wild joy of real connection, there's no turning back. Ages 14-up. More on this title from Cynsations. Compiled from promotional materials.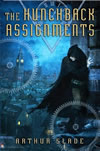 THE HUNCHBACK ASSIGNMENTS by Arthur Slade (Wendy Lamb, 2009). In Victorian London, fourteen year-old Modo — a shape-changing hunchback — has been raised in seclusion since he was an infant by a Mr. Socrates, leader of a secret society determined to protect the British Empire. His first assignment: to determine what has caused a group of young men — Britain's finest — to turn on their fathers with murderous intent, and figure out if it relates to the kidnapping of scores of orphans. Ages-10-up. Look for In THE DARK DEEPS: THE HUNCHBACK ASSIGNMENTS 2. Recommendation by Greg Leitich Smith.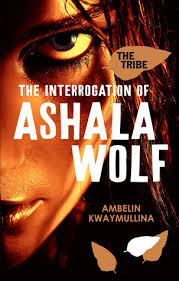 THE INTERROGATION OF ASHALA WOLF (The Tribe Series) by Ambelin Kwaymullina (Candlewick, 2016). A compelling debut novel asks what happens when children develop inexplicable abilities—and the government sees them as a threat. They're known as Firestarters. Boomers. Skychangers. The government calls them Illegals — children with inexplicable abilities — and detains them in menacing facilities so that society is kept out of harm's way. Ashala Wolf and her Tribe of fellow Illegals have taken refuge in the Firstwood, a forest eerily conscious of its inhabitants, where they do their best to survive and where they are free to practice their abilities. But when Ashala is compelled to venture outside her territory, she is betrayed by a friend and captured by an enemy. Injured and vulnerable, with her own Sleepwalker ability blocked, Ashala is forced to succumb to a machine that will pull secrets from her mind. It's only a matter of time before the machine ferrets out the location of the Tribe. Her betrayer, Justin Connor, is ever-present, saving her life when she wishes to die and watching her every move. Will the Tribe survive the interrogation of Ashala Wolf? Ages 12 and up. Sequels: THE DISAPPEARANCE OF EMBER CROW (2016), THE FORETELLING OF GEORGIE SPIDER (2017). Ages 12-up. More on this title from Cynsations. Compiled from promotional materials.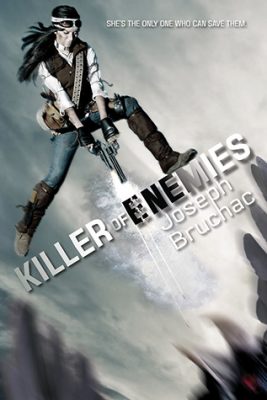 KILLER OF ENEMIES by Joseph Bruchac (Tu Books, 2013). Years ago, seventeen-year-old Apache hunter Lozen and her family lives in a world of haves and have-nots. There were the Ones (people so augmented with technology and genetic enhancements that they were barely human) and there was everyone else who served the Ones. Then the Cloud came, and everything changed. Tech stopped working. The world plunged back into a new steam age. The Ones' pets — genetically engineered monsters — turned on them and are now loose on the world. Lozen was not one of the lucky ones pre-C, but fate has given her a unique set of survival skills and magical abilities. She hunts monsters for the Ones who survived the apocalyptic events of the Cloud, which ensures the safety of her kidnapped family. But with every monster she takes down, Lozen's powers grow, and she connects those powers to an ancient legend of her people. It soon becomes clear to Lozen that she is not just a hired gun… Lozen is meant to be a hero. Sequels: TRAIL OF THE DEAD (2015), ARROW OF LIGHTNING (2017). Ages 12-up. More on this title from Cynsations. Compiled from promotional materials.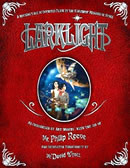 LARKLIGHT by Philip Reeve (Bloomsbury, 2006). In this steampunkish space fantasy, in the 19th Century, the British Empire has spread across the aether, and has established colonies as far out as Jupiter. Arthur Mumby and his sister Myrtle live in a rambling house called Larklight orbiting the Moon.  Their lives are turned upside down when they are kidnapped by giant spiders and rescued by the fearsome pirate Jack Havock himself.  And things get really complicated when they uncover a plot to destroy the very heart of the Empire, London itself…. A swashbuckling romp through a fantastically envisioned British Empire aboard ships reminiscent of those from TREASURE PLANET.  Art and Myrtle are engaging and dryly funny as they tell the story of how they traveled the solar system and defeated the evildoers…  Ages 8-up. Recommendation by Greg Leitich Smith.
LITTLE GREEN MEN AT THE MERCURY INN by Greg Leitich Smith, illustrated by Andrew Arnold (Roaring Brook, 2014). Beach culture and UFOs collide in this lighthearted adventure story about an alien encounter at an aging Cocoa Beach motel. Twelve-year-old Aidan lives and works at his parents' motel on the Space Coast in Florida, so he's seen a lot of weird stuff. Even his best friend, Louis, is a little bit crazy―he's obsessed with UFOs and swears he saw one two years ago. But things at the Mercury Inn are about to get a whole lot weirder. When an actual unidentified flying object suddenly appears in the sky over the motel, Aidan begins to realize that some of the residents of the Mercury Inn may be much more unusual than he thought. And Louis might not be so crazy after all. Filled with quirky characters and atmosphere, this beachy alien caper, like the aging motel where it takes place, is anything but ordinary. Ages 8-12. More on this title from Cynsations. Compiled from promotional materials.
NOMAD by William Alexander (McElderry, 2015). Gabe Fuentes is in a race against time—and aliens—in this intergalactic sequel to AMBASSADOR (2014) , which Booklist called "an exciting sci-fi adventure, perceptively exploring what it means to be alien," from National Book Award winner William Alexander. When we last left Earth's Ambassador, Gabe Fuentes, he was stranded on the moon. And when he's rescued by Kaen, another Ambassador, things don't get better: It turns out that the Outlast— a race of aliens that has been systematically wiping out all other creatures—are coming. And they've set their sights on Earth. Enter Nadia. She was Earth's Ambassador before Gabe, but left her post in order to stop the Outlast. Nadia has discovered that the Outlast can conquer worlds by travelling fast through lanes created by the mysterious Machinae. No one has communicated with the Machinae in centuries, but Nadia is determined to try, and Gabe and Kaen want to help her. But the three Ambassadors don't know that the Outlast have discovered what they are doing, and have sent assassins to track them down. As Nadia heads deeper into space to find the Machinae, Gabe and Kaen return to Earth, where Gabe is trying to find another type of alien—his father, who was deported to Mexico, and who Gabe is desperate to bring home. From a detention center in the center of the Arizona desert to the Embassy in the center of the galaxy, the three Ambassadors race against time to save their worlds in this exciting, funny, mind-bending adventure. Ages 11-up. More on this title from Cynsations. Compiled from promotional materials.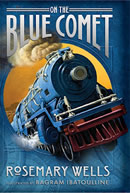 ON THE BLUE COMET by Rosemary Wells, illustrated by Bagram Ibatoulline (Candlewick, 2010).  In this young middle grade novel, eleven year old Oscar lives with his father in a small house in Cairo, Illinois.  There, they've created a world of their own: ten Lionel trains, including the Blue Comet. It all comes crashing down, though, two years into the Great Depression, when the bank takes the house and the trains, too.  Now, Oscar must move in with his aunt and cousin while his father seeks work out in California. On Christmas Eve, the trains are on display in the bank's lobby.  When bank robbers appear, the mysterious night watchman urges Oscar to flee by "jumping."  He does so, first into the train set and then ten years into the future… A fanciful and enjoyable time travel yarn featuring cameos from famous actors and politicians and bankers of the era.  Full color illustrations add richness to the depiction of the times. Ages 8-up. Recommendation by Greg Leitich Smith.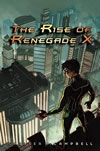 THE RISE OF RENEGADE X by Chelsea M. Campbell (Egmont, 2010). Damien Locke, son of the mad scientist "Mistress of Mayhem," has his life planned. Once his powers develop, he'll attend Vilmore Academy and learn how to take his place in the front ranks of those villains opposed to the superheroes of Golden City. But at his coming-of-age ceremony on his sixteenth birthday, Damien discovers, to his horror, that his father — whom he never knew — was not a failed archvillain, but of all things, a superhero. Then, even worse, his mother makes him go live with his father and his half-siblings. While she's plotting to take over Golden City, Damien is stuck in a family of do-gooders, with a half-sister who hates him…Can he avoid their clutches to rendezvous with his villainous destiny? An exciting and engaging novel of secrets, family, sometime heroism, consequences, and free will. Ages 12-up. Recommendation by Greg Leitich Smith.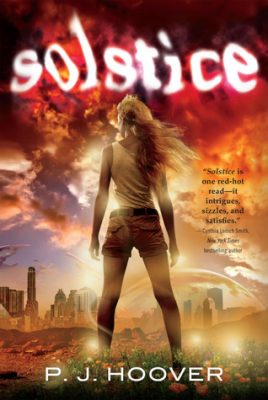 SOLSTICE by P.J. Hoover (Starscape/Tom Doherty, 2013). Piper's world is dying. Each day brings hotter temperatures and heat bubbles which threaten to destroy the Earth. Amid this Global Heating Crisis, Piper lives under the oppressive rule of her mother, who suffocates her even more than the weather does. Everything changes on her eighteenth birthday, when her mother is called away on a mysterious errand and Piper seizes her first opportunity for freedom. Piper discovers a universe she never knew existed―a sphere of gods and monsters―and realizes that her world is not the only one in crisis. While gods battle for control of the Underworld, Piper's life spirals out of control as she struggles to find the answer to the secret that has been kept from her since birth―her very identity…. An imaginative melding of mythology and dystopia. Ages 14-up.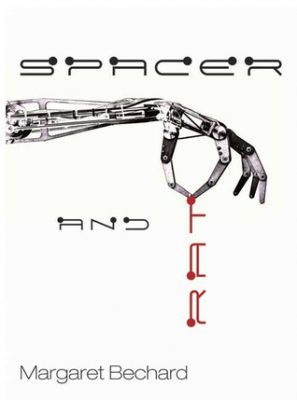 SPACER AND RAT by Margaret Bechard (Roaring Brook 2005). Jack has lived his entire life at Freedom Station, a supply outpost run by the Company for those en route to the asteroid belt. His life is under control, and he has booked passage to finally meet relatives at the even more remote Liberty Station. Then he meets Kit, an "Earthie," which by definition means trouble. Worse, she carries a contraband maintenance "bot" named Waldo that the Company is seeking to get its hands on. Should he turn them in or help them and complicate his life? Margaret Bechard has created a "world" that will feel familiar and yet fresh, with engaging and compelling characters. Ages 12-up. Recommendation by Greg Leitich Smith. Read The Story Behind The Story from Margaret Bechard.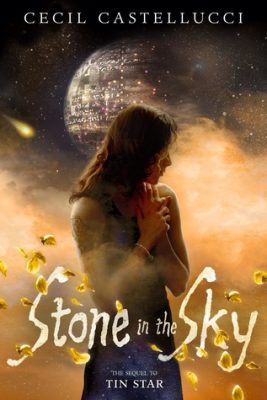 STONE IN THE SKY by Cecil Castellucci (Roaring Brook, 2015). Years ago, Tula Bane was beaten and left for dead on a remote space station far from Earth, her home planet. She started with nothing and had no one, but over time, she found a home, a family, and even love. When it's discovered that the abandoned planet beneath the station is abundant with a rare and valuable resource, aliens from across the galaxy race over to strike it rich. With them comes trouble, like the man who nearly killed Tula years ago―the man she has dreamed of destroying ever since. In this sequel to TIN STAR (2014), Cecil Castellucci takes readers on an extraordinary adventure through space in a thrilling and thoughtful exploration of what it means to love, to hate, and to be human. Ages 13-up. Compiled from promotional materials.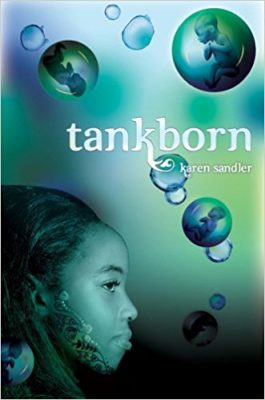 TANKBORN by Karen Sandler (Tu Books, 2011). On rugged planet Loka, life for best friends Kayla and Mishalla is arduous at best. They are GENs, Genetically Engineered Non-humans, gestated in a tank and then sent to work as slaves as soon as they reach age fifteen. When Kayla is Assigned to care for Zul Manel, the patriarch of a trueborn family, she finds secrets and surprises not least of which is her budding friendship with Zul s handsome great-grandson. Meanwhile, the children that Mishalla is Assigned to care for are being stolen in the middle of the night, and a strange lowborn boy is hanging around nearby. Both girls must put their lives and hearts at risk to crack open a sinister conspiracy, revealing secrets no one is ready to face. The first in a trilogy, Tankborn is a page-turning dystopian thriller with a hard science fiction edge that explores what it means to be human. Sequels: AWAKENING (2013), REBELLION (2014). Ages 12-up. More on this title from Cynsations. Compiled from promotional materials.

TRIA AND THE GREAT STAR RESCUE by Rebecca Kraft Rector (Delacorte, 2002). In this futuristic tale of the virtual and reality, Tria finds herself torn from the safety of her pod and the companionship of her hologram best friend Star. Worst of all, she's Outside. Taking refuge in a Back to Basics school, it quickly becomes clear that her mom is in trouble, too. Can this scared soul find friends and the courage in herself to save the world? A fast-paced and action-packed story of bravery and building a new way of life. Ages 8-up.
TUT: THE STORY OF MY IMMORTAL LIFE by P.J. Hoover (Starscape/Macmillan, 2014). You'd think it would be great being an Egyptian demigod, but if King Tut has to sit through eighth grade one more time, he'll mummify himself. Granted the gift of immortality by the gods—or is it a curse? –Tut has been stuck in middle school for ages. Even worse, evil General Horemheb, the man who killed Tut's father and whom Tut imprisoned in a tomb for three thousand years, is out and after him. The general is in league with the Cult of Set, a bunch of guys who worship one of the scariest gods of the Egyptian pantheon—Set, the god of Chaos. The General and the Cult of Set have plans for Tut…and if Tut doesn't find a way to keep out of their clutches, he'll never make it to the afterworld alive. Ages 8-12. More on this title from Cynsations. Look for more books in the series. Compiled from promotional materials.
UNMADE by Amy Rose Capetta (Houghton Mifflin, 2015). A rock star on her home planet of Andana, seventeen-year-old Cade now has to use her unique talents to do nothing less than save the human race from the Unmakers. As Cade struggles to stay close to her strong-willed crew and get even closer to Rennik, the ship's fascinating and frustrating pilot, her life becomes a tangle of love, death, and lyrics. This suspenseful sequel to ENTANGLED (2013) Is akin to the beloved Firefly series, complete with warring spaceships, warped villains, and a universe-altering conclusion. Ages 14-up. More on this title from Cynsations. Compiled from promotional materials.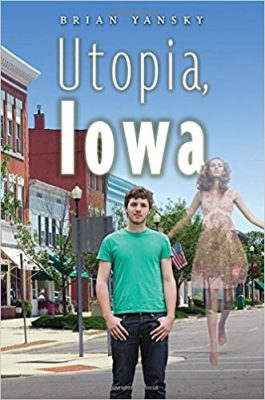 UTOPIA, IOWA by Brian Yansky (Candlewick, 2015). Jack Bell has an unusual gift—or curse, depending on your point of view. And he's not the only one. In Utopia, Iowa, anything can happen. For the most part, aspiring screenwriter Jack Bell is just your typical Midwestern kid. He's got a crush on his hot best friend, Ash. He's coping with a sudden frostiness between his once crazy-in-love parents. He's debating where to go to college next year—or whether to go at all. But then there's his gift (or curse): Jack can see dead people, just like the kid in The Sixth Sense. Lately, the ghosts are more distracting than usual, demanding that Jack get to the bottom of their mysterious deaths—all while avoiding the straitlaced Detective Bloodsmith, who doesn't believe in gifts or curses and can't help wondering why Jack keeps turning up at crime scenes. Is there a happily-ever-after in Jack's future, or is that only the stuff of movies? Ages 12-up. More on this title from Cynsations.
Related Links
Booklists: Young Adult Speculative Fiction (Fantasy and Science Fiction) from Library Booklists.
Futuristic, Speculative, Science Fiction and Dystopian Fiction for Young Adults by Jen Robinson from Jen Robinson's Book Page.
YA Science Fiction is Alive and Well. Really. by Janni Lee Simner from Desert Dispatches. PEEK: "…most of the YA SF out there is in fact published by the YA imprints of mainstream houses. That's a function of the way the YA genre markets itself—mysteries and romances and SF and fantasy and sometimes graphic novels all hang out side by side."