Cynthia Leitich Smith is the author of the TANTALIZE series and the spin-off FERAL trilogy (which can stand alone), both published by Candlewick, Walter, and other houses around the globe between 2007 and 2015. These books are award-winning, bestselling gender-empowered, diverse genre benders. Here are some of her favorite gothic fantasies with make-believe creatures and/or other fantastical elements.This bibliography is drawn from books published between 1995 and 2020. For more recent titles, visit Cynsations.
THE AFTERLIFE by Gary Soto (Harcourt, 2003). In this sometimes funny, sometimes bittersweet story, Chuy is murdered, stabbed with a knife only to find…not an end, but a new beginning. As a ghostly being, he visits family and friends. He finds the young man he could've been and maybe even true love. This isn't a story of "too late." It's one of "just in time." Ages 12-up.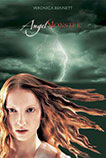 ANGELMONSTER by Veronica Bennett (Candlewick, 2006). A novel inspired by the life of Mary Shelley, author of Frankenstein. Ages 14-up.
BEING DEAD by Vivian Vande Velde (Harcourt, 2001). Sometimes touching, sometimes really scary, sometimes just on the creepy side stories of the dead by Vivian Van Velde. "Drop by Drop" is guaranteed to keep you up at night (and checking under your car). "October Chill" is affecting, emotionally haunting–the kind of story that leaves its readers imagining what does or doesn't happen next. Ages 10-up. This enormously talented author is the creator of several books for children and young adults, including: MAGIC CAN BE MURDER; THERE'S A DEAD PERSON FOLLOWING MY SISTER AROUND; NEVER TRUST A DEAD MAN; THE RUMPLESTILTSKIN PROBLEM; and TALES FROM THE BROTHERS GRIMM AND THE SISTERS WEIRD. Read The Story Behind The Story from Vivian Vande Velde.
BLOOD AND CHOCOLATE by Annette Curtis Klause (Delacorte, 1997). A sensual exploration of Vivian's longing for a calm life beyond her wolf pack. She falls in love with a human, what her people call a "meat boy," but she wonders whether he will accept her for what she is. Though her wolf nature is explored in all its bloodiness, at times she could be any teenager who's not sure who she is or where she fits. More fantasy than horror; one sexy werewolf story. One of my favorite YA books of all time! Ages 12-up. HIGHEST RECOMMENDATION.
THE BLOODING by Patricia Windsor (Scholastic, 1996). When Maris decides she's had enough of her mother's constant picking, a summer au pair job seems like a perfect escape. But she quickly finds that the Forrest house isn't as peaceful as it seems. Maris begins to wonder about the unknown beast in the woods, whether Barb Forrest is insane, and why Derek Forrest inspires such conflicting emotions. As much of a psychological study as a horror novel. Starts slowly but engagingly enough. Of interest to anyone who has felt alone and wanted an escape or a transformation. Ages 12-up.

BRAINS FOR LUNCH: A ZOMBIE NOVEL IN HAIKU by K.A. Holt (Roaring Brook, 2010). In the fanciful world of BRAINS FOR LUNCH, zombies, chupacabras, and humans (lifers) all go to the same school, but they stay pretty much to themselves. So it's a shock when Loeb, a zombie, finds himself attracted to Siobhan, a lifer. Can true love overcome zombification and incompatible eating habits? BRAINS FOR LUNCH is whimsical and bizarrely entertaining. Drawings by Gahan Wilson complement the text with just the right touch of funny gross-ness. And, the fact that it's entirely in haiku adds a charmingly surreal quality to the whole thing. Ages 8-up. Publisher copy. Recommendation by Greg Leitich Smith.
BREATHE: A GHOST STORY by Cliff McNish (Carolrhoda, 2006). Twelve-year-old Jack and his mother Sarah have moved into an old farmhouse in the country. There, Jack discovers that he, and he alone, can see the ghosts that have been haunting the place for more than a century. Some are children and one–called the Ghost Mother–is more than she seems. Suddenly, Jack is in a race to unearth the truth about them all before he and Sarah are lost. An altogether suspenseful and truly scary novel that intriguingly probes the boundaries between love and self-indulgence. Ages 8-up. Recommendation by Greg Leitich Smith.
COMPANIONS OF THE NIGHT by Vivian Vande Velde (Harcourt, 1995). Thinking she's stumbled into a crime scene, Kerry, 16, helps Ethan escape from the seemingly crazy men who claim he is a vampire. But soon after her family is kidnapped, Kerry realizes that maybe they weren't so crazy after. Worse, she can't think of anyone better to help her find vampires than a vampire himself. But will Ethan turn into the love of her life or the creature who takes it? Ages 12-up. Read The Story Behind The Story from Vivian Vande Velde.
DAEMON HALL by Andrew Nance (Henry Holt, 2007). Thriller novelist Ian Tremblin is sponsoring a short-story contest, and five finalists receive the opportunity to spent the night with the horror king at infamous Daemon Hall. The winner's story will be published, but is a contest worth dying for? At times seriously scary, Daemon Hall is a fearsome mind bender from a debut YA author to watch. Ages 12-up. (Gothic fantasy.) Read The Story Behind The Story from Andrew Nance.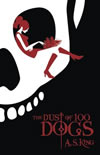 THE DUST OF 100 DOGS by A.S. King (Flux, 2009). Teenage pirate queen Emer Morrisey is ready to take her riches and her true love and fade into retirement. But then she's cursed to live the life of 100 dogs before she can become human again… Now, having lived the dogs' lives, and with her dog and human memories intact, she's teenager Saffron Adams, with few friends and a dysfunctional home life. All she wants is to get out of high school and back to Jamaica, to reclaim her treasure… THE DUST OF 100 DOGS is a fascinating, exciting read. Pulling no punches, King takes us from Cromwell's Ireland to the Spanish Main to contemporary America and Jamaica as Emer/Saffron's lives — human and dog — unfold in gripping detail. Definitely among the best of breed. Ages 14-up. Recommendation by Greg Leitich Smith. (Paranormal.) Read The Story Behind The Story from A.S. King.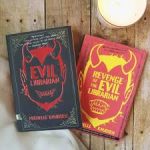 EVIL LIBRARIAN by Michelle Knudson (Candlewick, 2014). When Cynthia Rothschild's best friend, Annie, falls head over heels for the new high school librarian, Cyn can totally understand why — he's really young and ridiculously hot and apparently thinks Annie would make an excellent library monitor. But almost immediately, Cyn starts to sense that something about Mr. Gabriel isn't quite right. Maybe it's the creepy look in the librarian's (literally) mesmerizing eyes, or the weird feeling Cyn gets whenever she's around him, or the blood and horns and giant bat-like wings that appear when he thinks no one is looking. Before long, Cyn realizes that Mr. Gabriel is, in fact … a demon. Now, in addition to saving her beloved school musical (Sweeney Todd!) from technical disaster and avoiding making a complete fool out of herself with her own hopeless crush (who happens to be the only other person who knows the truth about Mr. Gabriel), Cyn has to save her best friend from the attractive-yet-very-very-bad clutches of the evil librarian, who has not only bewitched Annie but seems to be slowly sucking the life force out of the entire student body! Sequel: REVENGE OF THE EVIL LIBRARIAN (2017). Ages 13-up. Compiled from promotional materials.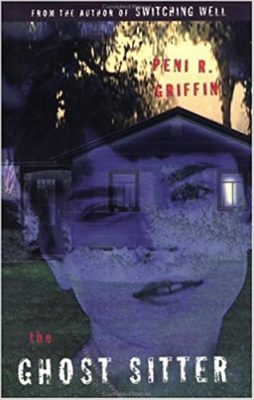 THE GHOST SITTER by Peni R. Griffin (Dutton Children's Books, 2001). Susie's been dead for fifty years, but doesn't know —she's been waiting for her family and her younger sister to return to their home in a San Antonio subdivision. Then, a new family arrives, including Charlotte and her brother Brandon. Charlotte's suspicious when Brandon's suddenly much better behaved. But, a ghost? A new novel by the critically acclaimed author of SWITCHING WELL and HOBKIN. Ages 9-up. HIGHLY RECOMMENDED.
GOTHIC! TEN ORIGINAL DARK TALES edited by Deborah Noyes (Candlewick, 2004). Features stories by Joan Aiken, M.T. Anderson, Neil Gaiman, Caitlin R. Kiernan, Gregory Maguire, Garth Nix, Celia Rees, Janni Lee Simner, Vivian Vande Velde, and Barry Yourgrau. Worth the price of the book for the introduction, though the collection itself is wickedly outstanding. Ages 14-up. HIGHLY RECOMMENDED. Don't miss the companion book, THE RESTLESS DEAD (Candlewick, 2007).
HOW I BECAME A GHOST by Tim Tingle (The RoadRunner Press, 2013). A Choctaw boy tells the story of his tribe's removal from its Mississippi homeland, and how its exodus to the American West led him to become a ghost—one able to help those left behind. Ages 8-up. More on this author from Cynsations. Compiled from promotional materials.

IMMORTAL: LOVE STORIES WITH BITE edited by P. C. Cast (BenBella, 2008)(exclusive to Borders/Waldenbooks). An anthology collection of short, romantic stories that include the vampire mythology. Features "Haunted Love" by Cynthia Leitich Smith; other contributing authors: Kristin Cast; Rachel Caine; Claudia Gray; Nancy Holder; Tanith Lee; Richelle Mead; and Rachel Vincent. Ages 12-up.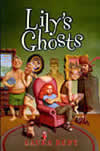 LILY'S GHOSTS by Laura Ruby (HarperCollins, 2003). Since Lily's mother has broken up with her boyfriend, they're broke and, therefore, have to move into Lily's uncle's summer house in Cape May, NJ. Only problem, there are ghosts there… Ages 9-up. Read The Story Behind The Story from Laura Ruby.
LOOK FOR ME BY MOONLIGHT by Mary Downing Hahn (Clarion, 1995). Cynda's fight with her mother and new stepfather over moving to Italy results in Cynda being shipped off to live with her father, pregnant stepmother, and five-year-old half brother at their historic inn in Maine. Cynda, 16, is fascinated first by rumors that the inn is haunted and then by Will, the grandson of the cleaning woman. But then appears a guest, Vincent — an older, sophisticated, and attentive man who seems to be the only one who really understands the displacement Cynda is feeling in her family life. Apparent sympathy grows into apparent romance, but it quickly turns more bitter than sweet. Ages 12-up.

NATHAN ABERCROMBIE, ACCIDENTAL ZOMBIE by David Lubar (Starscape/Tor, 2009, 2010, etc.). In this ongoing series (currently at three books), fifth grader Nathan Abercrombie is accidentally doused with a chemical bath that leaves him partially zombie-fied… A terrific character and series, both funny and gross (sometimes simultaneously), and always smart. Readers will be dying to hold the next books in the series. Heh. Ages 7-up. Publisher copy. Recommendation by Greg Leitich Smith.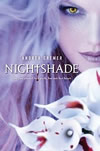 NIGHTSHADE by Andrea Cremer (Philomel, 2010). An intriguing gothic fantasy romance, NIGHTSHADE is a lusty tale of action, passion, lies, and deceit. In the mountains above Vail, Colorado, seventeen-year-old Callie rescues a handsome human hiker from a bear. But to do so, she has to violate the rules of the Keepers and expose herself as a Guardian, a race of humans magically invested by the Keepers with the ability to change into wolves. Things become more complicated when, a month before her scheduled union with the alpha of a rival pack, the hiker, Shay, enrolls in her high school. Worse, her pack's Keeper orders both packs to protect the boy from the Searchers, who have long been at war with the Keepers. As Callie finds herself increasingly drawn to both Ren, the alpha, and to Shay, the bonds of duty and loyalty become increasingly frayed. The back-story, and Callie's reactions to the complications Ren and Shay bring to her life, unfold gracefully as she takes steps to discover the truth about herself, the packs, and their roles in the Witch's War. Ages 14-up. Publisher copy. Recommendation by Greg Leitich Smith.

NIGHT WORLD by L.J. Smith (Pocket Books, 1996-). NIGHT WORLD is actually a series of young adult novels. They center around the idea that the Night World exists in conjunction with the human world and is made up of shape shifters, werewolves, witches, vampires, and others that humans currently dismiss as mythological. The laws are simple: playing or killing humans is allowed but revealing the Night World to a human or following in love with him or her is strictly forbidden. Essentially, this series is about love stories of characters from two worlds who have broken the Night World law and must face both each other and the consequences. In addition, it features a grander, more encompassing conflict as Circle Daybreak strives to bring the worlds together in peace. Quick reads, multilayered and offering plenty for the reader to ponder. Ages 12-up.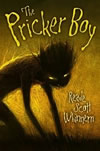 THE PRICKER BOY by Reade Scott Whinnem (Random House, 2009). In The Pricker Boy, Whinnem deftly captures adolescent angst, night terrors, and our atavistic fear of the dark forest. Fourteen-year-old Stucks Cumberland and his friend Pete live year-round at Tanner Pond. But every year, their friends Vivek, Emily, Ronnie, and Stucks's cousin Robin arrive for a summer of fun, swimming, and campfire stories amidst the hawthorne woods. And every year, they know better than to go into the woods beyond the Widow's Stone, where dwells the Pricker Boy, creature of the thorns. Until now… An intensely compelling and creepy novel. Stucks and his friends and family are lively, fascinating, and sometimes surprising. Ages 10-up. HIGHLY RECOMMENDED. Recommendation by Greg Leitich Smith.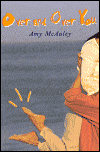 OVER AND OVER YOU by Amy McAuley (Roaring Brook, 2005). Penny is haunted by vivid dreams that feel so real, almost as if they…were? After being tipped off by a psychic, she's starting to consider extreme possibilities, destinies, and even true love. Penny's voice is engaging, her plight compelling, and her command of historical factoids inspirational. A wonderful choice for romantics, fantasy fans, and those who appreciate psychic (and psychological) puzzles. Ages 12-up. More on this title from Spookycyn; read The Story Behind The Story from Amy McCauley.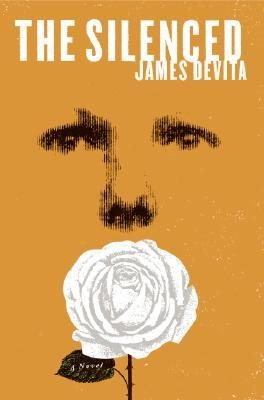 THE SILENCED by James DeVita (Laura Geringer/HarperCollins, 2007). Reading is outlawed. Writing is outlawed. Individual identity? Irrelevant. Diversity? Suspect, inferior. Defiance? Punished by death or worse. The Zero Tolerance Party is listening everywhere, and it's tough to know whom to trust. What happens when Marena forms her own resistance movement, the White Rose? Ages 12-up.
THE SILVER KISS by Annette Curtis Klause (Delacorte, 1990). A haunting story of love between Zoe and Simon, a vampire. She wrestles with the impending death of her mother while he seeks to avenge the murder of his. A look at love and death with no easy answers or conveniently happy endings. Recommended to fans of hopeless romance. Ages 12-up.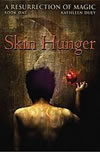 SKIN HUNGER by Kathleen Duey (A Resurrection of Magic, Book One)(Atheneum, 2007). Once, true magic existed, but long ago magicians were hunted down and killed by jealous kings. Now, with magic outlawed, there are only charlatans and frauds wearing black robes and taking advantage of the credulous or desperate. One such fraud, called in to aid Sadima's mother with her birthing, steals the family's few valuables, and leaves Sadima dying and her mother dead. Sadima survives and discovers she has an ability to communicate with animals. At seventeen, she leaves home to seek out two young men who are determined to resurrect magic so that it can once more be used to help mankind. She's drawn to Franklin, but can't understand what binds him to Somiss, whose obsession with restoring magic does little, in her mind, to excuse barely restrained anger and cruelty. Years later, magic has been restored and is taught at a mysterious Academy, where fewer than one in ten succeeds to become a magician, and where boys are left by their parents for fates unknown: to either become magicians or disappear forever. Hahp, second son of a wealthy merchant, is sent there because his father decided to get rid of him. Garrard, a peasant boy, is assigned as his roommate. The only thing that binds them is the consequences of failure and their fear of working together, which has been proscribed. And the latter may be their only chance to avoid the former… Told in chapters that alternate between Sadima's story and Hahp's, SKIN HUNGER is a darkly engrossing read. Duey skillfully uses Sadima's story to illuminate Hahp's, creating characters that are expertly drawn and a fantasy world that is textured and real. Ages 12-up. HIGHLY RECOMMENDED. Recommendation by Greg Leitich Smith. Read The Story Behind the Story from Kathleen Duey. Don't miss the companion book, SACRED SCARS (A Resurrection of Magic, Book Two)(Atheneum, 2009).
THE SKULL OF TRUTH by Bruce Coville, illustrated by Gary A. Lippincott (Harcourt, 1997). Our favorite of the successful Magic Shop Books that began with JEREMY THATCHER, DRAGON HATCHER. Just couldn't resist sneaking in this middle-grade title. Ages 8-up.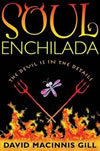 SOUL ENCHILADA by David Macinnis Gill (Greenwillow, 2009). Bug's grandfather sold his soul to the devil for a '58 Cadillac. Now that he's dead, payment is due. But somehow, he escaped, which means that Bug is responsible – when she was thirteen, her grandfather tricked her into co-signing. Even with the assistance of her longtime crush Pesto (who is not what he seems), can Bug make sense of her life and save her immortal soul and/or her Biarritz? SOUL ENCHILADA is warm, funny, and full of grace. Richly detailed, Bug and Pesto are engaging and believable; readers will be enthusiastically rooting for them to smite the devil. Ages 12-up. (Gothic fantasy.) Recommendation by Greg Leitich Smith.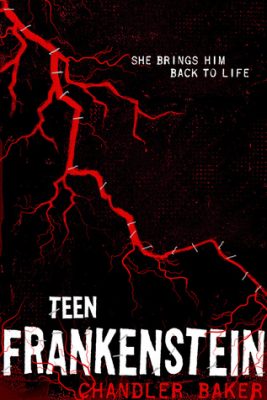 TEEN FRANKENSTEIN by Chandler Baker (Feiwel & Friends, 2016). High school meets classic horror in this modern reimagining of Mary Shelley's gothic novel. It was a dark and stormy night when Tor Frankenstein accidentally hits someone with her car. And kills him. But, all is not lost―Tor, being the scientific genius she is, brings him back to life…Thus begins a twisty, turn-y take on a familiar tale, set in the town of Hollow Pines, Texas, where high school is truly horrifying. Ages 12-up. Compiled from promotional materials.
THIRSTY by M. T. Anderson (Candlewick, 1997). In a world where everybody knows vampires really exist, Chris finds himself becoming one. It's hard enough dealing with his family, the growing distance between him and his friends, and the enigmatic quality of the girl his likes. Then an entity calling himself "Chet" ask Chris to help save humanity. But it's not clear if Chet is really on the side of good or evil, and with each passing day, Chris finds himself growing more thirsty. A must-read for vampire comedy fans. Ages 12-up. HIGHLY RECOMMENDED.
THIS DARK ENDEAVOR: THE APPRENTICESHIP OF VICTOR FRANKENSTEIN, by Kenneth Oppel (Simon & Schuster, 2011)(Brilliance Audio). At sixteen, Victor Frankenstein and his twin Konrad have lived charmed lives. Members of one of the most prominent families in late 18th century Geneva, they have had the finest educations and wanted for nothing. But when Konrad mysteriously falls ill and the doctors can do nothing, Victor embarks upon a alchemical quest of his own… THIS DARK ENDEAVOR provides a fascinating look at the coming of age of one of the most intriguing characters in English literature. Altogether, an elegantly dark and atmospheric novel. Ages 12-up. Recommendation by Greg Leitich Smith.

TITHE: A MODERN FAEIRE TALE by Holly Black (Simon & Schuster, 2002). Kaye Fierch has been passing through life as a blond Asian, connecting with fairies but not counting herself among them…until now. Excellent juxtaposition of the fantasy elements against the New Jersey setting. Some readers may be familiar with Black from the Spiderwick Chronicle Series (for the younger set). Ages 12-up. Read The Story Behind The Story from Holly Black. Don't miss the two companion books, VALIANT: A MODERN TALE OF FAERIE (Simon & Schuster, 2005) and IRONSIDE: A MODERN TALE OF FAERIE (Simon & Schuster, 2007).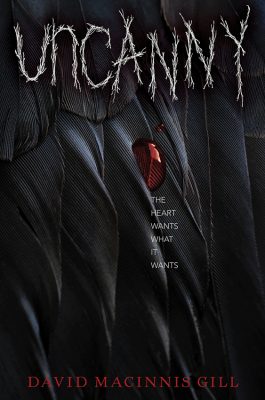 UNCANNY by David Macinnis Gill (Greenwillow, 2017). When a bolt of lightning causes a Boston-wide blackout on her sixteenth birthday, Willow Jane doesn't think anything of it—until she begins stopping time, until she comes face-to-face with her menacing familiar, until her sister disappears. But these aren't the only strange and horrifying things to come out of the storm. An ancient witch named the Shadowless has awoken and escaped from her crypt, and she's looking for revenge on Willow Jane's family. This eerie horror story lingers long after its bloody end, and is perfect for anyone who likes things that go bump in the night. Ages 12-up. Compiled from promotional materials.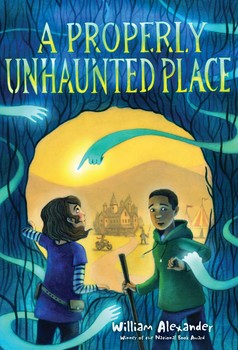 A PROPERLY UNHAUNTED PLACE by Will Alexander (McElderry, 2017). A fierce, formidable young hero faces off against ghostly intrigue. Alexander conjures up a clever, irresistible story of high-stakes supernatural action, grounded in friendship and family, fueled by the healing, decimating power of what haunts us all. Ages 8-up.
VAMPIRE HIGH by Douglas Rees (Delacorte, 2003), darling concept with a plotline that is an exploration of a fresh, funny, farcical world. Ages 12-up. Read The Story Behind The Story from Douglas Rees.
VAMPIRE KISSES by Ellen Schreiber (HarperCollins, 2003). Raven, 16, a self-styled Goth girl has always wanted to be a vampire, but by cruel fate finds herself being raised, trapped, plagued by the banality that is Dullsville. Still, with her quick wit and resourcefulness, she more than fends off her lock-step critics and perhaps even finds true love with the mysterious boy from the mansion on the hill. A horromedy with more laughs than bite; light, entertaining, and although it's marked for ages twelve and up, I'd say… Ages 10-up. See also VAMPIRE KISSES: KISSING COFFINS (HarperCollins, 2005), VAMPIRE KISSES: VAMPIREVILLE, VAMPIRE KISSES: DANCING WITH A VAMPIRE. A graphic novel version of the series also is available; look for: VAMPIRE KISSES: BLOOD RELATIVES, illustrated by Rem.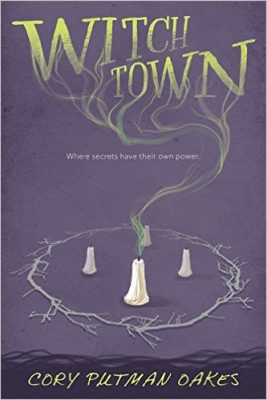 WITCHTOWN by Cory Putman Oakes (Houghton Mifflin, 2017). When sixteen-year-old Macie O'Sullivan and her masterfully manipulative mother Aubra arrive at the gates of Witchtown—the most famous and mysterious witch-only haven in the world—they have one goal in mind: to rob it for all it's worth. But that plan derails when Macie and Aubra start to dig deeper into Witchtown's history and uncover that there is more to the quirky haven than meets the eye. Exploring the haven by herself, Macie finds that secrets are worth more than money in Witchtown. Secrets have their own power. Ages 12-up. Compiled from promotional materials.
related links
Writing Spooky Middle Grade Stories by Cory Putman Oakes from Cynsations. SEE ALSO Illustrator Jane Pica on Drawing Spooky Stories, Adrianna Cuevas on Spooky Stories Inspired by Folklore, and Librarians Kerensa Williams & Rita Painter Discuss Spooky Stories.