This bibliography is drawn from books published between 1995 and 2020. While some award-winners and bestsellers are included, part of the goal is to feature underappreciated gems. For more recent titles, visit Cynsations.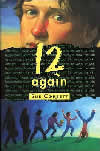 12 AGAIN by Sue Corbett (Dutton, 2002). This first novel is the story of mother Bernadette and son Patrick, who are separated when Bernadette becomes 12 again, leaving Patrick to help manage a bustling household. Via email exchanges and mutual efforts, they must work to bring her (the 40-year-old her) home. Infused with Irish lore and magic, 12 AGAIN is the rare hip, funny, suspenseful, affecting novel. Ages 8-up.
THE A-WORD by Joy Preble (Soho Teen, 2014). Jenna Samuels is about to turn fifteen. It's been almost a year since her stone brother, Casey, bit the dust. Almost a year since he returned as her guardian angel, along with his "angel boss," Amber Velasco, the hot twenty-something former EMT. Almost a year since Casey and Amber used up their one-time-only angel power of flight to save Jenna from the evil Dr. Renfroe, swooping down to catch her as she tumbled off the balcony at the Houston Galleria. In short, a lot for A-word shenanigans and a mostly happy ending. Except now Casey's begun to wonder why he's still hanging around—not that he minds protecting Jenna. She's a handful, but there's got to be a bigger picture, right? Something to distract him from his on again/off again, doomed relationship with cheerleader Lanie Phelps, who has no idea her boyfriend is, well, dead. After all, he can't use his angel wings anymore. Neither can Amber. Enter Bo Shivers, Amber's "angel boss"—a mysterious A-word guy Jenna and Casey didn't even know existed. Whiskey-guzzling. Handsome in a grizzled way. Unpredictable. Okay, make that crazy. Bo lost his angel wings in an earthly flight a long, long time back—and he's been a thorn in Angel Management's side ever since. But Bo knows something is coming. Something big. Something that was worth forfeiting wings for Jenna… something that might just change everything for everyone. Ages 13-up. More on this author from Cynsations. Compiled from promotional materials.
ALIA WAKING by Laura Williams McCaffrey (Clarion, 2003). Alia hopes to be chosen as a keenteen, or warrior woman, when she turns thirteen. But then Alia and her best friend, Kay, capture two of the enemy, a boy and girl about their age, and are assigned to care for them in prison. As she gets to know the prisoners, Alia is forced to question her own assumptions and prejudices. A fast-paced adventure for fantasy fans. Ages 9-up. Recommendation by Frances Hill.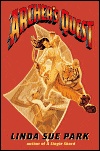 ARCHER'S QUEST by Linda Sue Park (Clarion, 2006). In this time travel fantasy, Chu-mong, the Great Archer of Ancient Korea, appears suddenly in Kevin's room, after having fallen off a tiger. Kevin has no idea how it happened, but knows that he must return Chu-mong to the past or history will be irrevocably altered. This intelligent fantasy has Kevin seamlessly drawing on a wide array of knowledge as he attempts to acclimate Chu-mong to the present day and send him home. Dramatic, fun, smart, and satisfying. Ages 9-up. Recommendation by Greg Leitich Smith. Read The Story Behind The Story from Linda Sue Park.
ASH by Malinda Lo (Little, Brown, 2011). In the wake of her father's death, Ash is left at the mercy of her cruel stepmother. Consumed with grief, her only joy comes by the light of the dying hearth fire, re-reading the fairy tales her mother once told her. In her dreams, someday the fairies will steal her away, as they are said to do. When she meets the dark and dangerous fairy Sidhean, she believes that her wish may be granted. The day that Ash meets Kaisa, the King's Huntress, her heart begins to change. Instead of chasing fairies, Ash learns to hunt with Kaisa. Though their friendship is as delicate as a new bloom, it reawakens Ash's capacity for love—and her desire to live. But Sidhean has already claimed Ash for his own, and she must make a choice between fairytale dreams and true love. Entrancing, empowering, and romantic, Ash is about the connection between life and love, and solitude and death, where transformation can come from even the deepest grief. Ages 14-up. More on this title from Cynsations. Compiled from promotional materials.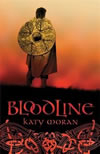 BLOODLINE by Katy Moran (Candlewick, 2009). Moran takes us back to seventh century Britain, where petty kings vie for control over the island. Caught in the middle is Essa, son of Cai, a wandering scop (and more), who abandoned him to a village that's now in the sights of two warlords. As armies approach, Essa undertakes a journey to save those he loves, unsure who he can really trust, always wondering why his father abandoned him and the truth about his mother and who he really is. A sophisticated and thrilling adventure — a story of warring kingdoms, an epic quest, and a touch of elf-magic. Moran compellingly and convincingly draws the reader into Essa's story and the mists of Dark Age Britain. Ages 10-up. Recommendation by Greg Leitich Smith. Look for BLOODLINE RISING.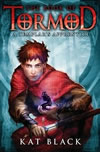 THE BOOK OF TORMOD: A TEMPLAR'S APPRENTICE by Kat Black (Scholastic, 2010). Thirteen-year-old Tormod MacLeod is the seventh of nine children, and the only one gifted with visions. He wants nothing more than to leave his remote village, and gets the chance when a Templar Knight appears and assigns him an errand involving delivery of a scroll and a map. Now irrevocably caught up in Templar intrigues, Tormod flees with the knight to the Continent on a quest to find the Templar Grand Master and seek the treasure whose location is defined by the map – a treasure that they must, at all costs, keep out of the hands of the king of France. Offers a compelling protagonist, terrific voice, period detail, and a rousing adventure. First in a series. Ages 12-up. Recommendation by Greg Leitich Smith.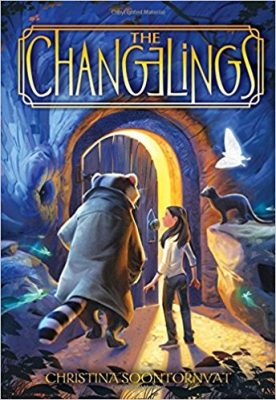 THE CHANGELINGS by Christina Soontornvat (Sourcebooks Jabberwocky, 2016). All Izzy wants is for something interesting to happen in her sleepy little town. But her wish becomes all too real when a mysterious song floats through the woods and lures her little sister Hen into the forest…where she vanishes. A frantic search leads to a strange hole in the ground that Izzy enters. But on the other side, she discovers that the hole was not a hole, this place is not Earth, and Hen is not lost. She's been stolen away to the land of Faerie, and it's up to Izzy to bring her home. But inside Faerie, trouble is brewing-and Izzy is in way over her head. A ragtag group of outlaw Changelings offer to help, but she must decide whether a boulder that comes to life, a girl who looks like a ghost, and a boy who is also a stag can help her save Hen before it's too late. Ages 9-up. More on this title from Cynsations. Compiled from promotional materials.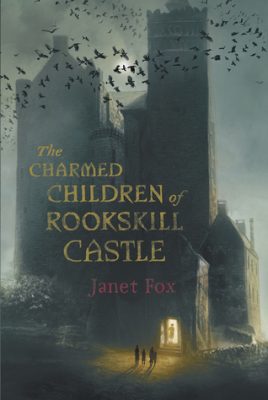 THE CHARMED CHILDREN OF ROOKSKILL CASTLE by Janet Fox (Viking, 2016). An eerie gothic fairytale with a World War II setting and magic at its heart– and the recipient of four starred reviews and multiple honors. Twelve-year-old Katherine Bateson believes in a logical explanation for everything. But even she can't make sense of the strange goings-on at Rookskill Castle, the drafty old Scottish castle-turned-school where she and her siblings have been sent to escape the London Blitz. What's making those mechanical shrieks at night? Why do the castle's walls seem to have a mind of their own? And who are the silent children who seem to haunt Rookskill's grounds? Kat believes Lady Eleanor, who rules the castle, is harboring a Nazi spy. But when her classmates begin to vanish, one by one, Kat must face the truth about what the castle actually harbors–and what Lady Eleanor is–before it's too late. Ages 10-up. More on this title from Cynsations. Compiled from promotional materials.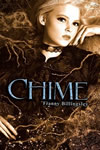 CHIME by Franny Billingsley (Dial, 2011). In the early twentieth century, in the village of Swampsea, which borders a swamp still inhabited by the Old Ones, they hang witches. So seventeen-year-old Briony Larkin must keep the secret that her uncontrolled powers injured her sister and killed her stepmother. But with the Boggy Mun sending the swamp fever, she must choose between telling all or letting the children die. And when handsome, funny Eldric arrives, things become even more complicated. Although attracted to him, she knows a witch cannot love… At times both romantic and horrific, Briony's struggles over which path(s) to take make for a compelling and ultimately satisfying tale of love, family, and mystery. Ages 12-up. Recommendation by Greg Leitich Smith.
A CONSPIRACY OF KINGS by Megan Whalen Turner (Greenwillow, 2010). The deliciously Machiavellian follow-up to THE THIEF, THE QUEEN OF ATTOLIA, and THE KING OF ATTOLIA. In brief, it is the story of the quest of Sophos, erstwhile companion of the Thief of Eddis, to secure the throne of Sounis: Effete and affable, Sophos is kidnapped in a coup attempt by fractious barons (but abetted by the ambassador from the Medan empire) against his uncle. His only hope is to bide his time and escape to Attolia. But can Eugenides himself, even with the aid of both Attolia and Eddis, harden him enough to help unite the peninsula against the Mede? Ages 12-up. Recommendation by Greg Leitich Smith.
THE DEVIL'S ARITHMETIC by Jane Yolen (Viking, 1998). In this gripping fantasy, Hannah opens the door during Passover Seder and finds herself transported to Poland in the 1940s. Suddenly, her relatives' stories of the Holocaust are brought back to life. The point of view and fantasy element offer a bridge for young readers to place themselves in the past. Ages 8-up.
THE DRAGONLING by Jackie French Koller (Minstrel, 2000). Darek's initial ambition to become a hunter of dragons shifts when he befriends a dragoning and must bring it home. Ages 8-up. Look for more books in the series.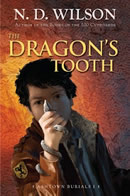 THE DRAGON'S TOOTH (Ashtown Burials, Book 1) by N.D. Wilson (Random House, 2011).  Twelve-year-old Cyrus and his sister Antigone have been living with their older brother Dan in a decrepit motel in Wisconsin for the past two years, their father dead and their mother in a coma. Then a strange old man shows up and gives Cyrus a mysterious artifact and set of keys, the place is burned to the ground, and Daniel goes missing.  To get him back, Cyrus and his sister are drawn into the machinations of the mysterious Order of Brendan, jailers of semi-immortal villains and caretakers of powerful mystical objects… Cyrus and Antigone are likeable and believable as siblings and as they come together to face a world in which legend has become reality. Ages 10-up. Recommendation by Greg Leitich Smith.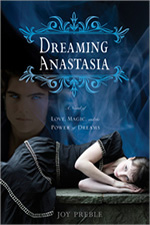 DREAMING ANASTASIA by Joy Preble (Sourcebooks Jabberwocky, 2009). Sixteen-year-old Anne thinks her life is pretty ordinary—until she smacks into handsome, mysterious, and okay, annoying Ethan on her way to chemistry class. Now Anne has powers she doesn't understand, a history altering mission she may not want, and a growing attraction to his blue-eyed stranger. And Ethan—who at eighteen made some choices he's starting to regret–realizes that Anne is the girl for whom he's been searching – for a very, very long time. Stir in doomed Russian Grand Duchess Anastasia—who is definitely not quite as dead ///as the history books say—and Baba Yaga, the legendary witch from Russian folklore, and you've got Dreaming Anastasia, a contemporary YA fantasy that alternates between the voice of Anne, Ethan, and Anastasia as Anne and Ethan join forces to battle the bad guys and save Anastasia. Only problem is–no one's quite sure who's really bad and who's good. And everyone has some secrets. Ages 14-up. More on this title from Cynsations. Look for more books in the seriies. Compiled from promotional materials.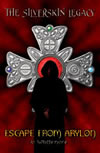 ESCAPE FROM ARYLON by Jo Whittemore (Book One from the Silverskin Legacy) by Jo Whittemore (Llewellyn, 2006). A freak accident transports high school freshmen and ex-friends Megan Haney and Ainsley Minks from their sleepy suburb to the land of Arylon, where someone has stolen the powerful Staff of Lexiam. Before they can return home, they must help the wizard-king Bornias recover the Staff, or else both worlds will be in jeopardy. The author creates likeable and intriguing characters and a fun and fantastic fantasy world. Ages 12-up. Recommendation by Greg Leitich Smith. Read The Story Behind The Story from Jo Whittemore. Don't miss the other two books in the trilogy, CURSE OF ARASTOLD and ONAJ'S HORN.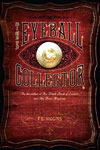 THE EYEBALL COLLECTOR by F.E. Higgins (Feiwel & Friends, 2009). In the corrupt city of Urbs Umida, divided between the rich north and the southern slums by the toxic River Foedus, Hector Fitzbaudly is living the life of a scion of society and wealth. But when his father dies after being blackmailed by the dastardly Gulliver Truepin, Hector loses everything and must make his way on the south side. And all he has left is revenge on the one-eyed man who killed his father… A companion to THE BLACK BOOK OF SECRETS and THE BONE MAGICIAN, THE EYEBALL COLLECTOR is another winner set in the deliciously creepy world of Urbs Umida. Ages 10-up. Recommendation by Greg Leitich Smith.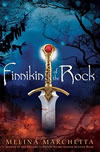 FINNIKIN OF THE ROCK by Melina Marchetta (Candlewick, 2010). At the age of nine, Finnikin, son of the captain of the King's Guard, witnesses a bloody coup in the kingdom of Lumatere. After a brutal massacre, the kingdom is placed under a curse: no one can enter or leave. But Finnikin himself has been spirited away. Ten years later, Finnikin trains with the former king's first man, traveling to refugee camps, seeking out fellow Lumaterans in exile. Then they encounter the mysterious Evanjalin, who claims she can speak, in her dreams, to those trapped inside Lumatere. And she might just have a plan to release the curse and overthrow the imposter… A thoroughly enjoyable, thrilling and textured tale of survival, hope, love, and justice. The plot is complex and the fantasy world richly-detailed. Ages 12-up. Recommendation by Greg Leitich Smith.
FOREST OF WONDERS (WING AND CLAW TRILOGY, BOOK 1) by Linda Sue Park, illustrated by Jennifer Black Reinhardt (HarperCollins, 2016).  Raffa Santana has always loved the mysterious Forest of Wonders. For a gifted young apothecary like him, every leaf could unleash a kind of magic. When an injured bat crashed into his life, Raffa invents a cure from a rare crimson vine that he finds deep in the Forest. His remedy saves the animal but also transforms it into something much more than an ordinary bat, with far-reaching consequences. Raffa's experiments lead him away from home to the forbidding city of Gilden, where troubling discoveries make him question whether exciting botanical inventions—including his own—might actually threaten the very creatures of the Forest he wants to protect. Ages 8- 12. More on this title from Cynsations. Compiled from promotional materials.
GOOSE CHASE by Patrice Kindl (Houghton Mifflin, 2001). In the year's most delightfully humorous fantasy, Goose Girl's spunky voice rains down from her tower prison, while facing three ogresses, and after being tossed into a dungeon. This charming novel draws from a variety of European fairy tale traditions. Ages 9-up.
THE FOLK KEEPER by Franny Billingsley (Atheneum, 1999). Strong-willed Corinna dresses as a boy for her life as the Folk Keeper — the one who placates the ravenous Folk. Unexpectedly, a lord requests her presence on his estate as both the new Folk Keeper and the latest household member. But that's only the beginning — romance, treachery, and a revelation about selkie heritage follow. Ages 10-up.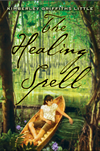 THE HEALING SPELL by Kimberley Griffiths Little (Scholastic, 2010). Eleven-year-old Livie lives with her family deep in the bayou and other than that, is a pretty typical kid trying to hide her pet alligator, get along with her cousin, and deal with her sister's upcoming wedding. But her mother is in a coma and Livie has become estranged from her father. And when her mother is brought home, the house is turned upside down to ensure she is properly cared for. Livie feels responsible and knows the only way to make it right is to find a way to wake her Mom up… Lush, fascinating, sweet, and atmospheric. Ages 8-up. Publisher copy. Recommendation by Greg Leitich Smith.
HOLES by Louis Sachar (Farrar, 1998). The fourth generation Stanley Yelnats is unjustly sent to a bleak juvenile detention camp, in which residents are forced to dig five feet long by five feet deep holes every day in the hot Texas sun. Will the Yelnats family ever shake the curse that saddled them with so much bad luck? A sometimes dark, sometimes amusing contemporary tall tale with as much bite as energy. Ages 9-up.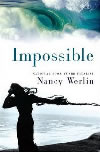 IMPOSSIBLE by Nancy Werlin (Dial 2008). Seventeen-year-old Lucy Scarborough, like all women in her family, is cursed. Unless she can perform three seemingly impossible tasks by the time her daughter is born, she will go mad…Unlike her ancestors, though, Lucy has loving friends and foster parents. But will that be enough? Inspired by the ballad Scarborough Fair, IMPOSSIBLE is a thought-provoking read that offers engaging characters and suspense as it brings the eldritch atmosphere of Irish myth and legend to the suburbs (while exploring issues of love and friendship, with a hint of parsley, sage, rosemary, and thyme). Ages 12-up. Recommendation by Greg Leitich Smith.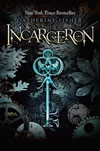 INCARCERON by Catherine Fisher (Dial, 2010). A century and a half ago, the Sapienti created Incarceron, a prison as vast as worlds, from which no one can escape. In it, they sealed in their criminals and their dregs and their undesirables. They thought they had created a paradise. But Incarceron was alive, and without mercy. Three years ago, at fifteen, Finn woke up in a cell in the prison, without memories, but with the conviction that he didn't belong there: that he, alone of all the inhabitants of Incarceron, was from the Outside. For now though, he lives in a world red in tooth and claw. But he's determined to make it back Outside, although has no real hope of doing so. And then he finds a crystal key and a link to a girl… Outside, Claudia, daughter of the Warden of Incarceron, lives in a stagnant world governed by the Protocol, defining a society that exists in a pre-industrial revolution state of grace. Or at least, that was the theory. But unrest teems just below the surface…Claudia herself is doomed to an arranged marriage. Unless, she thinks, she can help Finn escape, and reveal the truth that the prison, still believed to be a paradise, is actually an anarchic hell. A gripping read, filled with action and suspense. Ages 12-up. Recommendation by Greg Leitich Smith.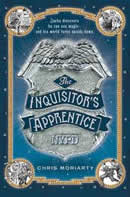 THE INQUISITOR'S APPRENTICE by Pat Moriarty, illustrated by Mark Edward Geyer (Houghton Mifflin Harcourt, 2011).  In New York City, in the first decade of the Twentieth Century, magic is illegal, although almost everyone practices it. When it's discovered that thirteen-year-old Sacha Kessler–the son of Russian Jewish immigrants–can see witches, he's apprenticed to the famous Inquistor Wolf, whose job it is to stop magical crime. Their first case is to prevent the murder to Thomas Edison, but the main suspect is a rabbi, and the truth might just come a little too close to home for Sacha… An atmospheric and believable alternate history, a fascinating and occasionally humorous melting-pot world of magic and ethnicities, and an engaging protagonist. Ages 10-up. Recommendation by Greg Leitich Smith. Look for more books in the series.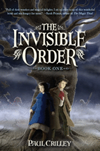 THE INVISIBLE ORDER: RISE OF THE DARKLINGS by Paul Crilley (Egmont, 2010). In the middle of Victorian London, twelve-year-old Emily and her nine-year-old brother William are recently orphaned. When Emily rescues a piskie in a back alley, she is drawn into an ages-old conflict involving two sects of the fey folk and the Invisible Order, a human secret society dedicated to protecting humanity from the fey. Things become more personal when William is kidnapped—she has to get him back, but whom can she trust? Together with Corrigan, the piskie she rescued, and Jack, a street urchin a year older than her, she must navigate her way through treachery and danger. An intense, action-packed ride through a Victorian London that sits atop a dangerous faerie realm. Emily is engaging and well-developed, while Corrigan and Jack are funny and likeable. Look for Book 2, THE FIRE KING. Ages 10-up. Recommendation by Greg Leitich Smith.
THE KING OF ATTOLIA by Megan Whalen Turner (Greenwillow, 2006). Eugenides, the Thief of Eddis, is now married to the Queen of Attolia. Goofy and apparently ineffectual, he is despised by the Queen's guardsmen and courtiers. When Costis, a guard, punches him in the face, Eugenides punishes him by assigning him to be his personal lieutenant. In that office, Costis comes to realize that not all is as it seems. Political intrigue and subterfuge abound as the King and Queen attempt to unite their fractious, short-sighted barons to face the threat from the neighboring Mede Empire. KING OF ATTOLIA is a sequel to THE THIEF (HarperCollins, 1996) and QUEEN OF ATTOLIA (Greenwillow, 2000) and is probably best read after those. As in the two preceding novels, in KING OF ATTOLIA, Turner offers well-rounded, genuine characters who are much more than fantasy archetypes; a realistic pseudo-Byzantine world; and provides a fascinating plot evocative of the Great Game and the Balance of Powers. Ages 10-up. Recommendation by Greg Leitich Smith.
KING OF ITHAKA, by Tracy Barrett (Henry Holt, 2010). Telemachos's father Odysseus has been gone nearly his entire life – at first in answer to King Agamemnon's call to fight the Trojans, but since then, no one knows where. Still, for the most part Telemachos has had it easy. Now, he must step up and leave Ithaka to find his father, or the kingdom (and his mother) will be lost to them.  Accompanied by the centaur Brax and the young stowaway Polydora, he sets off to the mainland and on his quest… KING OF ITHAKA offers an exceptional voice that evocatively captures Bronze Age Greece as it retells The Odyssey of Homer. The setting is richly drawn and the character of Telemachos is compelling and believable. In short, KING OF ITHAKA is a winning historical fantasy with just the right amounts of action and humor. Ages 12-up. Recommendation by Greg Leitich Smith.
THE LIGHTNING THIEF by Rick Riordan (Hyperion, 2005)(book one of the PERCY JACKSON AND THE OLYMPIANS series). Twelve-year-old Percy Jackson is kicked out of his sixth school in as many years. This time, at least, it's not his fault. It's only proper and just that he should stick up for his best friend, and he didn't really mean to vaporize his algebra teacher.  Fortuitously, Percy makes it to Camp Halfblood, where he finds out that he, like the heroes of Ancient Greece, is a demigod (a child of a mortal and a god). Most of them don't make it past sixth grade, though… Together with a daughter of Athena and a neurotic satyr, Percy must recover the Lightning Bolt of Zeus, to prevent a war among the gods that will make Troy look like a minor tiff. An exciting, action-packed, often funny and fresh take on Greek mythology. Ages 10-up. Recommendation by Greg Leitich Smith. Read The Story Behind The Story from Rick Riordan.
LONDON CALLING by Edward Bloor (Knopf, 2006). When he falls asleep listening to a Philco 20 Deluxe radio, Martin Conway, a miserable scholarship student at All Saints Preparatory School, begins to have amazingly realistic dreams or, as he believes, time travel adventures with another boy during the London Blitz of WWII. The story deftly explores the relationships between fathers and sons and demonstrates how history can touch and affect the present. A ghost story, a historical novel, a mystery, and a time travel adventure bundled into one book, this elegant novel defies genre classification and shows Bloor is, once again, not afraid to take chances in his writing. Ages 9-up. Recommendation by Frances Hill.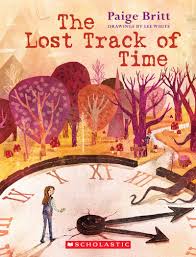 THE LOST TRACK OF TIME by Paige Britt, illustrated by Lee White (Scholastic, 2015). Penelope is running out of time! She dreams of being a writer, but how can she pursue her passion when her mother schedules every minute of her life? And how will she ever prove that writing is worthwhile if her mother keeps telling her to "get busy!" and "be more productive"? Then one day, Penelope discovers a hole in her schedule—an entire day completely unplanned!—and she mysteriously falls into it. What follows is a mesmerizing journey through the Realm of Possibility where Penelope sets out to find and free the Great Moodler, the one person who may have the answers she seeks. Along the way, she must face an army of Clockworkers, battle the evil Chronos, take a daring Flight of Fancy, and save herself from the grip of time. Brimming with clever language and masterful wordplay, The Lost Track of Time is a high-stakes adventure that will take you to a place where nothing is impossible and every minute doesn't count—people do! Ages 8-up. More on this title from Cynsations. Compiled from promotional materials.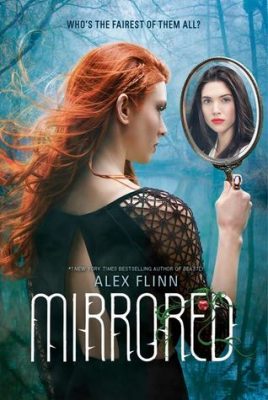 MIRRORED (Kendra Chronicles) by Alex Flinn (HarperTeen, 2015). Celine's life is the stuff fairy tales are made of. She's beautiful, talented, and brave. Unfortunately, her tale comes complete with a wicked stepmother! When Violet steps into Celine's life, everything changes and weird things begin to happen to her—bizarre accidents, strange illnesses, and rabid animal attacks. Celine doesn't feel safe anywhere. It's almost as if some hateful witch is out to get her. And there is. Violet has been waiting all her life to have Celine's father to herself. Getting rid of his gorgeous daughter is child's play for a witch as powerful as she is. Happy-ever-after isn't enough for Violet. She wants to be the fairest of them all, and Celine is in the way . . . but not for long. Forced to take refuge with her friend Goose and his family, Celine gives up everything she loves and goes deep undercover. But will it be enough to fool Violet, or will Celine's fate be decided by a reflection in a magic mirror? And where do you find Prince Charming in Miami anyway? A modern retelling of Snow White—told from the points of view of Violet, Celine, and Goose—with all the magic and mystery readers will love. Ages 12-up. Compiled from promotional materials.

MOONSHADOW: RISE OF THE NINJA by Simon Higgins (Little, Brown, 2010).  In this historical fantasy based on medieval Japan, the orphan Moonshadow has been raised as a ninja warrior spy by the members of the Grey Light Order to serve the shogun and preserve the peace against fractious warlords. In addition to being a master of stealth and swordsmanship, Moonshadow possesses the "eye of the beast," the ability to see through the eyes of animals.  Now, on his first mission, he must put all his skills to the test as he goes in alone to the the castle of a rebel warlord who wants to overthrow the shogunate… A thoroughly fun, action-packed yarn. Ages 10-up. Recommendation by Greg Leitich Smith.

THE MOSTLY TRUE STORY OF JACK by Kelly Barnhill (Little Brown, 2011). Jack has always been overlooked by both his parents and his brother and, well, pretty much everyone else, too.  But when he's sent to live with his aunt and uncle in rural Iowa, he finds, to his surprise, that they actually see him.  And not just them: it's the strange kids in the neighborhood (who seem to want to be his friends (!)) and the police, who work for the wealthiest man in town (who wants Jack dead). And then there are the eruptions of magic… An atmospheric story of family and belonging and good and evil.  Jack is engaging and believable, and the mystery of the dark magic unfolds to a compelling and satisfying conclusion. Ages 8-up. Recommendation by Greg Leitich Smith.
POISON by Bridget Zinn (Hyperion, 2013). Sixteen-year-old Kyra, a highly-skilled potions master, is the only one who knows her kingdom is on the verge of destruction—which means she's the only one who can save it. Faced with no other choice, Kyra decides to do what she does best: poison the kingdom's future ruler, who also happens to be her former best friend. But, for the first time ever, her poisoned dart…misses. Now a fugitive instead of a hero, Kyra is caught in a game of hide-and-seek with the king's army and her potioner ex-boyfriend, Hal. At least she's not alone. She's armed with her vital potions, a too-cute pig, and Fred, the charming adventurer she can't stop thinking about. Kyra is determined to get herself a second chance (at murder), but will she be able to find and defeat the princess before Hal and the army find her? Ages 12-up. More on this title from Cynsations. Compiled from promotional materials.

PRINCESS BEN by Catherine Gilbert Murdock (Houghton Mifflin, 2008). Princess Benevolence has been content living with her parents, the king's brother and sister-in-law, in small quarters outside the palace. Despite being heir to the throne, she's never had any desire to learn the stuff of rulership. But when her parents and the king are assassinated, she falls under the thumb of the Queen, who is insistent upon her learning all that she has hitherto neglected. When the queen locks Ben into the highest tower in the castle, the princess discovers a book on how to do magic, which can set her free. But with war in the offing, will that be enough to save the kingdom? A fun, lively fantasy, full of personal and political machinations, and a little bit of magic. Ages 10-up. Recommendation by Greg Leitich Smith. Read The Story Behind The Story from Catherine Gilbert Murdock.
THE QUEEN OF ATTOLIA by Megan Whalen Turner (Greenwillow, 2000). Sequel to THE THIEF, Eugenides holds the fates of three kingdoms in his hand while trying to outmaneuver the Queen of Attolia. A great story of action, diplomacy, and political intrigue. Ages 9-up.
THE REAL BOY by Anne Ursu, illustrated by Erin McGuire (Walden Pond, 2013). On an island on the edge of an immense sea there is a city, a forest, and a boy. The city is called Asteri, a perfect city that was saved by the magic woven into its walls from a devastating plague that swept through the world over a hundred years before. The forest is called the Barrow, a vast wood of ancient trees that encircles the city and feeds the earth with magic. And the boy is called Oscar, a shop boy for the most powerful magician in the Barrow. Oscar spends his days in a small room in the dark cellar of his master's shop grinding herbs and dreaming of the wizards who once lived on the island generations ago. Oscar's world is small, but he likes it that way. The real world is vast, strange, and unpredictable. And Oscar does not quite fit in it. Ages 9-12. More on this author from Cynsations. Compiled from promotional materials.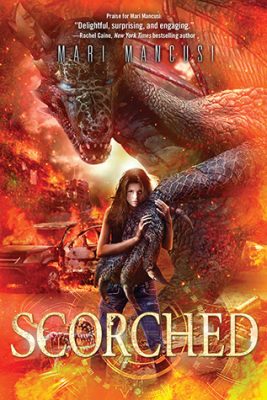 SCORCHED by Mari Mancusi (Sourcebooks Fire, 2013). Sixteen-year-old Trinity Foxx is used to her grandfather's crazy stories, so she never believed the latest treasure he brought home was a real dragon's egg. Not until their home is invaded by soldiers trying to steal it, and a strange boy tells her the world as she knows it will be wiped out in a fiery dragon war–unless they work together to stop it. Meantime, there's a different voice whispering to Trinity, calling to her, telling her what to do…the dragon inside her egg is not ready to give up without a fight. Ages 12-up. More on this title from Cynsations. Compiled from promotional materials.
SERPENTINE by Cindy Pon (Month9Books, 2015). A sweeping fantasy set in the ancient Kingdom of Xia and inspired by the rich history of Chinese mythology. Lush with details from Chinese folklore, SERPENTINE tells the coming of age story of Skybright, a young girl who worries about her growing otherness. As she turns sixteen, Skybright notices troubling changes. By day, she is a companion and handmaid to the youngest daughter of a very wealthy family. But nighttime brings with it a darkness that not even daybreak can quell. When her plight can no longer be denied, Skybright learns that despite a dark destiny, she must struggle to retain her sense of self – even as she falls in love for the first time. Ages 14-up. Compiled from promotional materials.
SIRENA by Donna Jo Napoli (Scholastic, 1998). Sirena is a mermaid, saddened when her sisters sing sailors to their death in search of love. Then she falls in love and wonders if it was because she was pressured to sing or because of who she is. Very romantic. Ages 9-up.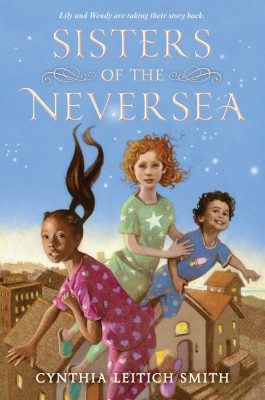 SISTERS OF THE NEVERSEA by Cynthia Leitich Smith, cover by Floyd Cooper (Heartdrum, 2021). Lily and Wendy have been best friends since they became stepsisters. But with their feuding parents planning to spend the summer apart, what will become of their family—and their friendship? Little do they know that a mysterious boy has been watching them from the oak tree outside their window. A boy who intends to take them away from home for good, to an island of wild animals, Merfolk, Fairies, and kidnapped children. A boy who calls himself Peter Pan. Ages 8-up.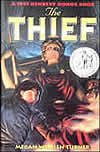 THE THIEF by Megan Whalen Turner (Greenwillow, 1996). Gen, The Thief, has been caught and can't steal himself from the king's dungeon. His chance comes when he is selected by the king's magus to steal a mysterious artifact that holds the key to the throne of the neighboring kingdom. Engaging, three dimensional characters. Ages 10-up.

THOMAS AND THE DRAGON QUEEN by Shutta Crum (Knopf, 2010). Twelve-year-old Thomas is the eldest of ten children and the one who has to take care of the rest. Although small for his age, he's always dreamt of having an adventure and becoming a knight. He gets his chance when Sir Gerald takes him as his squire. At the castle, he learns there's more to becoming a knight than mere adventure—it's hard work, involving learning the use of weapons, manners, and, worst of all, dancing. But then the unthinkable happens: while all the other knights are away defending the border, the Princess Eleanor is captured by the Dragon Queen. So Thomas must now undertake a desperate quest all by himself — to rescue the princess and slay the dragon! A fun and charming story of chivalry and adventure and lake monsters and dragons and a boy's quest to find where he best fits in the world. Ages 8-up. Recommendation by Greg Leitich Smith.
THREE GOOD DEEDS by Vivian Vande Velde (Harcourt, 2005). Howard shouldn't have taunted the old witch, but he didn't know she really was a witch until she turned him into a goose! Now he's stuck that way until he does three good deeds. Meanwhile, the male geese want him away from their females. The female geese want him away from their eggs. And people–including his supposed best friends–want to eat him! Besides flapping his wings, stopping his webbed feet, and HONKing, what's Howard to do? Ages 8-up. More on this title at Cynsations; read The Story Behind The Story from Vivian Vande Velde.

THEODOSIA AND THE SERPENTS OF CHAOS by R.L. LaFevers, illustrated by Yoko Tanaka (Houghton Mifflin Harcourt, 2007). Theodosia Throckmorton has her hands full at the Museum of Legends and Antiquities in London. Her father may be head curator, but it is Theo—and only Theo—who is able to see all the black magic and ancient curses that still cling to the artifacts in the museum. When Theo's mother returns from her latest archaeological dig bearing the Heart of Egypt—a legendary amulet belonging to an ancient tomb—Theo learns that it comes inscribed with a curse so black and vile that it threatens to crumble the British Empire from within and start a war too terrible to imagine. Intent on returning the malevolent artifact to its rightful place, Theo devises a daring plan to put things right. But even with the help of her younger brother, a wily street urchin, and the secret society known as the Brotherhood of the Chosen Keepers, it won't be easy . . . she quickly finds herself pursued down dark alleys, across an ocean, through the bustling crowds of Cairo, and straight into the heart of an ancient mystery. Theo will have to call upon everything she's ever learned in order to prevent the rising chaos from destroying her country—and herself! Sequels: THEODOSIA AND THE STAFF OF OSIRIS (2008), THEODOSIA AND THE EYES OF HOURS (2011), THEODOSIA AND THE LAST PHARAOH (2011). Ages 7-up. More on this author from Cynsations. Compiled from promotional materials.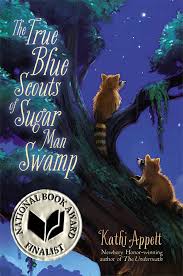 THE TRUE BLUE SCOUTS OF SUGAR MAN SWAMP by Kathi Appelt (Atheneum, 2013). Raccoon brothers Bingo and J'miah are the newest recruits of the Official Sugar Man Swamp Scouts. The opportunity to serve the Sugar Man—the massive creature who delights in delicious sugar cane and magnanimously rules over the swamp—is an honor, and also a big responsibility, since the rest of the swamp critters rely heavily on the intel of these hardworking Scouts.Twelve-year-old Chap Brayburn is not a member of any such organization. But he loves the swamp something fierce, and he'll do anything to help protect it. And help is surely needed, because world-class alligator wrestler Jaeger Stitch wants to turn Sugar Man swamp into an Alligator World Wrestling Arena and Theme Park, and the troubles don't end there. There is also a gang of wild feral hogs on the march, headed straight toward them all. The Scouts are ready. All they have to do is wake up the Sugar Man. Problem is, no one's been able to wake that fellow up in a decade or four… Ages 8-up. More on this author from Cynsations. Compiled from promotional materials.
TRUE TALENTS by David Lubar (Starscape, 2007). In this much-anticipated sequel to HIDDEN TALENTS (Starscape, 2003), Eddie "Trash" Thalmeyer wakes up from a drugged sleep in the custody of a shadowy quasi-governmental organization bent on harnessing his telekinetic talents for their own nefarious purposes. True Talents reunites the gang from the Edgeview Alternative School, as Torchie, Cheater, Lucky, Flinch, and Martin attempt to protect themselves and their families, while rescuing Trash from his captors. A funny, action-packed, rollicking adventure, filled with humor and drama. Ages 10-up. Recommendation by Greg Leitich Smith.

TYGER, TYGER by Kersten Hamilton (Clarion, 2010). Sixteen year-old Chicagoan Teagan Wyllston's life is turned upside down when her seventeen year-old cousin, Finn Mac Cumhaill arrives to live with the family. It turns out that the mysterious and streetwise Finn is destined to lead the battle against the goblins — the unearthly and evil sidhe of lore — but has inadvertently led them to Teagan and her five year-old brother Aidan, who may have powers of their own. When their father is kidnapped by the goblins, Teagen must discover what and who she is and undertakes a rescue mission that leads her directly into Mag Mell, the heart of goblin power. An intricately-wrought, suspenseful, fantasy adventure-mystery. Major and minor characters alike are well-drawn, believable, and, occasionally, funny. Ages 12-up. Recommendation by Greg Leitich Smith.
THE UNNAMEABLES by Ellen Booraem (Harcourt, 2008). On the strangely (and secularly) puritanical Island, everything is named after its purpose and everyone is named after his occupation, except for Medford Runyuin, a former mainlander, who was saved from a shipwreck by his parents (who themselves didn't survive). On the Island, everything impractical is deemed "unnameable," and can get you exiled. So Medford knows he must keep secret and hide the wood carvings he feels compelled to make. This becomes immeasurably more difficult when the Goatman, who has strange wind powers, appears and wreaks havoc on both the physical and cultural structure of Island. A fascinating and creepy, yet believable culture; a well-drawn world with compelling and likeable heroes; and intriguing conflicts. Recommendation by Greg Leitich Smith.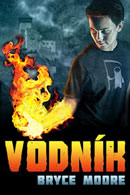 VODNIK by Bryce Moore (Tu Books, 2012). When Tomas was six, his parents brought him to the United States after he was nearly drowned and burned to death — and he has the scars on his arm and lungs to prove it.   Now sixteen, after their house in the States burned down, Tomas and his family are back in Trencin, Slovakia, and he has a job at the very castle at which he nearly died. Then he starts seeing things — fire elementals, water creatures, and the Grim Reaper — and starts to think that the legendary vodnik may actually be after him and his soul… A thrilling and suspenseful update on Slovak legends of the vodnici.  Tomas is engaging and the setting atmospheric, without being cliched, blending the ancient and the contemporary in a fascinating and sometimes funny read.  Ages 12-up. Recommendation by Greg Leitich Smith.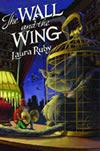 THE WALL AND THE WING by Laura Ruby (HarperCollins, 2006.) In an alternate New York City, Gurl is the only one who can't fly. What she can do, though, is become invisible, a talent which allows her to escape nightly from the Hope House for the Homeless…until she's caught by the House matron, who blackmails Gurl into stealing for her so she can maintain her extravagant lifestyle (that includes expensive plastic surgery, caviar, and other luxuries). There are a lot of twists and turns, and a lot of quirky characters, including fellow orphan Bug, gangster Sweetcheeks Grabowski, creepy mechanical monkeys, a cat who makes effective use of indoor plumbing, and a mysterious professor. It's enormously fun getting to the bottom of who's doing what to whom and why. Ages 9-up. Recommendation by Greg Leitich Smith. Read The Story Behind the Story from Laura Ruby.
WATERSMEET by Ellen Jensen Abbott (Skyscape, 2009). From her birth, Abisina has been outcast—for the color of her eyes and skin, and for her lack of a father. Only her mother's status as the village healer has kept her safe. But when a mythic leader arrives, Abisina's life is ripped apart. She escapes alone to try to find the father and the home she has never known. In a world of extremes, from the deepest prejudice to the greatest bonds of duty and loyalty, Abisina must find her own way and decide where her true hope lies. Ages 12-up. More on this title from Cynsations. Compiled from promotional materials. Look for more books in the series.
WELL WISHED by Franny Billingsley (Atheneum, 1997). Nuria knows that wishes can go wrong, but she decides to go ahead and match wits with the well. A first novel from a rising star in children's fantasy; not to be missed. Ages 8-up.

THE WISH by Gail Carson Levine (HarperCollins, 2000). When Wilma offers an old lady her seat on the subway train, she doesn't know what she's getting herself into. When that old lady offers her one wish in return, Wilma asks to be the most popular girl in her middle school—still thinking nothing will come of it. But something does. Suddenly, the most popular girls are her friends and every guy wants to date her. But Wilma just asked to be the most popular girl at her own school. What happens after eighth grade graduation? Ages 8-up.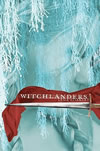 WITCHLANDERS by Lena Coakley (Atheneum, 2011). For as long as he can remember, all Ryder has wanted to do is leave his family's remote farm and go to sea.  But now that his father is dead, it's up to him to keep the hicca crop and protect the family. As for the witches in the coven on the mountain that they — and everyone else in the village — have to tithe to each year? They're worthless. And he should know, because his mother left the coven many years ago and that's what she says. When his home is attacked, Ryder knows who's to blame — the magic wielding Baen across the border.  The ones who started the last war. Ignoring the witches' warnings, he sets off on a quest for vengeance, and perhaps something more. In WITCHLANDERS A well-wrought world, engaging characters, occasional bits of humor, and plenty of action. Ryder and his family and enemies are believable and sympathetic. Ages 12-up. Recommendation by Greg Leitich Smith.

THE WIZARD, THE WITCH, AND TWO GIRLS FROM JERSEY by Lisa Papademetriou (Razorbill, 2006). Veronica Lopez is smart, an avid fantasy reader, and not altogether unattractive. Heather Simms is beautiful, shallow, selfish, vain, and not as dumb as you'd think. The evening before they have to deliver a book report on the classic The Queen of Twilight (Veronica's favorite novel), they are zapped into its pages through the good offices of a malfunctioning bookstore Universal Product Code reader. All they have to do, Veronica figures, is work their way through the plot (which she knows intimately), and then the wizard Strathorn can send them back home. Things begin to go badly from the start, when they accidentally, er, expunge the Princess Arabelle, the prophesied "One," who is supposed to save the land of Galma from the evil Queen of Twilight. Throw in a talking and lascivious squirrel, a bakery elf in exile, a magic-less wizard, a whole bunch of other stuff that's not in The Queen of Twilight, and they may not survive, let alone save Galma and get back home.This novel is hilarious—a wonderful romp that pokes fun at the conventions of high fantasy and high school. Ages 12-up. Recommendation by Greg Leitich Smith.
A WOLF AT THE DOOR AND OTHER RETOLD FAIRY TALES edited by Ellen Datlow and Terri Windling (Simon & Schuster, 2000). A collection of retellings by Delia Sherman, Neil Gaiman, Michael Cadnum, Nancy Farmer, Tanith Lee, Janeen Webb, Kelly Link, Katherine Vaz, Garth Nix, Kathe Koja, Gregory Maguire, Patricia A. McKillip, and Jane Yolen. Worth the price of the book for Yolen's depiction of the birds in "Cinder Elephant," but many other great stories. Ages 10-up.
related links & books
Booklists: Young Adult Speculative Fiction (Fantasy and Science Fiction) from Library Booklists.

THE WAND IN THE WORLD: CONVERSATIONS WITH WRITERS OF FANTASY compiled and edited by Leonard S. Marcus (Candlewick, 2006). Features in-depth interviews with thirteen acclaimed fantasy authors: Lloyd Alexander; Franny Billingsley; Susan Cooper; Nancy Farmer; Brian Jacques; Diana Wynne Jones; Ursula K. Le Guin; Madeleine L'Engle; Garth Nix; Tamora Pierce; Terry Pratchett; Philip Pullman; and Jane Yolen. Offers author photos, including childhood photos, copies of marked manuscripts, etc. Ages 12-up.