This bibliography is drawn from books published between 1995 and 2020. SEE ALSO Young Adult Realism: Titles, A-L. Our intent is to highlight our own books along with additional titles our readers may enjoy. While some award-winners and bestsellers are included, part of the goal is to feature underappreciated gems. For more recent titles, visit Cynsations.
A MANGO SHAPED SPACE by Wendy Mass (Little, Brown, 2003). To thirteen-year-old Mia Winchell, sounds, letters, and numbers have colors. She hasn't told anyone since the second grade debacle, though. When she finally does, she discovers she's not alone. Ages 10-up.
MESSENGER by Carol Lynch Williams (Paula Wiseman, 2016). An eerie and atmospheric coming-of-age tale about a girl who can talk to the dead—even if she would rather not. Evie Messenger knows that her family is different from other families. But it isn't until her fifteenth birthday that the Messenger gift is revealed to her. Evie has the family's gift—a special power. Soon she realizes she is able to see and talk to the dead—ghosts—often with no idea who the person was. Or as Evie says: "I see Dead People. It's a Messenger gift." That doesn't mean she wants the Messenger gift. So Evie tries to ignore it but soon she finds she cannot. Can Evie find a way to live her life without letting her power take over? And what if the dead person is someone close to Evie's family? Ages 12-up. More on this author from Cynsations. Compiled from promotional materials.
MY FATHER'S SUMMERS: A DAUGHTER'S MEMOIR by Kathi Appelt (Henry Holt, 2004). Heartfelt and hopeful, Appelt describes the impact of her father's departure, her first kiss, and a surprisingly close connection to a defining day in American history. Ages 12-up. Recommendation by Anne Bustard.

MY ROAD TRIP TO THE PRETTY GIRL CAPITAL OF THE WORLD by Brian Yansky (Cricket, 2003). In this journey to the self (and from Iowa to Austin), Simon's struggling to keep things together. He's skating the law, recently dumped, and dealing with a dad who just doesn't understand. Overwhelmed, he hits the road to find his biological parents and wisdom about evil advertisers, scary giants, witches, ETs, friendship, nature/nurture, and, well, pretty girls. Ages 12-up.
MYRTLE OF WILLENDORF by Rebecca O'Connell (Front Street, 2000). In her first year of college, artist Myrtle is distanced from her goddess-worshipping, high school best friend. Myrtle's roommate Jada is a unworthy replacement, and Jada's friends are even worse. But Myrtle's painting eventually leads her back to the goddess in more ways than one. Ages 14-up.
NATHAN FOX: DANGEROUS TIMES by L. Brittney (Feiwel & Friends, 2008). Thirteen-year-old Nathan Fox is an acrobat/actor in the same theatre company as young Will Shakespeare. Unbeknownst to him, Will and Nathan's sister, Marie, are employed by Sir Francis Walsingham, the Queen's spymaster, who also wants to recruit Nathan. After a period of training, soon Nathan, his sister, and one Sir John Pearce are off to Venice to try to forge an alliance with the Doge against the Spanish. They encounter the famous general Othello, his new wife Desdemona, and his sinister ensign, Iago. Forced to accompany the general to Crete, the three are soon caught up in treachery and mayhem. Terrifically fun, clever, and accessible. Ages 12-up. Recommendation by Greg Leitich Smith.
NECESSARY ROUGHNESS by Marie G. Lee (HarperCollins, 1996). Chang Jung Kim encounters racism and struggles to fit in after moving to a small town in Minnesota from Los Angeles. Ages 12-up.
NINJAS, PIRANHAS, AND GALILEO by Greg Leitich Smith (Little, Brown, 2003). Elias, Shohei, and Honoria have always been a trio united against That Which Is The Peshtigo School. But suddenly it seems that understanding and sticking up for a best friend isn't as easy as it used to be. Elias, reluctant science fair participant, finds himself defying the authority of Mr. Ethan Eden, teacher king of chem lab. Shohei, all-around slacker, is approaching a showdown with his adoptive parents, who have decided that he needs to start "hearing" his ancestors. And Honoria, legal counsel extraordinaire, discovers that telling a best friend you like him, without actually telling him, is a lot harder than battling Goliath Reed or getting a piranha to become vegetarian. What three best friends find out about the Land of the Rising Sun, Pygocentrus nattereri, and Galileo's choice, among other things, makes for a hilarious and intelligent read filled with wit, wisdom, and a little bit of science. Ages 10-up. Read the Story Behind the Story from Greg Leitich Smith.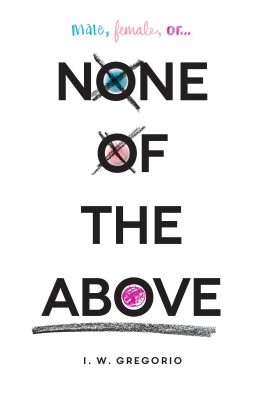 NONE OF THE ABOVE by I.W. Gregorio (Balzer & Bray, 2015). What if everything you knew about yourself changed in an instant? When Kristin Lattimer is voted homecoming queen, it seems like another piece of her ideal life has fallen into place. She's a champion hurdler with a full scholarship to college and she's madly in love with her boyfriend. In fact, she's decided that she's ready to take things to the next level with him. But Kristin's first time isn't the perfect moment she's planned. A visit to the doctor reveals the truth: Kristin is intersex, which means that though she outwardly looks like a girl, she has male chromosomes, not to mention boy "parts." Dealing with her body is difficult enough, but when her diagnosis is leaked to the whole school, Kristin's entire identity is thrown into question. As her world unravels, can she come to terms with her new self? Ages 14-up. More on this title from Cynsations. Compiled from promotional materials.
THE NUMBER DEVIL: A MATHEMATICAL ADVENTURE by Hans Magnus Enzensberger (Metropolitan, 1998). Robert's worst fears are realized when he is plagued through twelve dreams by The Number Devil, who introduces him to the magic of numbers. A witty and fascinating romp through several basic concepts in mathematics. Ages 12-up.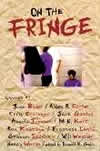 ON THE FRINGE edited by Donald R. Gallo, Lauri Hornik (Dial, 2001). Realistic, gritty, and, at times inspiring, this collection of short stories takes varied looks at the dynamics between teens deemed "in" or "out" and their tense, too often tragic, results. Contributing YA authors are: Joan Bauer; Alden R. Carter; Chris Crutcher; Jack Gantos; Angela Johnson; M. E. Kerr; Ron Koertge; Francess Lantz; Graham Salisbury; Will Weaver; Nancy Werlin. Ages 12-up. Read interviews with Francess Lantz, Graham Salisbury, and Nancy Werlin.
ONE BIRD by Kyoko Mori (Holt, 1995). Set in 1975, Megumi's work caring for birds helps her come to terms with her mother's decision to leave her husband and family. Ages 12-up.
ONE HOT SECOND: STORIES ABOUT DESIRE edited by Cathy Young (Knopf, 2002). Desire is defined broadly in this irresistible collection that features stories by: Jennifer Armstrong, Sarah Dessen, Emma Donoghue, Nancy Garden, Angela Johnson, Victor Martinez, Norma Fox Mazer, Rachel Vail, Rich Wallace, Ellen Wittlinger, and Jacqueline Woodson. Ages 12-up. Read interviews with Nancy Garden and Ellen Wittlinger.
OPEN ICE by Pat Hughes (Random House, 2005). Sophomore Nick Taglio is passionate about one thing (other than girls): hockey. When he suffers yet another concussion, amid fears that a further injury could result in permanent damage, his doctor and parents are adamant that he quit playing. Nick struggles to come to terms with his new circumstance, while having to deal with family, friends, girlfriends, teammates, and that splitting headache, as he tries to recover. Ages 12-up. Recommendation by Greg Leitich Smith.
OUT OF DARKNESS by Ashley Hope Perez (Carolrhoda Lab, 2015). New London, Texas. 1937. Naomi Vargas and Wash Fuller know about the lines in East Texas as well as anyone. They know the signs that mark them. They know the people who enforce them. But sometimes the attraction between two people is so powerful it breaks through even the most entrenched color lines. And the consequences can be explosive. Ashley Hope Pérez takes the facts of the 1937 New London school explosion the worst school disaster in American history as a backdrop for a riveting novel about segregation, love, family, and the forces that destroy people. Ages 14-up. More on this title from Cynsations. Compiled from promotional materials.

OUT OF ORDER by A.M. Jenkins (HarperTempest, 2003). Colt Trammel is a popular jock with a pretty, if prim, girlfriend and real problem maintaining his baseball eligibility because of grades. When green-haired Corrine transfers in, he's intrigued, even though it's clear she'll never fit in and doesn't care to. Over time, she becomes his tutor, and the two come to understand each other. Ages 12-up. HIGHLY RECOMMENDED. More on this title from Cynsations.
PICTURES, 1918 by Jeanette Ingold (Harcourt, 1998). Asia, 15, grieves when someone burns down her family's chicken house, killing her pet rabbit. Her love of photography and new appreciation of loss leads her to buy a camera and use it to record those close to her. Meanwhile, she finds romance and discovers who burned down the chicken house. Set in World War I Texas. Touches on anti-German-American sentiment. Ages 10-up.
PLEASE IGNORE VERA DIETZ by A.S. King (Knopf, 2010). Vera's spent her whole life secretly in love with her best friend, Charlie Kahn. And over the years she's kept a lot of his secrets. Even after he betrayed her. Even after he ruined everything.  So when Charlie dies in dark circumstances, Vera knows a lot more than anyone—the kids at school, his family, even the police. But will she emerge to clear his name? Does she even want to?  An unforgettable novel: smart, funny, dramatic, and always surprising. Ages 14-up. More on this author from Cynsations. Compiled from promotional materials.
PROM by Laurie Halse Anderson (Viking, 2005). Ashley Hannigan isn't nearly as into the upcoming prom as her pals, including her best friend (and head of the prom committee) Natalia. But then the faculty advisor swipes the prom money and Natalia is temporary out of commission. Despite an unforgiving school administration (and, okay, a few detentions), can Ashley pull together the perfect night after all? Filled with an eclectic array of godmothers and set in a sometimes unforgiving upper-poor-to-lower-middle-class community, PROM offers up heart, sass, hope, and possibly the first believable Cinderella. Ages 12-up. More on this title from Cynsations.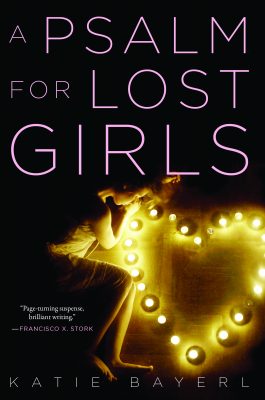 A PSALM FOR LOST GIRLS by Katie Bayerl (Putnam, 2017). Seventeen-year-old Tess da Costa is a hand-to-god, miracle-producing saint. At least, that's what the people in her hometown of New Avon, Massachusetts, seem to believe. Two years ago, Tess started hearing a mysterious voice whose cryptic messages warned of impending doom and disaster. Though she wasn't sure what to make of it, Tess did what she could to deliver the messages—saving lives in the process. Soon, people started to pray to Tess and stories flooded in, tales of miraculous recoveries and blessings from above. When Tess suddenly and tragically passes away, her small city begins petitioning the Pope in earnest to make her sainthood official. Tess's mother is ecstatic, while her sister Callie is disgusted—refusing to take part in the charade. The fervor around Tess's sainthood only grows when Ana Langone, a local young girl who's been missing for six months, is found alive at the foot of one of Tess's shrines. Callie's had enough, and decides to put an end to the madness for good. With the help of Tess's secret boyfriend Danny, Callie sets out to prove that Tess was no saint, but something far more important—she was her sister and her best friend. But as the investigation goes on, Callie and Danny uncover much more than they bargained for, leading them to a dark family secret and putting them hot on the trail of Ana's kidnapper. Ages 12-up. More on this title from Cynsations. Compiled from promotional materials.

QUIVER by Stephanie Spinner (Knopf, 2002). The celebration of a strong heroine — fast, sure with a bow — of ancient Greece who has dedicated herself to the goddess Artemis and sworn never to marry. All's well until her father and the gods meddle. An excellent choice for mythology and adventure fans, those seeking good books for girls. Author's notes provide welcome background about ancient Greece and its gods. Ages 10-up.
RADICAL by E.M. Kokie (Candlewick, 2016). Determined to survive the crisis she's sure is imminent, Bex is at a loss when her world collapses in the one way she hasn't planned for. Preppers. Survivalists. Bex prefers to think of herself as a realist who plans to survive, but regardless of labels, they're all sure of the same thing: a crisis is coming. And when it does, Bex will be ready. She's planned exactly what to pack, she knows how to handle a gun, and she'll drag her family to safety by force if necessary. When her older brother discovers Clearview, a group that takes survival just as seriously as she does, Bex is intrigued. While outsiders might think they're a delusional doomsday group, she knows there's nothing crazy about being prepared. But Bex isn't prepared for Lucy, who is soft and beautiful and hates guns. As her brother's involvement with some of the members of Clearview grows increasingly alarming and all the pieces of Bex's life become more difficult to juggle, Bex has to figure out where her loyalties really lie. In a gripping new novel, E. M. Kokie questions our assumptions about family, trust, and what it really takes to survive. Ages 14-up. More on this title from Cynsations. Compiled from promotional materials.
RAIN IS NOT MY INDIAN NAME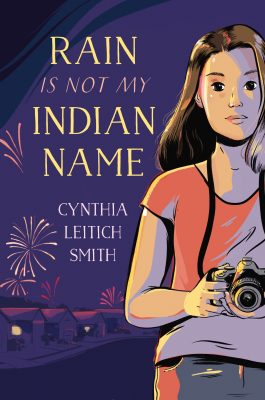 by Cynthia Leitich Smith (HarperCollins, 2001)(Heartdrum, 2021). Cassidy Rain Berghoff didn't know that the very night she decided to get a life would be the night that Galen would lose his. It's been six months since her best friend died, and up until now, Rain has succeeded in shutting herself off from the world. But when controversy arises around her aunt Georgia's Indian Camp in their mostly white Kansas community, Rain decides to face the world again—at least through the lens of a camera. Ages 10-up.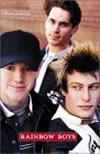 RAINBOW BOYS by Alex Sanchez (Simon & Schuster, 2001). Three teen boys: Jason, an athlete with a girlfriend; Kyle who plays straight next to his very out best friend; Nelson who is out with a passion (at least until confronting the object of that passion). As they struggle with homophobia and dealing with their own emerging sexual maturity, they find their friendships altered forever. Ages 12-up. Look for more books in the series.
RAISING THE GRIFFIN by Melissa Wyatt (Wendy Lamb Books, 2004). Alex Varenhoff had grown up knowing his family history, that his forefathers had once ruled Rovenia. But that was the past. All his life, he'd been a well-bred British boy, no different from his boarding school chums. Then he's called—by his parents, by his ancestral homeland—to leave behind the life he's always known, the horse who's his best friend—and take on the position of Rovenia's prince! This modern-day story is no fairy tale. Alex, make that Alexei, is a reluctant royal who quickly finds himself overwhelmed—and worse—by paparazzi and politics, manners and expectations, but most of all, the questions of duty, identity, and whom to trust. A rich and thoroughly convincing fictional land, lovingly crafted with effective attention to detail. Ages 12-up.
RATS SAW GOD by Rob Thomas (Simon & Schuster, 1996). At the decree of his high school counselor, Steve York, 18, is forced to write about his life, his rocky relationship with his dad, and the love he found, experienced, and lost in Dub. Ages 14-up.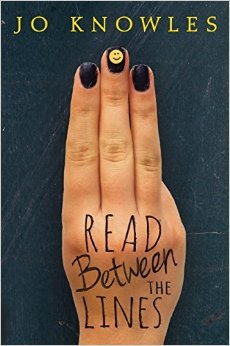 READ BETWEEN THE LINES by Jo Knowles (Candlewick, 2015). Thanks to a bully in gym class, unpopular Nate suffers a broken finger—the middle one, splinted to flip off the world. It won't be the last time a middle finger is raised on this day. Dreamer Claire envisions herself sitting in an artsy café, filling a journal, but fate has other plans. One cheerleader dates a closeted basketball star; another questions just how, as a "big girl," she fits in. A group of boys scam drivers for beer money without remorse—or so it seems. Over the course of a single day, these voices and others speak loud and clear about the complex dance that is life in a small town. They resonate in a gritty and unflinching portrayal of a day like any other, with ordinary traumas, heartbreak, and revenge. But on any given day, the line where presentation and perception meet is a tenuous one, so hard to discern. Unless, of course, one looks a little closer—and reads between the lines. Does anyone ever see us for who we really are? This novel of interlocking stories peers behind the scrim as it follows nine teens and one teacher through a seemingly ordinary day. Ages 12-up. More on this author from Cynsations. Compiled from promotional materials.
A ROOM ON LORELEI STREET by Mary E. Pearson (Henry Holt, 2005). Zoe, 17, has had it with her alcoholic mother and manipulative grandmother. She moves out of the house and rents a room on Lorelei Street in hopes of a new start. But ghosts, living and dead, swirl around Zoe, trying to tug her back, and it's hard making ends meet as a diner waitress. Zoe's new landlady, Opal, has a fresh, hopeful perspective, but ultimately, Zoe's uncertain future rests in her own hands. Ages 12-up. More on this title from Cynsations; read The Story Behind The Story from Mary E. Pearson.
ROUGHNECKS by Thomas Cochran (Harcourt, 1997). Oil Patch, Louisiana, is a town where football is king and where Travis Cody is responsible for the team's only loss. Travis's championship game-day preparations are a vehicle for Travis to reflect on his past as an Oil Patch Roughneck and his future as . . . he doesn't know what. One of the few sports books which will have you wondering the outcome of the game. Ages 12-up.
SAMMY & JULIANA IN HOLLYWOOD by Benjamin Alire Sáenz (Cinco Puntos, 2004). Set in a rough New Mexico barrio in the latter 1960s, this story embraces a first true love and its loss, racism, homophobia, war, street violence, family, community…in others words "life." The prose is at times breathtaking in its poetry and at others jarring in its truths. Sammy's voice lingers long after the book closes. An absolute triumph! Ages 14-up. More on this title from Cynsations.
SAVING MADDIE by Varian Johnson (Delacorte, 2010). Seventeen-year-old Joshua Wynne is a preacher's son—a "good boy" in a small town in South Carolina where everyone knows him. But when his childhood friend and (apparently) bad girl, Madeline Smith, returns to town, his faith, intentions, and virginity are tested. Can he bring back the old Maddie while keeping faith with God and his parents, when he doesn't know who he is himself? Told in a strong first-person voice, SAVING MADDIE is an elegantly written, non-preachy novel of redemption, intercession, and the courage of faith. Ages 14-up. Recommendation by Greg Leitich Smith.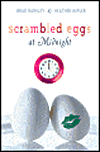 SCRAMBLED EGGS AT MIDNIGHT by Brad Barkley and Heather Hepler (Dutton, 2006). Calliope is tired of being dragged by her mother cross-country from Renaissance Faire (don't forget the "e") after Renaissance Faire. Eliot longs for the day when his father used to sell swimming pools—before he "found God," and subsequently founded the "Jesus fat camp" for Christian kids ("What would Jesus eat?"), thereby also discovering financial success. When Cal and Eliot meet, there's instantly chemistry–literally and figuratively. Do they have a future? Or will Eliot's father and Cal's mother (and her jouster boyfriend) tear them apart? A romantic comedy with an almost classic feel. Cal and Eliot feel like people you know even as they face unusual, even surreal, circumstances with humor and aplomb. Ages 12-up. Recommendation by Greg Leitich Smith. Read The Story Behind The Story from Brad Barkley and Heather Hepler.
SEE YOU DOWN THE ROAD by Kim Ablon Whitney (Knopf, 2004). Bridget has been raised a Traveler, leading the life in trailer after trailer, city after city, with her friends and family—no roots, little school, running scams, casing pigeons, hearing the pros and cons of a really big score. At 16, she's already engaged, and her older brother Jimmy is enamored with the idea of following in Big Jim's footsteps to pull in huge money. It's a culture within the culture, with its own rules and (sometimes sexist) norms. It's the life. But is it the life for Bridget? Ages 12-up. More on this title from Cynsations.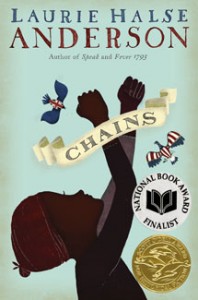 THE SEEDS OF AMERICA TRILOGY by Laurie Halse Anderson. CHAINS (Atheneum Books for Young Readers, 2008), FORGE (Atheneum Books for Young Readers, 2010), and ASHES (Atheneum/Caitlyn Dloughy Books, 2016). What would you risk to be free? It's 1776 and Isabel, Curzon, and Ruth have only ever known life as slaves. But now the young country of America is in turmoil—there are whisperings, then cries, of freedom from England spreading like fire, and with it is a whole new type of danger. For freedom being fought for one isn't necessarily freedom being fought for all…especially if you are a slave. But if an entire nation can seek its freedom, why can't they? As war breaks out, sides must be chosen, death is at every turn, and one question forever rings in their ears: Would you risk everything to be free? As battles rage up and down the Eastern seaboard, Isabel, Curzon, and Ruth flee, separate, fight, face unparalleled heartbreak and, just like war, they must depend on their allies—and each other—if they are to survive. Which leads to a second, harrowing question: Amidst so much pain and destruction, can they even recognize who their allies are? Ages 12-up. Compiled from promotional materials.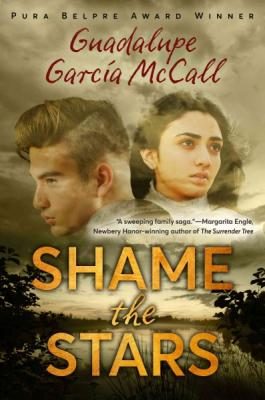 SHAME THE STARS by Guadalupe Garcia McCall (Tu Books, 2016). Eighteen-year-old Joaquin del Toro's future looks bright. With his older brother in the priesthood, he's set to inherit his family's Texas ranch. He's in love with Dulcena and she's in love with him. But it's 1915, and trouble has been brewing along the US-Mexico border. On one side, the Mexican Revolution is taking hold; on the other, Texas Rangers fight Tejano insurgents, and ordinary citizens are caught in the middle. As tensions grow, Joaquin is torn away from Dulcena, whose father's critical reporting on the Rangers in the local newspaper has driven a wedge between their families. Joaquin's own father insists that the Rangers are their friends, and refuses to take sides in the conflict. But when their family ranch becomes a target, Joaquin must decide how he will stand up for what's right. A rich reimagining of Romeo and Juliet set in Texas during the explosive years of Mexico's revolution. Filled with period detail, captivating romance, and political intrigue, it brings Shakespeare's classic to life in an entirely new way." Ages 12-up. More on this author from Cynsations. Compiled from promotional materials.
SHATTERING GLASS by Gail Giles (Roaring Brook, 2002). Readers will not be able to put down this suspenseful high school story of power, popularity, and manipulation. When puppetmaster Rob takes over Glass (or thinks he does), takes down Lance (or tries to), and makes Young his own, the more twisted side of adolescence is shown in its full gore and glory. Ages 12-up. Read The Story Behind The Story on Giles' second novel, DEAD GIRLS DON'T WRITE LETTERS.

SHAYLA'S DOUBLE BROWN BABY BLUES by Lori Aurelia Williams (Simon & Schuster, 2001). This sequel to Williams' much celebrated WHEN KAMBIA ELAINE FLEW DOWN FROM NEPTUNE reunites readers with Shayla, who is still friends with Kambia Elaine and dealing with the birth of her half sister, Gift, the daughter of Mr. Anderson Fox. Meanwhile, Kambia Elaine and newcomer Lemm face their own challenges. Williams strong voice is lush and melodic as ever. Ages 12-up.
SHIZUKO'S DAUGHTER by Kyoki Mori (Holt, 1993). When her mother commits suicide, Yuki struggles against her loneliness and their shared qualities that challenge cultural expectations. Ages 12-up.
SIGHTS by Susanna Vance (Delacorte, 2001). Baby Girl has the sight from having been so long in Momma's womb before the vet delivered her, and that sight helps Baby Girl survive despite Dad's murderous attempts. That said, you'd think this wasn't a funny novel–but it is. It's funny, charming, fiesty, and insightful. With its popularity and romantic struggles, this first novel, is set in the 1950s and 1960s. Ages 12-up.
SKIN AND BONES by Sherry Shahan (Whitman, 2014). Sixteen-year-old Jack, nicknamed "Bones," won't eat. His roommate in the eating disorder ward has the opposite problem and proudly goes by the nickname "Lard." They become friends despite Bones's initial reluctance. When Bones meets Alice, a dangerously thin dancer who loves to break the rules, he lets his guard down even more. Soon Bones is so obsessed with Alice that he's willing to risk everything–even his recovery. Ages 13-up. More on this title from Cynsations. Compiled from promotional materials.
SLAM! by Walter Dean Myers (Scholastic, 1996). SLAM! is the story of Greg, 17, who's hot on the basketball courts but not in class. A strong voice and well-drawn character who's part of the crowd that looks to athletics for escape and a future. Ages 12-up.
SLEEPING DOGS by Sonya Harnett (Viking, 1995). This disturbing novel looks at a morally and literally isolated family, diseased with abusive and incestuous behavior, and the violence that erupts when their secrets are revealed. Neither explicit nor gratuitous but definitely for mature readers. Ages 14-up.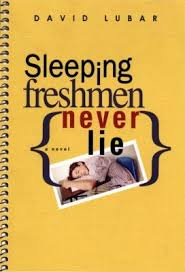 SLEEPING FRESHMEN NEVER LIE by David Lubar (Dutton, 2005). An insider's look at Scott's freshman year of high school as he tries to win a girl, finds another, stumbles into sports reporting, is unfortunately successful at politics, joins a theater crew, loses and gains friends, dodges bullies, seeks inspiration in English class, sometimes stands up for what's right and sometimes doesn't, and chronicles the highlights for his still in utero baby brother AKA "you quivering sack of viscous fluids" (p. 44). Ages 12-up. More on this title from Cynsations; read The Story Behind the Story from David Lubar.
SLUMMING by Kristen D. Randle (HarperCollins, 2003). High school seniors and best friends, Nikki, Alicia, and Sam, naively decide to play a Pygmalion game to liven up the last part of their senior year. The game has rules: each of them chooses a misfit, benevolently befriends and tries to improve his or her life a little, then takes this person to the prom. The day after the prom the most improved misfit's escort will win the game. It doesn't occur to them that the misfits might not welcome or want these intrusions into their lives. So the Pygmalion game begins, full of heartache and deception and fun and love and laughter, leaving you holding your breath (and your sides) to the last page. Ages 12-up. Recommendation by Frances Hill.
SON OF THE MOB by Gordon Korman (Hyperion, 2002). Will a mob boss's son find true love (and his moral center) with the daughter of the FBI agent assigned to bring down Dad? Funny, fresh, brilliantly executed. Ages 12-up. Don't miss the sequel, SON OF THE MOB: THE HOLLYWOOD HUSTLE (Hyperion, 2004).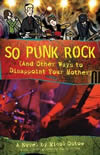 SO PUNK ROCK (AND OTHER WAYS TO DISAPPOINT YOUR MOTHER) by Micol Ostow, illustrated by David Ostow (Flux, 2009). Ari Abramson is on a mission during his junior of high school: avoid studying for the SAT, get out from under the thumbs of his academically-intense parents, and form an indie rock band so as to rise up the ranks of "coolness" at Gittleman Jewish Day School. In this last enterprise, he enlists his best friend, the ultra-popular Jonas Fein; and the religiously conservative Yossi Gluck (and his sister Reena). Along the way, to their surprise, they become something of a hit. But as Ari comes to terms with his new-found popularity, he discovers there's more to his friends and him than he ever imagined. With a fresh voice and terrific characters, SO PUNK ROCK is a hilarious look at high school, rock bands, and taking control of one's life. Age 10-up. Recommendation by Greg Leitich Smith. Read The Story Behind The Story from David and Micol Ostow.

SPLIT IMAGE: A STORY IN POEMS by Mel Glenn (HarperCollins, 2000). Laura Li is a different person to her ashamed mother to her motherly librarian, to her distant father, her friends, the bartender, her rivals, the boys at school. In alternating diverse and compelling voices, Glenn offers another first-rate verse novel to teens. Ages 12-up.
ST. MICHAEL'S SCALES by Neil O. Connelly (Arthur A. Levine, 2002). In this first novel, fifteen-year-old Keegan Flannery is overwhelmed with guilt over the death of his twin during their premature births and his mother's subsequent mental breakdown. So he decides he must make amends by killing himself on his sixteenth birthday. But first, he must navigate past his former Marine wrestling coach, a distant father, and his own devout Catholicism. Ages 13-up.
STAINED by Jennifer Richard Jacobson (Atheneum, 2005). Jocelyn loves Gabe, loves Benny, but Father Warren sees her as a demon child, a temptation, in league with Satan, all bad. Or is that just a diversion from his own agenda and manipulations? Ages 12-up. Read The Story Behind The Story from Jennifer Richard Jacobson.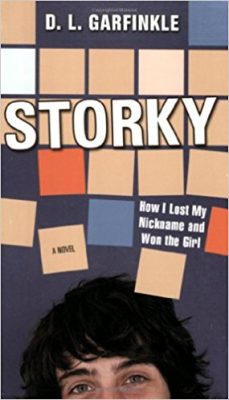 STORKY: HOW I LOST MY NICKNAME AND WON THE GIRL by D.L. Garfinkle (Putnam, 2005). Told in a diary format by high school freshman Michael "Storky" Pomerantz, this novel chronicles its hero (1) befriending a Scrabble geezer, (2) embracing a family that "includes" Mom's boyfriend "Dr. Vermin" and Dad's rotating bimbos delight, (3) landing a first girlfriend (which one?), and (4) finding self-acceptance. It's funny, real, and unapologetically boy-like with a solid heart. Strongest on voice and humor, jam-packed with "life lessons." Ages 12-up. More on this title from Cynsations; read The Story Behind The Story from D.L. Garfinkle.
A STEP FROM HEAVEN by An Na (Front Street 2001). Young Ju and her family have immigated from Korea to the United States, where they dream of building a better future. Once here, the family struggles economically – Young Ju's parents both work long hours at two jobs–and with her father's increasing violence. The novel takes the reader from Young Ju's arrival at age four to when she leaves for college; and, without being heavy-handed, offers a genuine sense of what it's like to learn the language and of Young Ju's frustration at the family's necessary frugality. Ages 12-up.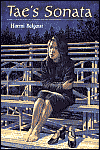 TAE'S SONATA by Haemi Balgassi (Clarion, 1997). Tae has to sort out her feelings when she is assigned to do a school report on South Korea with a popular guy. An interracial romance and a sweet look at Korean-American family life that also deals with what it's like to feel spotlighted for your race. Ages 10-up.

TAKING OFF by Jenny Moss (Walker, 2011). It's late 1985, and Clear Lake, Texas, high school senior Annie doesn't know what she wants to do with her life. Stay in town and marry Mark, who loves her? Go to college? Or write poetry, which she loves, but has never told anyone, including her best friend Lea? When Annie meets teacher-astronaut Christa McAuliffe, she's fascinated. So much so that she just has to go see the launch in Cocoa Beach… Annie's story is compelling and should resonate with anyone who has faced the dilemma of "where do I go from here?" A bittersweet coming-of-age story that brings home the 1980s and the events of January 28, 1986, when seven astronauts "prepared for the journey and waved goodbye and 'slipped the surly bonds of earth' to 'touch the face of God.'" Ages 12-up. Recommendation by Greg Leitich Smith.
TERRY AND THE PIRATES by Julian F. Thompson (Atheneum, 2000). Terry is running away from home and the prospect of boarding school by stowing away on the boat of a famous older man (not someone she wants for herself, but the standard all others must live up to). But when it's time to reveal herself, she finds not the boat's owner on board but rather his stuttering son Mitch, who was once a marquis, or at least thinks he was. One storm later, Mitch/Marquis is lost overboard, Terry is captured by murderous pirates whose pet is a hungry Komono dragon, but never in this humorous, optimistic YA novel does all seem lost. This is a laugh-out-loud funny read. Ages 12-up.
THICKER THAN WATER: COMING OF AGE STORIES BY IRISH AND IRISH-AMERICAN WRITERS edited by Gordon Snell (Delacorte, 2001). A fascinating and much-needed young adult collection, highlighted by "One Day When We Were Young" by Vincent Banville and "Off Ya Go, So" by Chris Lynch. Ages 12-up.
THOU SHALT NOT DUMP THE SKATER DUDE (AND OTHER COMMANDMENTS I HAVE BROKEN by Rosemary Graham (Viking, 2005). Kelsey is trying to adjust to the sudden move to the west coast. She is excited at the prospect of a new school (preferably of her own choosing). Her divorced parents seem to be getting along a lot (too much?) better. And then, boom! A hand reaches out to her as if from on high. It's supersmooth C.J. Logan, California "It" Boy AKA "The Skater Dude." At his side, she's in–into the hottest social scene, in somebody's arms. But "side" is the key word there, as in "sidelines." How long can Kelsey endure of C. J.'s accessory, and what if she dares to do the unthinkable? What if she dumps The Skater Dude? Ages 12-up. More on this title from Cynsations; read The Story Behind the Story from Rosemary Graham.
THE TRUTH ABOUT ALICE by Jennifer Mathieu (Roaring Brook, 2014). Rumor has it that Alice Franklin is a slut. It's written all over the bathroom stall at Healy High for everyone to see. And after star quarterback Brandon Fitzsimmons dies in a car accident, the rumors start to spiral out of control. Four Healy High students—the girl who has the infamous party, the car accident survivor, the former best friend, and the boy next door—tell all they know. But exactly what is the truth about Alice? In the end there's only one person to ask: Alice herself. Ages 12-up. More on this title from Cynsations. Compiled from promotional materials.
THIS IS WHERE IT ENDS, by Marieke Nijkamp (Sourcebooks Fire, 2016). Told from four different perspectives over the span of fifty-four harrowing minutes, terror reigns as one student's calculated revenge turns into the ultimate game of survival.  Ages 14-up. More on this author from Cynsations. Compiled from promotional materials.
TWELVE SHOTS edited by Harry Mazer (Delacorte, 1997). This short-story collection looks at gun use from a variety of perspectives. Not preachy but not sugar-coated either. A worthy realism read. Top contributing authors include Walter Dean Myers, Chris Lynch, Richard Peck, and Nancy Werlin. Ages 12-up.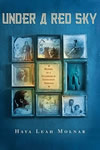 UNDER A RED SKY: MEMOIR OF A CHILDHOOD IN COMMUNIST ROMANIA by Haya Leah Molnar (Frances Foster/FSG, 2010). Eight-year-old Eva Zimmerman (as the author was previously known) lives with her family in tight quarters in Bucharest, Romania. Her family, Holocaust survivors, have hidden Eva's Jewish heritage from her, in the hopes that it will shield her from anti-Semitism. Formerly well-to-do, the family has suffered under the Communists and is trying to emigrate to Israel. But when her family applies for visas, they are fired from their jobs. UNDER A RED SKY is, at its core, the sometimes funny, sometimes poignant, story of the day-to-day life of a young girl trying to discover who she is in a society where even school-children can be government informers. Ages 12-up. ecommendation by Greg Leitich Smith.
UNEXPECTED DEVELOPMENT by Marlene Perez (Roaring Brook, 2004). What did Megan do over her summer vacation, Mrs. Westland? Sex. That's what she relates in her answering essay. But that's not all. Megan also works at a pancake house, fends off sexual harassment, contemplates breast reduction surgery, and finds herself overwhelmed when a crush turns into a real boyfriend with everything that implies. Ages 12-up. Read The Story Behind the Story from Marlene Perez.
VIKKI VANISHES by Peni R. Griffin (McElderry, 1995). At first Vikki, 16, is thrilled when her long-gone father returns to pay attention to her. But when those attentions turn against her and Vikki disappears, only her half-sister Nikki, 8, can help. But Nikki's been known to fib before. If only someone would listen to her, she could save Vikki. Ages 8-up. Ages 10-up.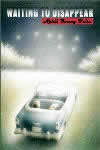 WAITING TO DISAPPEAR by April Young Fritz (Hyperion, 2002). The summer of 1960 is the last summer before high school for Elizabeth "Buddy" Mullens. On the eve of the Fourth of July holiday, her mother, who has never recovered from the death of Buddy's brother, has a breakdown and checks herself into the local sanitarium. Buddy struggles to get through the summer and get her mom back. Ages 12-up
WHEN JEFF COMES HOME by Catherine Atkins (Putnam, 1999). For two and a half years, Jeff was Ray's captive, doing what was necessary to survive. When he's finally returned home, healing doesn't come easily and is complicated by the expectations of his controlling father, family and community. Ages 12-up.
WHEN KAMBIA ELAINE FLEW IN FROM NEPTUNE by Lori Aurelia Williams (Simon & Schuster, 2000). Shayla and Kambia are neighbors and best friends in a poor neighborhood in Houston. While Shayla struggles with tensions between her mother and runaway sister as well as the reappearance of her father, Kambia faces the pain of rape and molestation, coordinated by her greedy so-called mother. Ages 14-up.
WHERE THE KISSING NEVER STOPS by Ron Koertge (Atlantic Monthly, 1986). Walker has his share of troubles — dealing with his father's death, the family financial woes, and his mother's embarrassing job. Luckily, his pal Sully is psychoanalyzing him and a girl named Rachel is a bright spot in Walker's life. But how will Walker keep Rachel from learning the truth about his mom? Ages 12-up.
WHITE BREAD COMPETITION by Jo Ann Yolanda Hernandez (Piñata Books, 1997). Set in San Antonio, this linked series of stories offers insights into Luz (and the women in her life) when she prepares for the state-wide spelling bee. Hernandez does not shy away from the ways in which communities often jeopardize themselves or the complex array of sometimes surprising influences that make people who they are. Ages 12-up.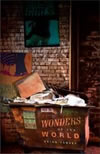 WONDERS OF THE WORLD by Brian Yansky (Flux, 2007). Eric's father introduced him to the "wonders of the world"– stories of (mostly) made-up adventure and world travel. But when Eric was twelve, his father left, never to return. His mother remarried, and they moved to Omaha. At seventeen, Eric runs away, to escape his mother's new life and maybe find his father. Now, Eric is living on the streets of Riverton, a cesspool of gangs, junkies, murder, and sex for hire. He manages to eke out a miserable existence panhandling, along with a handful of other street kids. But then he and his ex-girlfriend attract the attention of Bluebeard, the thuggish and vicious crime boss who runs much of the vice in Riverton. Desperate to find a way out, Eric just may have a chance if only he can escape the evil Bluebeard. Told with sardonic humor, this is a quirky, gritty, and riveting story with a great voice story. Ages 14-up. Recommendation by Greg Leitich Smith. Read The Story Behind the Story from Brian Yansky.
WRESTLING STURBRIDGE by Rich Wallace (Knopf, 1996). Sturbridge, PA, is a wrestling town. Ben is the second-best wrestler in his weight class. The first-best is his friend, who's counted on to win the state championship. Ben has other plans. Ages 12-up.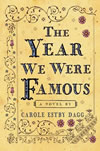 THE YEAR WE WERE FAMOUS by Carole Estby Dagg (Clarion, 2011). It's 1896, and seventeen-year-old Clara Estby and her mother Helga need to raise a lot of money fast — to prevent foreclosure on the family farm. Inspired by the intrepid Nellie Bly, they hatch a scheme to walk across the United States, from Spokane to New York City. If they make it by the seven month deadline, a mysterious benefactor will pay them $10,000 and publish the account of their journey as a book. En route, the mother-daughter pair encounters hardships and dangers and finds out more than a little bit about themselves and each other. Based on the true story of the author's great-aunt and great-grandmother, THE YEAR WE WERE FAMOUS is a satisfying and thoroughly fascinating adventure road-trip. Dagg offers a likeable protagonist and relationships that feel real in their complexity, while compellingly evoking the atmosphere of the era of William Jennings Bryan and William McKinley. Ages 12-up. Recommendation by Greg Leitich Smith.