Our intent is to highlight our own books along with additional titles our readers may enjoy. While some award-winners and bestsellers are included, part of the goal is to feature underappreciated gems. Updates are very occasional.
THE ADVENTURES OF BLUE AVENGER by Norma Howe (Holt, 1999). When David decides to take on the name "Blue Avenger," he's well equipped to romance his lady, reunite her with her father, break up pee wee mischief, and—above all —find the secret recipe to non-weeping lemon meringue. Is it real, or is Blue living a comic book life? We're not sure. But it's definitely a funny and thoughtful story. Ages 10-up.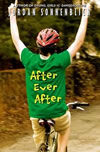 AFTER EVER AFTER by Jordan Sonnenblick (Scholastic, 2010). At age four, Jeffrey was diagnosed with leukemia. Through his treatment, and ever since, his stalwart older brother Steven has been there. Until this summer, when Steven suddenly left college and family behind, to "find himself" in Africa. And now that Jeffrey's in eighth grade, he must face the perils of girls and math and parents and testing and his idiosyncratic best friend Tad, a fellow cancer survivor, on his own… Feeling abandoned by his brother (the protagonist of DRUMS, GIRLS, AND DANGEROUS PIE), Jeffrey emerges from the shadow of being "The kid who had cancer," and the problematic younger brother of the perfect Steven, to decide what and who he wants to be. And what it all means. In this bittersweet and elegant sequel, Sonnenblick provides Jeffrey with a wisdom borne of his experience with cancer that almost belies his years, yet which is still genuinely that of an eighth grader. Funny and profound, heart-warming and thought-provoking. Ages 10-up. Recommendation by Greg Leitich Smith.
THE AFTERLIFE by Gary Soto (Harcourt, 2003). In this sometimes funny, sometimes bittersweet story, Chuy is murdered, stabbed with a knife only to find…not an end, but a new beginning. As a ghostly being, he visits family and friends. He finds the young man he could've been and maybe even true love. This isn't a story of "too late." It's one of "just in time." Ages 12-up.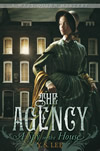 THE AGENCY: A SPY IN THE HOUSE by Y.S. Lee (Candlewick, 2010). At age eleven, in 1850s London, orphan (and thief) Mary Quinn was rescued from the gallows by agents of Miss Scrimshaw's Academy for Girls. For the next six years, she studied all that was expected of a proper Victorian lady (and more). Now, at seventeen, she's invited to join The Agency, a secret organization of women investigators whose mandate is to assist Scotland Yard. Mary's first assignment is as paid companion to the spoiled daughter of a wealthy merchant who is suspected of insurance fraud and smuggling. But along the way, she encounters secret upon secret and no one is what they appear…. Exciting, full of verve, and with a hint of romance, A SPY IN THE HOUSE offers a terrific protagonist and a fun mystery as it explores Victorian London and traditional and nontraditional roles of both men and women therein. With her background in Victorian literature and culture, Y.S. Lee provides texture and pungency without overshadowing the characters or plots. Ages 12-up. Recommendation by Greg Leitich Smith. Read The Story Behind The Story by Y.S. Lee.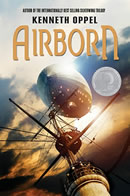 The AIRBORN trilogy by Kenneth Oppel, comprising of: AIRBORN (HarperCollins, 2004); SKYBREAKER (HarperCollins, 2006); and STARCLIMBER (HarperCollins, 2009. At fifteen, Matt Cruse is the youngest, smallest cabin boy aboard the airship Aurora.  Beyond anything else, it is his dream to someday captain a vessel like the Aurora. On one fateful trans-Pacificus crossing, the airship rescues an off-course balloonist, who babbles about seeing beautiful creatures in the sky, before he dies. Some months later, Kate DeVries, the balloonist's beautiful and wealthy granddaughter, embarks on the Aurora, to see if she can track down the mysterious creatures and prove to the world her grandfather was not a madman. Matt is more than willing to lend a hand, and the two begin to develop a tentative friendship, when the Aurora is attacked by a dirigible belonging to the notorious and murderous pirate Vikram Szpirglas… AIRBORN is a rousing, swashbuckling adventure  and coming-of-age story.  The alternate steampunkish Earth, where dirigibles are the basis for air transportation and airplanes don't exist, is convincing and richly detailed.  Matt and Kate are believable and their relationship is complex and compelling. Their tale continues in the equally terrific SKYBREAKER and STARCLIMBER. Ages 12-up. Recommendation by Greg Leitich Smith.
AIRFIELD by Jeanette Ingold (Harcourt, 1999). This historical novel is set during the dangerous infancy of aviation. Beatty hangs out there because her uncle is the field manager and because it's her chance to see her father fly in and out. Moss, with his mechanical interests, joins her there. Who could guess that one night they may be the difference between a safe landing and a fiery crash for Beatty's father? Ages 12-up.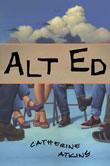 ALT ED by Catherine Atkins (Putnam, 2003). An unlikely group of five students from every strata of high school society find themselves forced into really communicating with one another, getting beyond how the outside world sees them and, in turn, changing how they see themselves. Sort of like "The Breakfast Club," only more real and resonate. Ages 12-up.
THE AMAZON PAPERS by Beverly Keller (Harcourt, 1996). When her mother leaves town, Iris, 15, twice falls in love, has an adventure with a one-time enemy, and does some serious damage to the family car. Strong, funny voice. Ages 10-up.
ANYONE BUT YOU by Lara M. Zeises (Delacorte, 2005). It's one hot summer. Seattle's planning to spend her early vacation days hanging out with her stepbrothers–Jesse and Critter. But it's too hot for Sea to skate, too hot for Critter to chase girls, and responsible Jesse is busy working. Layla, the boys' mom, is working all the time, too, and Sea's dad took off six years ago. That leaves step-siblings-turned-best-friends Sea and Critter to venture to a swimming pool in an nearby upscale town. It's there that Critter falls for a pretty life guard, and before long, Sea's spending all of her time with a skater boy who's on the rebound and just visiting for the summer. Neither Critter nor Sea is happy, though both struggle with why, and then Sea's dad reappears, even further confusing the roles of friendship, love, and family. Ages 12-up. More on this title from Cynsations; read The Story Behind The Story from Lara M. Zeises.
ARMAGEDDON SUMMER by Jane Yolen and Bruce Coville (Harcourt, 1998). Marina, 14, and Jed, 16, are brought to a mountaintop gathering of the Believers, their parents' religious cult, to face what they have been told will be the end of the world. While they share first love and try to determine their own beliefs, once thing is certain: their world will never be the same. Ages 12-up.
BACKWATER by Joan Bauer (Putnam, 1999). Ivy, 16, is a historian in a family of super lawyers. A misfit of sorts. But not the only one in the family line. This look at personality, expectation, and family is often humorous, sometimes insightful, and succeeds both as a character study and a wilderness adventure. Ages 12-up.
BATTLE DRESS by Amy Efaw (HarperCollins 2000). Andi Davis struggles through the six weeks of "Beast," cadet basic training at the United States Military Academy. A fascinating glimpse into the culture of West Point, by a 1989 graduate. Ages 12-up.
BEAUTY SHOP FOR RENT by Laura Bowers (Harcourt, 2007). What a down-home, whole-heart story! It's about a strong girl bolstered by love, shaking off lies, and finding the courage to take chances. It's about the wrong dream, the right guy, righteous gossip, and the power of a good spa treatment. Funny, aching, and authentic. Ages 10-up. Read The Story Behind the Story from Laura Bowers.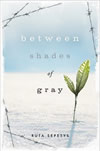 BETWEEN SHADES OF GRAY by Ruta Sepetys (Philomel, 2011). In spring of 1941, fifteen year-old Lina Vilkas is preparing for art school and the rest of her life. But in Soviet-occupied Lithuania, no one is safe, especially not the family of a university professor. A profoundly moving story of the resilience of the human spirit. Sepetys, herself the daughter of a Lithuanian refugee, is unsparing in her portrayal of one girl's struggle for self and dignity in the face of the most horrifying treatment, and demonstrates the worth of even small acts of kindness in the face of evil. Ages 12-up. Recommendation by Greg Leitich Smith.
BONE GAP by Laura Ruby (Balzer & Bray, 2015). Everyone knows Bone Gap is full of gaps—gaps to trip you up, gaps to slide through so you can disappear forever. So when young, beautiful Roza went missing, the people of Bone Gap weren't surprised. After all, it wasn't the first time that someone had slipped away and left Finn and Sean O'Sullivan on their own. Just a few years before, their mother had high-tailed it to Oregon for a brand-new guy, a brand-new life. That's just how things go, the people said. Who are you going to blame? Finn knows that's not what happened with Roza. He knows she was kidnapped, ripped from the cornfields by a dangerous man whose face he cannot remember. But the searches turned up nothing, and no one believes him anymore. Not even Sean, who has more reason to find Roza than anyone, and every reason to blame Finn for letting her go. As we follow the stories of Finn, Roza, and the people of Bone Gap—their melancholy pasts, their terrifying presents, their uncertain futures—acclaimed author Laura Ruby weaves a heartbreaking tale of love and loss, magic and mystery, regret and forgiveness—a story about how the face the world sees is never the sum of who we are. Ages 14-up. Compiled from promotional materials.
BORDER CROSSING by Jessica Lee Anderson (Milkweed Editions, 2009). The mixed-race son of apple pickers, Manz lives with his hard-drinking mother and her truck-driver boyfriend in the hardscrabble world of dusty Rockhill, Texas. Forced to take a summer job rebuilding fence of a cattle ranch, Manz works alongside his friend Jed and meets a girl named Vanessa — but even among his friends, Manz suffers from an uncontrollable paranoia. As the summer wears on, Manz becomes convinced that "Operation Wetback," a brutal postwar relocation program, is being put back into effect. As the voices in his head grow louder and more insistent, Manz struggles to negotiate the difficulties of adolescence, the perils of an oppressed environment, and the terror of losing his grip on reality.  Ages 14-up. More on this title from Cynsations. Compiled from promotional materials.

BOY PROOF by Cecil Castellucci (Candlewick, 2005). Victoria insists on being called "Egg" in honor of her favorite sci fi heroine, pushes herself to be just as superheroic, and distances from peers, especially boys, who might try to define her in their terms. But she can't accomplish her goals–as a photographer, a scholar, even as a Vampire and Bat Wing apprentice–without reaching out and opening up to the real-world people around her. Ages 12-up. Read The Story Behind The Story from Cecil Castelucci.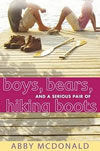 BOYS, BEARS, AND A SERIOUS PAIR OF HIKING BOOTS by Abby McDonald (Candlewick, 2010). The summer after her junior year of high school, environmental activist ("green teen") and New Jersey suburbanite, Jenna, is faced with the most horrible of prospects: having to go spend the summer with her decidedly non-eco-friendly grandmother in her condo in Orlando, Florida. She's going to miss her friends and all the protests they have planned. But then, she has a brainchild: why not spend the summer in rural Canada with her godmother, an environmentally-aware ex-hippie. What could be more perfect? But when Jenna gets to the actual remote wilderness, she finds things are not quite what she expected: encountering gorgeous but sullen boys, the hostile Goth stepdaughter of her godmother, and discovering that the environment and one's place in it means something more than merely separating one's recyclables. BOYS, BEARS, AND SERIOUS PAIR OF HIKING BOOTS is a light, romantic comedy and coming-of-age story told with an engaging voice that will leave readers with an appreciation of the outdoors and Jenna's growth therein. Ages 12-up. Recommendation by Greg Leitich Smith.
THE BOYFRIEND LIST (15 guys, 11 shrink appointments, 4 ceramic frogs and me, ruby oliver) by E. Lockhart (Delacorte, 2005). Everybody's dumped Ruby—her boyfriend, her best friend, and all of the rest of her friends. She's a leper at Tate Prep and the subject of unflattering scribbles on the bathroom wall. After a few panic attacks, Ruby's parents whisk her to Dr. Z. Their visits prompt Ruby to compile a boyfriend list, the first draft of which falls into the wrong hands. Ages 12-up. Read The Story Behind The Story from E. Lockhart.

BREAKING RANK by Kristen D. Randle (Morrow, 1999). Casey, 17, agrees to tutor Baby (Thomas), despite the warnings of her friends and parents about his membership in a secret society called the Clan. The Clan is not a gang in the everyday sense, but definitely adheres to its own path, philosophy, and dress code — at the expense of keeping company with outsiders. In this twist on Romeo and Juliet, the two teens delve into philosophy and their own feelings to create a love. Ages 12-up.
BREATHING UNDERWATER by Alex Flinn (HarperCollins, 2001). It wasn't long ago that Nick and Caitlin were in love. How did they end up in court with a restraining order being issued against him? In this first person narrative, Nick tells the story himself. It's certainly rare—perhaps unprecedented—to read of an abusive relationship from the perspective of the abuser. In this case, it's also illuminating. Ages 12-up. Read The Stories Behind The Stories: Alex Flinn on BREATHING UNDERWATER and BREAKING POINT.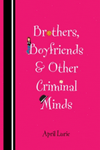 BROTHERS, BOYFRIENDS, AND OTHER CRIMINAL MINDS by April Lurie (Delacorte, 2007). April Lundquist lives in Dyker Heights, Brooklyn, a quiet neighborhood where the streets are clean and safe. Sure, three murderers live on her block, but they're just mafia hit men. Problems start when April's older brother begins to date the daughter of a mobster and when one of the neighbors has a business proposition… In this novel set in the late 1970s, author April Lurie evokes the classic feeling of the decade of disco in a humorous and touching story based in part on her own teen years. Ages 10-up. Recommendation by Greg Leitich Smith. Read The Story Behind The Story from April Lurie.
BURGER WUSS by M.T. Anderson (Candlewick, 1999). Anthony has a bit of a problem with assertiveness. But when his girlfriend Diana mashes with Turner who then cruelly rejects her, the war is on. In a comedic tale of spurred love, revenge, and special sauce, Anthony is a hero for the mass marketing era. One of the funniest books ever. Ages 12-up.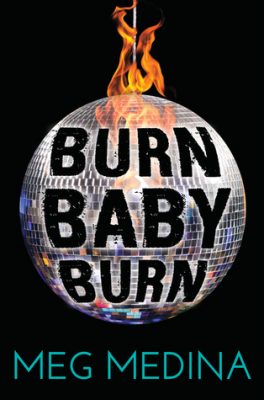 BURN BABY BURN by Meg Medina (Candlewick, 2016). Nora Lopez is seventeen during the infamous New York summer of 1977, when the city is besieged by arson, a massive blackout, and a serial killer named Son of Sam who shoots young women on the streets. Nora's family life isn't going so well either: her bullying brother, Hector, is growing more threatening by the day, her mother is helpless and falling behind on the rent, and her father calls only on holidays. All Nora wants is to turn eighteen and be on her own. And while there is a cute new guy who started working with her at the deli, is dating even worth the risk when the killer likes picking off couples who stay out too late? Award-winning author Meg Medina transports us to a time when New York seemed balanced on a knife-edge, with tempers and temperatures running high, to share the story of a young woman who discovers that the greatest dangers are often closer than we like to admit — and the hardest to accept. Ages 14-up. Compiled from promotional materials.
CALVIN by Martine Leavitt (Farrar, Straus and Giroux, 2015). Seventeen-year-old Calvin has always known his fate is linked to the comic book character from Calvin & Hobbes. He was born on the day the last strip was published; his grandpa left a stuffed tiger named Hobbes in his crib; and he even has a best friend named Susie. As a child Calvin played with the toy Hobbes, controlling his every word and action, until Hobbes was washed to death. But now Calvin is a teenager who has been diagnosed with schizophrenia, Hobbes is back―as a delusion―and Calvin can't control him. Calvin decides that if he can convince Bill Watterson to draw one final comic strip, showing a normal teenaged Calvin, he will be cured. Calvin and Susie (and Hobbes) set out on a dangerous trek across frozen Lake Erie to track him down. Ages 12-up. More on this title from Cynsations. Compiled from promotional materials.
CANDLE IN THE WIND by Maureen Wartski (Ballantine, 1995). When he approaches a house to ask to use the phone because his car has stalled, Harry Mizuno is shot by an elderly white man who claims he looked like an intruder. His sister Terri is left to try to help her family and navigate the subsequent chaos in her small Massachusetts town. Ages 14-up.
CHARACTER DRIVEN by David Lubar (Tor, 2016). With only one year left of high school, seventeen-year-old Cliff Sparks is desperate to "come of age"―and find a girlfriend. But he's never had much luck with girls. So when he falls for Jillian, a new classmate, at first sight, all he can do is worship her from afar. At the same time, Cliff has to figure out what to do with the rest of his life, since he's pretty sure his unemployed father plans to kick him out of the house the minute he turns eighteen. Time is running out for Cliff. He's at the edge, on the verge, dangling―and holding on for dear life. Ages 14-up. More on this title from Cynsations. Compiled from promotional materials.

CHARLES DARWIN AND THE MYSTERY OF MYSTERIES by Niles Eldredge and Susan Pearson (Roaring Brook, 2010). A fascinating and eminently readable account of the life of Charles Darwin and the voyage of HMS Beagle. Details abound, and the authors do a great job of showing how Darwin's experiences and observations led to the development of his theories on the origin of species. The volume includes many figures and maps, as well as sidebars elaborating on the context of the narrative and of nineteenth century life. An excellent introduction to Darwin and his times. Ages 10-up. Publisher copy. Recommendation by Greg Leitich Smith.

THE CHOSEN ONE by Carol Lynch Williams (St. Martin's Press, 2009). Thirteen year old Kyra has twenty brothers and sisters, three mothers, and one father. She lives with her loving family in the remote compound of a reclusive polygamous religious sect called "The Chosen." But she remembers better days, when the Chosen were allowed to leave the compound and allowed to read works of fiction. Always wary of falling into the trap of sinfulness, she nevertheless periodically sneaks away to visit the local library bookmobile; arranges secret trysts with Joshua, the boy she thinks she's in love with; and wonders whether outside medical care would help with her mother's difficult pregnancy. When The Prophet declares he has seen a vision she must become her uncle's (her father's sixty year old brother) seventh wife, her questioning begins in earnest and she realizes she will have to choose between a hateful marriage and leaving all that she loves behind. A compelling, finely-wrought, exquisitely written tale of one girl's difficult journey and struggles with temptation, hypocrisy, and group thought control. Throughout, Kyra is fully realized and three-dimensional. Ages 12-up. Recommendation by Greg Leitich Smith.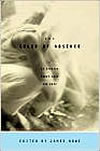 THE COLOR OF ABSENCE: 12 STORIES ABOUT LOSS AND HOPE edited by James Howe (Atheneum, 2001). Our pick: "Summer of Love" by Annette Curtis Klause, especially wonderful for those of you who enjoyed THE SILVER KISS. Other contributors: Avi; C.B. Christiansen; James Howe; Angela Johnson; Norma Fox Mazer; Walter Dean Myers; Naomi Shihab Nye; Michael J. Rosen; Roderick Townley; Virginia Euwer Wolff; and Jacqueline Woodson with Chris Lynch (as co-authors). Ages 12-up.
COMFORT by Carolee Dean (Houghton Mifflin, 2002). Kenny Willson wants out of Comfort, Texas—away from his alcoholic ex-con daddy, away from his controlling mama, away from everybody except Cindy. Despite her bullying boyfriend, she introduces Kenny to poetry competitions and shows him something that might be love. But not everything is what it appears to be in Comfort, though the search for familiarity and quest to break free rages on. Ages 12-up. More on this title from Cynsations.
CONDITIONS OF LOVE by Ruth Pennebaker (Holt, 1999). Sarah, 14, is a sometimes humorous, sometimes insightful, always compelling protagonist. She's struggling to deal with the death of her at first idealized (but humanly flawed) father, the distance between her and her mother, the strain of her best friend's family, and the ordinarily bizzare social world of school. With intelligent, biting wit, Pennebaker brings characters to life. Ages 12-up.

DANCING IN RED SHOES WILL KILL YOU by Dorian Cirrone (HarperCollins, 2005). Kayla is one of the strongest dancers at her performing arts school, but there's just one problem. Or, well, two. Kayla's busty—in a double D/needs-to-wear-three-bras kind of way—and the world of ballet has a very specific body type preference. Will she get surgery? Push back against societal expectations? Find relief in the company of the cute new guy or find out that he's really somehow sinister? Ages 12-up. Read The Story Behind The Story from Dorian Cirrone.
DANCING ON THE EDGE by Han Nolan (Harcourt, 1997). Since her unconventional birth, grandmother Gigi has been telling Miracle that she's special, like Miracle's father is special. But after he "melts," Miracle tries to reach him, only hurting herself in the process. Ages 12-up.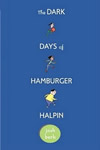 THE DARK DAYS OF HAMBURGER HALPIN, by Josh Berk (Knopf, 2010). Will Halpin is overweight and mostly deaf. This year, though, he's left the School for the Deaf for Carbon High. At first, he struggles in his efforts to mainstream himself, warily becoming friends with Smiley, the weirdest kid in school. But then Pat Chambers, the school's star quarterback (and all-around jerk) is killed on a field trip to the local coal mine. Can Will and Smiley solve the mystery? Was it the pot-smoking bus driver? The sexy math teacher? The on-again, off-again girlfriend? Enemies of Pat's father, the casino owner? Or was it the ghost of Dummy Halpin, who died in a mining accident a century ago? Together, Will and Smiley unearth more than they bargained for… A wry mystery that illuminates the social intricacies and mayhem of high school. Will's attempts to both solve the puzzle and become something different are funny and well-wrought and should resonate with anyone who has ever tried to fit in someplace new. Ages 12-up. Recommendation by Greg Leitich Smith.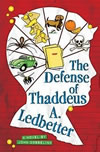 THE DEFENSE OF THADDEUS A. LEDBETTER by John Gosselink (Amulet, 2010). Seventh-grader Thaddeus A. Ledbetter has a problem: like his recently deceased father (an efficiency expert), he knows that you should work "harder, not smarter." But no one will listen to his plans for improving their lives and the state of the school and Principal Cooper is particularly obtuse. When Thaddeus's "true emergency drill" goes bad, he's sentenced to In-School Suspension for the rest of the school year. It wasn't his fault, though, that no one else takes disaster preparedness seriously. Told in journal entries and e-mails and discipline referral forms, DEFENSE hilariously recounts Thaddeus's disciplinary issues over the course of the school year and his attempts to mitigate the unfair and dire punishment. A funny, terrific read for the smart kid and smart alec in everyone. Ages 10-up. Recommendation by Greg Leitich Smith.
DEFINE NORMAL by Julie Anne Peters (Little, Brown, 2000). What could Antonio the priss and Jazz the punk possibly have to talk about? When they're paired in peer counseling, it looks like nothing at first. Could Antonio's falling-apart mother and Jazz's hyper achieving mother bring them together? (Well, of course, but getting there is worth the trip and, just when readers think they've got the story all figured out, Peters will surprise them.) Funny, smart, realistic, and sensitive, this novel is comfortably contemporary and edgy all at the same time. Ages 12-up.
DON'T THINK TWICE by Ruth Pennebaker (Holt, 1996). It's 1967, and seventeen-year-old Anne finds herself someplace she never would've expected–at a home for unwed mothers. The story focuses on Anne's relationships with the other girls. A searing, stereotype-shattering book. Ages 12-up.
DON'T YOU DARE READ THIS, MRS. DUNPHREY by Margaret Peterson Haddix (Simon & Schuster, 1996). In this compelling, journal-format novel, Tish Bonner reveals how her family life is slowly unravelling. With money scarce and her little brother sick, Tish desperately needs help. But will she ever be able to trust an adult enough to turn to her for help? Ages 12-up.
A DOOR NEAR HERE by Heather Quarles (Delacorte, 1998). Katherine's alcoholic mother is lost to her bed, leaving Katherine to manage the house and take care of her siblings. As pressures mount, little sister Alisa turns to her belief in Narnia. When she's missing, where can Katherine turn to find her? Ages 12-up.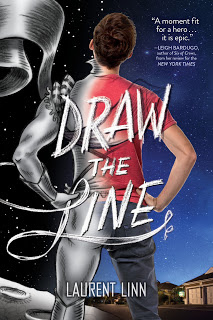 DRAW THE LINE by Laurent Linn (McElderry, 2016). After a hate crime occurs in his small Texas town, Adrian Piper must discover his own power, decide how to use it, and know where to draw the line in this "powerful debut" novel (Publishers Weekly, starred review) exquisitely illustrated by the author.Adrian Piper is used to blending into the background. He may be a talented artist, a sci-fi geek, and gay, but at his Texas high school those traits would only bring him the worst kind of attention. In fact, the only place he feels free to express himself is at his drawing table, crafting a secret world through his own Renaissance-art-inspired superhero, Graphite. But in real life, when a shocking hate crime flips his world upside down, Adrian must decide what kind of person he wants to be. Maybe it's time to not be so invisible after all—no matter how dangerous the risk. Ages 12-up. More on this title from Cynsations. Compiled from promotional materials.
DRUMS, GIRLS & DANGEROUS PIE by Jordan Sonnenblick (Scholastic, 2004). Thirteen-year-old Steven's life is all about playing drums for the All-Star Jazz Band, worshipping queen bee Renee Albert, and enduring the annoying attentions of his baby brother Jeffrey. But then Jeffrey is diagnosed with leukemia, and everything changes–the family routine, family finances, parent-son relationships, even Steven's popularity at school. Funny and touching, this tremendous debut novel is a story of life and death, loves lost and found, and an affecting inner journey. It doesn't miss a beat. Ages 10-up. Read The Story Behind The Story from Jordan Sonnenblick.
EDITH SHAY by A. LaFaye (Simon & Schuster, 2000). Set in 1865 Chicago, this is the story of Katherine Lunden who through hard-scrabble jobs, perseverence, and the helping hands of a couple of generous souls is a small town girl creates who a life for herself under the name Edith Shay. Hard to resist for midwesterns and anyone whose mother never wanted them to leave home. Ages 10-up.
EMPRESS OF THE WORLD by Sara Ryan (Viking, 2001). Nicola Lancaster finds friendship and first love with a beautiful (eyes, hair, soul) girl named Battle in this non-preachy, stereotype-busting book featuring unapologetically smart kids at a summer program for gifted youth. This first novel features great voice and memorable characters. Ages 12-up.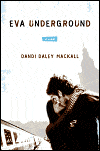 EVA UNDERGROUND by Dandi Daley Mackall (Harcourt, 2006). It's the late 70's and Eva Lott's senior year of high school. She'd rather be home in Chicago than spending it in police-state Communist Poland. But her father is on a mission. Supposedly, he's there to teach, but he's really there to provide assistance with the anti-communist underground movement. The hardships and shortages that are a fact of life behind the Iron Curtain are bad enough, but it's worse knowing Big Brother is watching. Still, Eva begins to build a relationship with Tomek, one of her father's students, and with Poland as well. But even this is shattered when her father is deported and Eva must figure out how to survive behind on her own. This novel provides a engrossing and sometimes chilling look into life in a totalitarian state, as Eva and her father struggle to make friends and learn a strange and foreign culture. With well-developed characters and plot, it's is much more than a social studies lesson, however. Mackall makes the struggles of daily life and against the police state apparatus in Communist Poland come alive. Ages 12-up. Recommendation by Greg Leitich Smith. Read The Story Behind The Story from Dandi Daley Mackall.
EVERY TIME A RAINBOW DIES by Rita Williams-Garcia (HarperCollins, 2001). Thulani, a 16 year old Jamaican who lives in Brooklyn with his brother and sister-in-law, has yet to come to terms with the death (some years ago) of his mother. One night, while maintaining his dovecote, he witnesses a rape from the roof of his brownstone. He rescues the girl — Ysa — and takes her to her home. Though initially rebuffed by her, he continues to reach out to her and, slowly, she reciprocates and both begin to heal. Ages 14-up.
EVIDENCE OF THINGS NOT SEEN by Lindsey Lane (Farrar, Straus and Giroux, 2014). In her first novel for teens, Lane, author of the picture book Snuggle Mountain, offers a gripping and genre-bending mosaic centered around the sudden disappearance of physics-obsessed high school junior Tommy Smythe. Lane presents the first-person narratives of characters being interviewed by the small Texas town's sheriff about Tommy and third-person vignettes that read like character studies. Chatty Kimmie Jo is exploring her Mexican identity; Marshall attempts a romantic relationship with the new girl in town, who has a troubled past; Alvin is inspired by Tommy to conceive of a life away from his abusive father and thankless employment at a salvage yard; Maricela, a migrant worker, wishes for a more stable life; while many others consider their futures. Ponderings from Tommy's notebook about quantum physics appear throughout—specifically, questions of parallel dimensions and infinite possibilities—blurring the boundaries between observable reality and the unseen. Each character has some connection, even if tangential, to Tommy, whose disappearance speaks to the inscrutability of time, the universe, and the construction of individual truths. Ages 12–up. More on this title from Cynsations. Compiled from promotional materials.
FAR FROM XANADU by Julie Anne Peters (Little, Brown, 2005). Between working out, playing softball, and keeping up the plumbing business her dad left behind, Mike's days in Coalton, Kansas are if not full, at least familiar. Then one day, she walks into class. Xanadu. The most beautiful, smart-ass, conflicted girl in the world. Mike falls fast, and the two seem to connect. Only problem? Mike's gay and Xanadu's…not. A story of family, friendship, and unrequinted love. Barriers that can be broken and those that should be respected. Ages 12-up. Read The Story Behind the Story from Julie Anne Peters.

FAT KID RULES THE WORLD by K.L. Going (Putnam, 2003). This strong, sometimes funny, often touching teen novel is the story of Troy Billings—an overweight and emotionally isolated guy whose life seems worthless until he meets quasi-homeless guitar master Curt. In no time, Troy finds himself the socially recovering drummer in Curt's new punk rock band. Problem is, Troy can't play the drums and Curt, well, he might just need rescuing, too. Outstanding voice and sense of place. Highly memorable characters. A tour de force for the fat kid in all of us. Ages 12-up. Read The Story Behind The Story from K.L. Going.
THE FRIENDS by Kazumi Yumoto, translated by Cathy Hirano (Farrar, 1996). Kiyama and his friends, Kawabe and Yamashita, become fascinated by the subject of death and study an old man in their neighborhood. Ages 12-up.

GEOGRAPHY CLUB by Brent Hartinger (HarperCollins, 2003). Russel Middlebrook has a secret from even his best friends at high school, that he's gay. But an online chat offers an opportunity to meet up with another gay teen–who ends up being one of the best-looking athletes in school. These two cautiously connect with peers and then seek a place to be themselves, a place where they can talk, a place where people understand. Starting a gay-straight alliance seems too risky at first, so they form the "Geography Club" instead. Witty, smart, touching, even romantic–this debut novel signals an author to watch and applaud. Ages 12-up. Read The Story Behind The Story from Brent Hartinger.
GETTING THE GIRL by Markus Zusak (Arthur A. Levine, 2003). Cameron Wolfe, who his brother Rube calls "a bit of a lonely bastard" wanders through the pages of this book, introducing us to his Australian family: his overbearing dad; his resilient mother, his football-playing brother, Steven; his "Romeo" brother, Rube; and his sympathetic sister, Sarah; and to Octavia, first as Rube's girlfriend, and then as his own. Told in an elliptical and enigmatic voice, Cameron emerges from under his family's shadow (especially his brothers') to finally see the shadow that he casts himself. Ages 13-up. Review by Frances Hill.
A GIRL CALLED FEARLESS by Catherine Linka (St. Martin's, 2014). Avie knows her life is over when her dad "Contracts" her in marriage to millionaire Jessop Hawkins. Hawkins has bought Avie to be his first lady as he runs for governor of California on the Paternalist ticket. But Avie's lifelong friend, Yates, believes she has the strength to flee to freedom in Canada. As Yates draws her into the secret world of Exodus, their friendship turns to passion, and freedom means leaving Yates and hopig they can reunite over the border. This romantic spec fiction/ political thriller is set a contemporary America upended by the deaths of millions of women from a hormone in meat. Teenaged girls are valuable and restricted commodity "protected" by guards, gates and Paternal Controls on phones, internet and media. After Avie leaves the mansions of LA and Malibu, she learns dangerous truths about who controls the US government. Pursued by federal agents as she heads for the border, Avie must find the courage Yates always believed she possessed.  Ages 14-up. More on this title from Cynsations. Compiled from promotional materials.
GOOD GIRLS by Laura Ruby (HarperTempest, 2006). Sixteen year old "good girl" Aubrey is humiliated when a photograph (by an anonymous photographer) of her and Luke DeSalvio, in flagrante delicto, is e-mailed around their school. Still, she manages to find the inner strength to carry on as she is shunned by family, friends, and classmates and starts hanging around with the school "bad girl." This novel is at once funny, poignant, and thought-provoking as it explores young love, relationships, and what it means to be a "good girl" or "bad." Ages 12-up. Recommendation by Greg Leitich Smith. Read The Story Behind the Story from Laura Ruby.
HANGING ONTO MAX by Margaret Bechard (Roaring Brook, 2002). Sam is trying to balance a distant dad, a new girlfriend, studying for the SATs, and being full-time, primary caregiver for his his baby, Max. A realistic and compelling look at life as a teen dad. Ages 14-up.
HARD LOVE by Ellen Wittlinger (Simon & Schuster, 1999). John's zine, Bananafish, is his outlet of choice and when he becomes friends with Marisol, the witty author of another zine (Escape Velocity), those feelings quickly grow into more. At least on John's end. Marisol, however, is a very out young lesbian. As they both struggle with intimacy and understanding problems with their parents, the two grow into best friends. But how will Marisol deal with John's more romantic feelings? A book that sounds and looks hip, told in John's strong voice. Ages 12-up.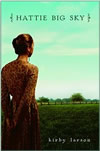 HATTIE BIG SKY by Kirby Larson (Delacorte, 2006). In late 1917, sixteen year old orphan Hattie Brooks is bequeathed her uncle's homestead claim in Vida, Montana. Tired of being shuffled from remote relative to remote relative, Hattie heads out by herself to prove the claim. When she arrives, she finds hard work, bad weather, and new friends. Through it all, she shares her experiences with old friends back in Iowa and on the Western Front, and encounters the anti-German prejudices of the day. An elegant and sweet story of one girl's quest for independence and family. Ages 12-up. Recommendation by Greg Leitich Smith.
HOPE WAS HERE by Joan Bauer (Putnam, 2000). Hope and her aunt Addie leave New York City for small-town Wisconsin to work at a café for a man who is dying of leukemia. But this same man squares off to run for mayor, and Hope finds romance, a father figure, and more hope than she expected. Ages 10-up.
THE HOUSE YOU PASS ALONG THE WAY by Jacqueline Woodson (Bantam, 1997). Staggerlee has always known she's different, not just because her mother is white and her father is African American, not just because of her civil rights champion grandparents. When her adopted cousin Tyler, who calls herself "Trout" comes to visit, will Staggerlee better come to terms with questions of sexuality and identity? Ages 12-up.
HOW I SPENT MY LAST NIGHT ON EARTH by Todd Strasser (Simon & Schuster, 1998). It's (maybe) the end of the world as Legs knows it. Forget full moons. The students at Time Zone High get really crazy when a government denied 'net rumor proclaims an incoming asteroid may mean the last day for planet Earth. Cliques scatter and desires zing in the most unexpected directions. But will this ultra brainy beauty find out what she's missing from the skull-ring-wearing, motorcycle-riding, talks-in-riddles Andros Bliss? A smart, funny romance, right on mark for the turn of the century. Ages 10-up.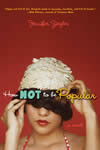 HOW NOT TO BE POPULAR by Jennifer Ziegler (Delacorte 2008). Sugar Magnolia ("Maggie") Dempsey's parents, aging hippies, never stay in one place more than a few months and she's getting sick of it. When her parents decide to move from Portland, Oregon, to Austin, Texas, Maggie's had it. She's tired of losing friends and boyfriends and hurting so much when it comes time to leave (again). So she hits on a plan: she will be the antithesis of "popular," thereby driving away anyone who might befriend her. Naturally, there are complications… HOW NOT TO BE POPULAR offers a hilarious take on popularity and fitting in. The novel is laugh-out-loud funny and offers well-drawn characters in convincing relationships as it builds to a sweet and satisfying conclusion. Recommendation by Greg Leitich Smith. Read The Story Behind The Story from Jennifer Zielger.
I AM THE WALLPAPER by Mark Peter Hughes (Delacorte Press, 2005). Floey's nothing but "the wallpaper" compared to her sister Lilian who "always had to be the bride at every wedding and the corpse at every funeral." But all that's over now, at least if Floey herself has anything to say about it. New Floey, future Floey is on the rise, no matter the resulting friendship fallouts, family turmoils, and revelations of her private life on the Internet. At turns tender and comedic, Floey is ultimately a heroine to cheer. Ages 10-up. More on this title from Cynsations.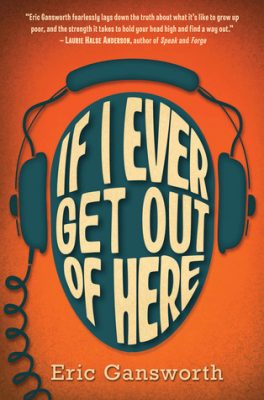 IF I EVER GET OUT OF HERE by Eric Gansworth (Arthur A. Levine/Scholastic, 2013). Lewis "Shoe" Blake is used to the joys and difficulties of life on the Tuscarora Indian reservation in 1975: the joking, the Fireball games, the snow blowing through his roof. What he's not used to is white people being nice to him — people like George Haddonfield, whose family recently moved to town with the Air Force. As the boys connect through their mutual passion for music, especially the Beatles, Lewis has to lie more and more to hide the reality of his family's poverty from George. He also has to deal with the vicious Evan Reininger, who makes Lewis the special target of his wrath. But when everyone else is on Evan's side, how can he be defeated? And if George finds out the truth about Lewis's home — will he still be his friend? Acclaimed adult author Eric Gansworth makes his YA debut with this wry and powerful novel about friendship, memory, and the joy of rock 'n' roll. Ages 12-up. Compiled from promotional materials.
THE INCONCEIVABLE LIFE OF QUINN by Marianna Baer (Amulet, 2017). Quinn Cutler is sixteen and the daughter of a high-profile Brooklyn politician. She's also pregnant, a crisis made infinitely more shocking by the fact that she has no memory of ever having sex. Before Quinn can solve this deeply troubling mystery, her story becomes public. Rumors spread, jeopardizing her reputation, her relationship with a boyfriend she adores, and her father's campaign for Congress. Religious fanatics gather at the Cutlers' home, believing Quinn is a virgin, pregnant with the next messiah. Quinn's desperate search for answers uncovers lies and family secrets—strange, possibly supernatural ones. Might she, in fact, be a virgin? Ages 13-up. More on this title from Cynsations. Compiled from promotional materials.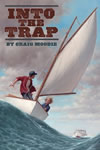 INTO THE TRAP by Craig Moodie (Roaring Brook, 2011). Twelve-year-old Eddie Atwell lives on an island off the coast of Massachusetts and comes from a long line of lobstermen. It's his ambition to become one himself. But when his father tears his rotator cuff and thieves steal their catch, they could lose everything… When Eddie stumbles upon the thieves' lobster cache and encounters Briggs Fairfield — a rich-kid off-islander runaway from the local sailing camp — he decides that it's up to him to stop the poachers and save the Atwell livelihood. Together, the pair hatch a plot to catch the thieves. But will it be enough? And what if they, themselves, are the ones caught? INTO THE TRAP is an exciting adventure on the water: a terrific story of friendship, danger, and justice, with an engaging protagonist and thrills aplenty. Ages 10-up. Recommendation by Greg Leitich Smith.
JOHN RILEY'S DAUGHTER by Kezi Matthews (Cricket, 2000). Following the death of her mother, Memphis was dropped off at her grandmother's house. The supposedly temporary stay became permanent when her father didn't return for her and, later, increasingly suspenseful after the disappearance of her mentally disabled aunt. This stunning first novel is set in South Carolina during the 1970s. Ages 10-up.

JUMP by Elisa Carbone (Viking, 2010). At sixteen, P.K. decides that boarding school is not in her future, whatever her parents might think. So she grabs her climbing gear and plans to run away. Joined by a gorgeous and mysterious boy from her climbing gym by the name of "Critter" (who has a secret past of his own), she hitchhikes across the country on a quest for the perfect rock and self-discovery. Told in alternating points-of-view, JUMP is compelling and suspenseful, part thriller, part romance, and part coming-of-age story. Ages 12-up. Recommendation by Greg Leitich Smith.

JUMPED by Rita Williams-Garcia (Harper Teen, 2009). Williams-Garcia presents a day in the life of three girls in an inner city high school: belligerent, basketball jock Dominique; flirtatious, outgoing, and clueless Trina; and cell-phone addict Leticia. When Leticia overhears Dominique swearing to "kick [Trina's] ass" after school that day (a threat to which Trina is oblivious), Leticia must decide whether, and to what extent, to get involved: should she help, warn her, or just stay out of the way? Ages 14-up. Recommendation by Greg Leitich Smith. Read The Story Behind The Story from Rita Williams-Garcia.
KEEPER OF THE NIGHT by Kimberly Willis Holt (Henry Holt, 2003). Written by a National Book Award winner, this newest novel, told in swift, one-page chapters that closely resemble prose poems, takes a look at the life of a family that has been thrown into chaos by the mother's suicide. Holt set this novel on the island of Guam where she lived as a child. Reading this book is like being there. The prose is lush, the characters are deeply-wrought, and the story is electric. Ages 12-up. Recommendation by Kathi Appelt.
KEEPING YOU A SECRET by Julie Anne Peters (Little, Brown, 2003). Holland has the "right-track" life everybody, including her mother, approves of–right down to the expected boyfriend. But when she falls in love with Cece, Holland learns for the first time what living really is. Romantic yet realistic, this story of first true love is a compelling, can't-put-it-down read. Ages 14-up.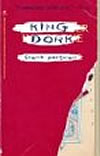 KING DORK by Frank Portman (Delacorte, 2006). Tom Henderson, more commonly known as "Chi-Mo" to others and to himself as "King Dork," is, well, a guitar-playing dork trying to form a band with his best friend. When his English teacher assigns CATCHER IN THE RYE, Tom discovers a copy his deceased father had when he was a teen. The copy is marked up with mysterious messages, and Tom finds himself more or less obsessed with decoding the thing (in part because he's never felt any connection to the man, and in part because he is, after all, a complete dork). This leads him to read more books his father left behind and also to the mystery of how his father really died, as well as some insights into "attracting semi-hot girls." Hilarious. Ages 14-up. Recommendation by Greg Leitich Smith.
KISSING IN AMERICA by Margo Rabb (HarperCollins, 2015). In the two years since her father died, sixteen-year-old Eva has found comfort in reading romance novels—118 of them, to be exact—to dull the pain of her loss that's still so present. Her romantic fantasies become a reality when she meets Will, who can relate to Eva's grief. Unfortunately, after Eva falls head-over-heals for him, he picks up and moves to California with barely any warning. Not wanting to lose the only person who has been able to pull her out of sadness—and, perhaps, her first shot at real love—Eva and her best friend, Annie, concoct a plan to travel to the west coast. As they road trip across America, Eva and Annie confront the complex truth about love. Readers will experience the highs of infatuation and the lows of heartaches as Eva contends with love in all of its forms. Ages 14-up. Compiled from promotional materials.
KISSING TENNESSEE AND OTHER STORIES FROM THE STARDUST DANCE by Kathi Appelt (Harcourt, 2000). It's a night to remember as Dogwood Junior High is transformed. In nine short stories, Appelt takes readers to stories of tragedy and charm, romance and intrigue. Ages 12-up.
THE LANGUAGE OF STARS by Louise Hawes (Margaret K. McElderry Books, 2017). Sarah is forced to take a summer poetry class as penance for trashing the home of a famous poet in this fresh novel about finding your own voice. Sarah's had her happy ending: she's at the party of the year with the most popular boy in school. But when that boy turns out to be a troublemaker who decided to throw a party at a cottage museum dedicated to renowned poet Rufus Baylor, everything changes. By the end of the party, the whole cottage is trashed—curtains up in flames, walls damaged, mementos smashed—and when the partygoers are caught, they're all sentenced to take a summer class studying Rufus Baylor's poetry…with Baylor as their teacher. Ages 12- up. More on this title from Cynsations. Compiled from promotional materials.

LAST DANCE ON HOLLADAY STREET by Elisa Carbone (Knopf, 2005). It's 1878, and young Eva, 13, has lost Daddy Walter to tetanus and Mama Kate to consumption. All she has left is a name and address that lead her to Holladay Street, a half sister, and a biological mother from a house of ill repute. Desperate and indebted, Eva tries to make due as a dance-hall girl, which is still better than working upstairs. But is this the life Daddy Walter and Mama Kate would've wanted? A tender, thoughtful story of perseverence and loyalty. Ages 10-up. Read The Story Behind The Story from Elisa Carbone.
LEAVING FISHERS by Margaret Peterson Haddix (Simon & Schuster, 1997). Dory's loneliness at her new school makes her especially grateful for the attention and flattery of a new (and sudden) group of friends. She quickly discovers they all belong to a religious group known as the Fishers of Men and just as quickly finds herself becoming a member. But as time goes by, she finds the warmth and friendship dissipating as the group wants more and more from her — her time, her money, her complete devotion. This is a searing, intensely personal look at one girl being lured into a cult and finding her way out of it. Ages 12-up.
LUCAS by Kevin Brooks (Chicken House, 2003). Caitlin, the waiflike protagonist, wanders around her island home like an uneasy ghost in one memorable summer when she abandons her child self and falls in love with a beautiful boy named Lucas. Lucas is a traveler, a charismatic gypsy who charms and intrigues some, and enrages others, who becomes the target for the evil coiled and waiting to strike. Caitlin's family and friends and the islanders that she has known all her life are all pulled together, inevitably, it seems, toward the cataclysmic ending. A painful and powerful story, not one to miss. Ages 14-up.
LUNA by Julie Anne Peters (Little, Brown, 2004). It seems like forever that Regan has been keeping the secret that her brother Liam is really Luna, is really a girl instead. After years of struggle, Luna's ready to start taking steps—small then tremendous—to make her inside reality an outside reality. But will Regan lose herself in trying to be the best confidante, the best sibling she can? A breakthrough book about two siblings, one transgendered and one sacrificing much of herself out of love. Ages 12-up. Read The Story Behind The Story from Julie Anne Peters.