This bibliography is drawn from books published between 1995 and 2020. SEE ALSO Children's Picture Books, Titles A-L. Our intent is to highlight our own books along with additional titles our readers may enjoy. While some award-winners and bestsellers are included, part of the goal is to feature underappreciated gems. For more recent titles, visit Cynsations.

MAMA'S SARIS by Pooja Makhijani, illustrated by Elena Gomez (Little, Brown, 2007). Nothing makes a little girl feel more grown up than dressing like her mama. Ages 4-up. Read The Story Behind The Story from Pooja Makhijani.
A MAN CALLED RAVEN by Richard Van Camp, illustrated by George Littlechild (Children's Book Press, 1997). Chris and Toby go after a raven with their hockey sticks, but a mysterious man enters their lives and his story changes their view. Ages 5-up.

ME HUNGRY! by Jeremy Tankard (Candlewick, 2008). "Me hungry!" complains Edwin the caveboy. But his parents are too busy to make him dinner, so he decides to go hunting himself. This involves a hilarious sequence of encounters with Pleistocene dangers until, eventually, he encounters a woolly mammoth…ME HUNGRY! features terrifically fun illustrations and sparse "caveboy" style prose. ME HUNGRY! is a great, fun read-aloud and offers a unique take on an age-old and universal dynamic. ME LIKE! Ages 4-up. Recommendation by Greg Leitich Smith.

MELVIN AND THE BOY by Lauren Castillo (Henry Holt, 2011).  The boy has always wanted a pet, but nothing was ever just right. Until one day he happens upon a turtle in the park, so he brings it home. But Melvin isn't all that active and doesn't seem to like it there.  Does he miss his friends? Would he be happier back at the pond? Ofers fun and humorously expressive illustrations as it provides a satisfying answer to the age-old question, "What's the best home for a turtle?" Ages 4-up. Recommendation by Greg Leitich Smith.

MINE! by Shutta Crum, illustrated by Patrice Barton (Knopf, 2011). Two young children and a dog sort out what's "mine in this delightful, hilarious, and elegant picture book. The text is brilliantly sparse but sufficient and the illustrations are expressive and funny. A fine read for anyone who's ever had to share. Ages 4-up. Recommendation by Greg Leitich Smith.
MINTY: A STORY OF A YOUNG HARRIET TUBMAN by Alan Schroeder, illustrated by Jerry Pinkney (Dial, 1996). This is award-winning fictional account is based on facts. Ages 5-up.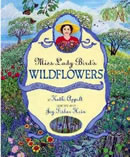 MISS LADY BIRD'S WILDFLOWERS: HOW A FIRST LADY CHANGED AMERICA by Kathi Appelt, illustrated by Joy Fisher Hein (HarperCollins, 2005). Lady Bird Johnson loved wildflowers from her days as a young girl. Then, as First Lady, she found her own way to beautify the United States. Via Kathi Appelt's poetic voice and Joy Fisher Hein's vivid illustrations, Lady Bird's life springs from the page. Ages 4-up. Read The Story Behind The Story from Kathi Appelt and Joy Fisher Hein.
MOLLY'S FAMILY by Nancy Garden, illustrated by Sharon Wooding (FSG, 2004). Friday is Open School night, and so Molly draws a picture of her family to help decorate the classroom. But then Tommy says that Molly's family can't be a real one because she has a Mommy and a Mama Lu (by the way, she has a puppy, Sam, too). What is Molly to think? Soft, warm illustrations are just right for this loving family story. Ages 4-up. Read The Story Behind The Story from Nancy Garden.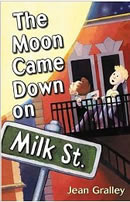 THE MOON CAME DOWN ON MILK STREET by Jean Gralley (Henry Holt, 2004).The moon has come down softly, and who will put it up again? Who will make things right? The fire chief, the rescue workers, the people. This brilliantly simple book speaks to our universal need for comfort, for heroes, for hope. Ages 3-up. Read The Story Behind The Story from Jean Gralley.
MONSTER MAMA by Liz Rosenberg, illustrated by Stephen Gamell (Philomel, 1993). Patrick Edwards mother may be a monster, but who says there's anything wrong with that? A great read aloud. Ages 4-up.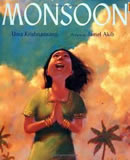 MONSOON by Uma Krishnaswami, illustrated by Jamel Akib (Farrar, Straus, Giroux, 2003). Deeply sensory, this book takes readers to Northern India. The details are storytelling, somehow familiar, bringing each moment alive, the ache and eagerness for the rains. Feel the dust, taste the mangoes, play hopscotch, dance in the rain. Akib's soft, expressive art is a perfect compliment to Krishnaswami's evocative text. Ages 4-up.
MOSTLY MONSTERLY by Tammi Sauer, illustrated by Scott Magoon (Paula Wiseman/Simon & Shuster, 2010). Bernadette is a monster, but she's secretly very, very nice. On her first day of monster school, this doesn't go over very well. Will Bernadette ever be able to reconcile her inner self with societal expectations? A terrifically fun, funny, and fanciful story of a little monster who just wants to be herself. With cupcakes. Ages 4-up. Recommendation by Greg Leitich Smith.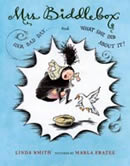 MRS. BIDDLEBOX: HER BAD DAY AND WHAT SHE DID ABOUT IT by Linda Smith, illustrated by Marla Frazee (Harcourt, 2007). One of the most memorable characters in picture book history banishes her bad day with humor and magic. Ages 4-up. Read The Story Behind The Story from Marla Frazee.
MRS. BROWN ON EXHIBIT AND OTHER MUSEUM POEMS by Susan Katz, illustrated by R.W. Alley (Simon & Schuster, 2002). Take a field trip via poetry with Mrs. Brown and her class. Here, young readers get to peek at the mummy and dinosaurs, see how candy is made, stroll among the statues, wonder at the butterflies, make faces at the spiders, and much, much, much more. Ages 4-up.
MUSKRAT WILL BE SWIMMING by Cheryl Savageau, illustrated by Robert Hynes, featuring a Seneca traditional story retold by Joseph Bruchac (Northland, 1996)(Tilbury House, 2006). When a young Native girl is called "Lake Rat," she is comforted by Grampa who both reveals how he was once called "Frog" because of his French-Indian heritage and shows how those intended insults are signs that the bullies dont appreciate the joy of the frog and wonder of the lake. Ages 4-up.

NAAMAH AND THE ARK AT NIGHT by Susan Campbell Bartoletti, illustrated by Holly Meade (Candlewick, 2011). This sublime picture book presents the wife of Noah, whose lullaby sings the ark to sleep at night. Inspired by the poetic structure of the ghazal, readers are treated to a tour of the ark in an elegant, soothing, and peacefully melodic text. Meade's collages are wonderfully detailed, showing Naamah moving throughout the ship to bring peace to its passengers and crew during the forty days and nights of the tempest. Altogether wonderful. Ages 4-up. Recommendation by Greg Leitich Smith.

NO BOWS! by Shirley Smith Duke, illustrated by Jenny Mattheson (Peachtree, 2006). "No bows. BRAIDS!" A lively exploration of contrast–pitting expectations for little girls against an individual girl with her own ideas about her preferences. Ages 4-up. Read The Story Behind The Story from Shirley Smith Duke.

NOODLE AND LOU by Liz Garton Scanlon, illustrated by Arthur Howard (Beach Lane, 2011). Noodle the worm wakes up one morning feeling out of sorts. He doesn't have eyes or feet or even a beak… Can his best friend Lou cheer him up? Scanlon's rhyming text is fun and whimsical, and Howard's illustrations are a perfect match: colorful and exuberant and full of verve. This is a book for anyone who's ever had a friend to cheer them up. Ages 4-up. Recommendation by Greg Leitich Smith.
OHIO THUNDER by Denise Dowling Mortensen, illustrated Kate Kiesler (Clarion, 2006). This lyrical, rhyming picture book brings to life a thunderstorm in the rural U.S. Midwest. Lovely sensory detail and storytelling illustrations. Ages 4-up.
OLD THUNDER AND MISS RANEY by Sharon Darrow, illustrated by Kathryn Brown (DK INC, 2000). After years of failed efforts, Miss Raney and her horse Old Thunder take the competition at the Washita County Fair by Storm. Ages 4-up.
ONE DARK NIGHT by Hazel Hutchins, illustrated by Susan Kathleen Hartung (Viking, 2001). A warm and suspenseful tale about a Mama Cat and her kittens on the night of a big storm. The text is simple and poetic. A purrrfect story for bedtime whether you're furry or not. Ages 3-up.
ONE LITTLE MOUSE by Dori Chaconas, illustrated by LeUyen Pham (Viking, 2002). This rhyming picture book is not only a celebration finding the just-right home, it also makes a great counting book. Pham's illustrations are cute without being too cutesy and also humorous in conveying the little mouse's emotions. Ages 4-up. Read The Story Behind The Story on ONE LITTLE MOUSE and The Story Behind The Story on another of Chaconas' books, ON A WINTRY MORNING.
OUTSIDE, INSIDE by Carolyn Crimi, illustrated by Linnea Asplind Riley (Simon & Schuster, 1995). As the storm blows outside, Molly appreciates the differences between life inside and outside of her house. The perfect book for a rainy day. Ages 3-up.
PIECES: A YEAR IN POEMS & QUILT by Anna Grossnickle Hines (HarperCollins, 2001). Poetry fans and quilt lovers simply must own and will treasure this book, crafted in glorious and loving detail. Opening the cover is like sinking into an exhibit and reading, all in one. Of particular note is a two-and-a-half page spread, The Story Behind the Quilts, which offers an insider's look behind the scenes at Hines and the family tradition that inspired her. Ages 4-up. Read The Story Behind The Story from Anna Grossnickle Hines.
PIGGIES IN A POLKA by Kathi Appelt, illustrated by LeUyen Pham (Harcourt, 2003). A fun, festive celebration of the polka and all things piggie. Wonderful read-aloud for storytime; great for writers looking for examples of rhyme done with panache. Ages 4-up.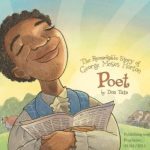 POET: THE REMARKABLE STORY OF GEORGE MOSES HORTON by Don Tate, illustrated by Don Tate (Peachtree, 2015). In the nineteenth century, North Carolina slave George Moses Horton taught himself to read and earned money to purchase his time though not his freedom. Horton became the first African American to be published in the South, protesting slavery in the form of verse. Ages 5-up. More on this author from Cynsations. Compiled from promotional materials.
PRINCESS SMARTYPANTS by Babette Cole (Putnam, 1986). A hilarious twist on the run-of-the-mill tale of what makes a princess happy ever after. Heralded as a antidote to passive "heroines" through the ages. Ages 4-up.
RACHEL CARSON: PRESERVING A SENSE OF WONDER by Joseph Bruchac, illustrated by Thomas Locker (Fulcrum, 2004). This beautifully written and illustrated picture book biography is the story of a nature lover and environmental writer. Recommended for units on writing, science, the environment, strong girls and women. Ages 4-up.

RAH, RAH, RADISHES! A VEGETABLE CHANT by April Pulley Sayre (Beach Lane, 2011). This whimsical picture book offers bright illustrations of vegetables at a farmers' market and accompanying cheerleader-style text. It's terrific fun and provides a great introduction to familiar and obscure vegetables alike. Ages 4-up. Recommendation by Greg Leitich Smith.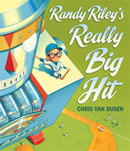 RANDY RILEY'S REALLY BIG HIT by Chris Van Dusen (Candlewick, 2012). Randy Riley knows and loves outer space, robots, and baseball. But he stinks at the latter.  Until one day, he spots a giant meteor barreling toward Earth! Can he bring together all his knowledge and skills (and lack thereof) to save the planet? RANDY RILEY offers whimsical illustrations and a larger-than-life concept, coupled with a text that evokes "Casey at the Bat." Altogether, a fine baseball yarn that hilariously combines America's pastime with big, giant robots. Ages 4-up. Recommendation by Greg Leitich Smith.
RIVER FRIENDLY, RIVER WILD by Jane Kurtz, illustrated by Neil Brennan (Simon & Schuster, 2000). An exquisitely written and illustrated picture book of poems inspired by Kurtz's own family's experience during a flood in Grand Forks. Ages 6-up. Read The Story Behind The Story from Jane Kurtz.
SAM AND THE LUCKY MONEY by Karen Chinn, illustrated by Cornelius Van Wright and Ying-Hwa Hu (Lee & Low 1995). Sam is all ready to spend his money in Chinatown. But maybe buying a thing isn't the best way to use it. A celebration of giving. Amazing watercolor illustrations. Ages 4-up.
SARA'S CITY by Sue Alexander, illustrated by Ronald Himler (Clarion, 1995). Set in 1940, a reminiscent look at life in Chicago. Ages 4-up. Read The Story Behind The Story from Sue Alexander.

SCAREDY SQUIRREL by Melanie Watt (Kids Can, 2006). Scaredy Squirrel feels safe in his nut tree–safe from germs, poison ivy, and sharks. He's prepared for danger with his antibacterial soap, Band-Aids, and parachute. But what happens when he's suddenly forced out of his tree?! A rare funny book about fear. Ages 4-up. Read The Story Behind The Story from Melanie Watt.

THE SEA CHEST by Toni Buzzeo, illustrated by Mary GrandPre (Dial, 2002). Buzzeo is paired with HARRY POTTER illustrator GrandPre in a book that lovingly and poetically captures the stirring magic of a foundling babe who becomes a treasured sister. Maita says: "I longed for a time I might not be the only child the craggy island knew." The time is now. Spectacular, musical, and deeply affecting. Ages 4-up. Read The Story Behind The Story from Toni Buzzeo.

THE SECRET CAVE: DISCOVERING LASCAUX by Emily Arnold McCully (FSG, 2010). Four boys stumbled upon one of the cultural treasures of the world: the Paleolithic cave paintings at Lascaux. THE SECRET CAVE provides a fictionalized account of that discovery–four boys, seeking hidden treasure, find a hidden cave and go exploring…. But how will they keep their find a secret? Story and art are intriguing and suitably evocative: the brightness of the French countryside is contrasted nicely with the mysterious darkness of the caves, and scope of the Paleolithic art is merely hinted at. An excellent introduction to human prehistory. Ages 6-up. Recommendation by Greg Leitich Smith.
SHAKE IT, MORENA AND OTHER FOLKTALES FROM PUERTO RICO compiled by Carmen T. Bernier-Grand, illustrated by Lulu Delacre (Millbrook, 2002). A lively author-illustrator team treats young readers to the songs, riddles, stories, and games of their own Puerto Rican childhood. The colorful illustrations reflect the diversity of the people and the charm of their many traditions. Ages 4-up. Read The Story Behind The Story from Carmen T. Bernier-Grand.

SHARK VS. TRAIN by Chris Barton, illustrated by Tom Lichtenfeld (Little, Brown, 2010). Two boys and their favorite toys. What could go wrong? Barton and Lichtenfeld bring an epic and hilarious battle that will answer, once and for all, who will reign supreme – fish or machine? Witty, colorful, and full of laughs, SHARK VS. TRAIN will appeal to readers of all ages. Recommendation by Greg Leitich Smith.
SIXTEEN COWS by Lisa Wheeler, illustrated by Kurt Cyrus (Harcourt, 2002). A first-rate, down-home, heel kickin' and rockin' romance between Cowboy Gene and Cowgirl Sue (aided in great measure by their sixteen cows). Refrains of "moo!" guarantee a satisfyin' read-aloud for storytime crowds and bedtime stories. Ages 4-up. Read The Story Behind The Story from Lisa Wheeler.
SMACK DAB IN THE MIDDLE by Anita Riggio (Putnam, 2002). A much-needed look at the trials and heart's home of being a middle child in a large, loving but busy Italian-American Catholic family. Ages 4-up.
SMALL BEAUTIES: THE JOURNEY OF DARCY HEART O'HARA by Elvira Woodruff, illustrated by Adam Rex (Knopf, 2006). Darcy notices life's little gems–the spider web, the pebbles–and so it is she who carries with her the most vivid memories, the family heritage to a new land. Ages 6-up.
SNOW PONIES by Cynthia Cotten, illustrated by Jason Cockcroft (Henry Holt, 2001). In this magical text, Old Man Winter opens the stall doors to release the glorious snow ponies who gallop magnificiently across the land, bringing a first snow with each hoof-step. Ages 4-up.
SNUGGLE MOUNTAIN by Lindsey Lane, illustrated by Melissa Iwai (Clarion, 2003). Emma really wants a pancake breakfast, but oh! there's so much between her and that plate. Warm, evocative illustrations. Ages 4-up. Read The Story Behind The Story from Lindsey Lane.

SOAR, ELINOR! by Tami Lewis Brown, illustrated by Francois Roca (FSG, 2010). Debut author and licensed pilot Tami Lewis Brown tells the story of Elinor Smith, who rode her first plane at the age six, in 1918, and fell in love with flying. A decade later, Elinor was the youngest licensed pilot in the country, and up for a challenge: to fly a plane underneath all four of New York's East River bridges. Could she navigate the treacherous wind currents and the shipping and do what no one had ever done before? A fine story of inspiration and hope and accomplishing one's dreams, Brown's elegant prose and Roca's beautiful two-page spreads capture the thrill of flight and make this book soar. Ages 5-up. Recommendation by Greg Leitich Smith.
SUBWAY by Anastasia Suen, illustrated by Karen Katz (Viking, 2004). A mother and daughter take a subway ride that's so much more–a celebration of transit, humanity, urban life. Gorgeously festive. Diverse community. Ages 3-up.
SWORDS: AN ARTIST'S DEVOTION, by Ben Boos (Candlewick, 2008). In this nonfiction picture book, Ben Boos provides extensive descriptions and detailed illustrations of various (most?) swords throughout history. A long-time aficionado of swords, Boos describes the blades themselves, the manner of their making, and their historical contexts. Readers will find themselves poring over both text and images of this fascinating book. Recommendation by Greg Leitich Smith.
TESSA'S TIP-TAPPING TOES by Carolyn Crimi, illustrated by Marsha Gray Carrington (Orchard, 2002). Mice are supposed to scurry, but Tessa likes to dance. Mice are supposed to be cautious, but Tessa loves to dance. Mice are supposed to be wary, but Tessa lives to dance. Will she find her soul mate in Oscar, who lives to cat-er-wahl? Ages 4-up.
THE OTHER SIDE by Jacqueline Woodson, illustrated by E.B. Lewis (G.P. Putnam's, 2001). The story of two girls, one white and one African-American, who don't let a fence stand between their friendship. Simple and beautiful and real and inspiring. Ages 4-up.
THERE GOES LOWELLS PARTY by Esther Hershenhorn, illustrated by Jackie Rogers (Holiday House, 1998). Earl and 'Retta Sue may have their doubts, the weather lore may be against him, but Lowell believes his kin will make it through the storm to celebrate his birthday. Children's books set in the Ozarks are rare, and this one is a gem. Ages 4-up.
THIS IS OUR BABY BORN TODAY by Varsha Bajaj, illustrated by Eliza Wheeler (Nancy Paulsen, 2016). With a loving mama, a trumpeting herd, curious cousins, and even some dancing peacocks heralding this little one's arrival, it is apparent that the joy and wonder a new baby brings is shared by all! Bajaj's lilting prose and Wheeler's enchanting scenes of a wide-eyed baby elephant and its smitten family celebrate the importance of family and community in every child's life. Set in India, this is an endearing, beautifully illustrated tribute to little ones getting their first warm welcome to the world. Ages 2-up. More on this title from Cynsations. Compiled from promotional materials.

THREE ACROSS: THE GREAT TRANSATLANTIC AIR RACE OF 1927 by Norman H. Finkelstein (Calkins Creek/Boyd's Mills, 2008). In the spring of 1927, three teams are gathered with their aircraft to attempt to first non-stop air crossing of the Atlantic Ocean between New York and Paris: the Columbia, owned by millionaire Charles Levine; the America, whose team is led by the famous Arctic explorer Richard Byrd; and, of course, the Spirit of St. Louis team led by the then little-known Charles Lindbergh. Weaving the narrative among participants on all three teams, Finkelstein engages the reader in the challenges and tribulations of the dangerous venture. Although the outcome is never in doubt, THREE ACROSS provides a gripping and suspenseful account of the epic quest, illuminating, in turn, each of perseverance, heartbreak, competitive zeal, and triumph. Recommendation by Greg Leitich Smith.
THROUGH THE TEMPESTS DARK AND WILD: MARY SHELLEY, CREATOR OF FRANKENSTEIN by Sharon Darrow, illustrated by Angela Barrett (Candlewick, 2003). A thoughtful and eloquent look at the life and influences of a groundbreaking author. Shelleys dark fantasy has achieved literary immortality, yet her personal story may be even more compelling. Barretts' beautifully detailed, haunting illustrations are just right. Ages 9-up.
TINY STITCHES: THE LIFE OF MEDICAL PIONEER VIVIEN THOMAS by Gwendolyn Hooks, illustrated by Colin Bootman (Lee & Low, 2016). Vivien Thomas's greatest dream was to attend college to study medicine. But after the stock market crashed in 1929, Vivien lost all his savings. Then he heard about a job opening at the Vanderbilt University medical school under the supervision of Dr. Alfred Blalock. Vivien knew that the all-white school would never admit him as a student, but he hoped working there meant he was getting closer to his dream. As Dr. Blalock s research assistant, Vivien learned surgical techniques. In 1943, Vivien was asked to help Dr. Helen Taussig find a cure for children with a specific heart defect. After months of experimenting, Vivien developed a procedure that was used for the first successful open-heart surgery on a child. Afterward, Dr. Blalock and Dr. Taussig announced their innovative new surgical technique, the Blalock-Taussig shunt. Vivien's name did not appear in the report. Overcoming racism and resistance from his colleagues, Vivien ushered in a new era of medicine children s heart surgery. The compelling story of this incredible pioneer in medicine. Ages 7-up. More on this title from Cynsations. Compiled from promotional materials.
UGLY FISH by Kara LaReau, illustrated by Scott Magoon (Harcourt, 2006). Ugly Fish is a big bully, and as a result, he finds himself lonely in the tank. What will happen when a bigger, meaner fish moves in? According to Kara's flap bio, she "was inspired to write this story after reading an article about childhood bullying," in which it was reported that some kids said they'd thought being mean was "cool." For those who like this picture books with humor and bite. Ages 4-up.
YUNMI AND HALMONI'S TRIP by Sook Nyul Choi, illustrated by Karen Dugan (Houghton Mifflin, 1997). Yunmi accompanies her grandmother to Korea, where her grandmother was born. Korea is exciting, and it's wonderful for Yunmi to meet her relatives. But it isn't home to her. What if Halmoni (grandmother) decides to stay? Ages 4-up.

WABI SABI by Mark Reibstein, illustrated by Ed Young (Little, Brown, 2008). "Wabi Sabi" is the Japanese concept of the beauty of impermanence. In WABI SABI, it's also the name of a cat driven to learn what his name means… Told in haiku and sparse prose, and illustrated in collage, WABI SABI beautifully explores the concept of wabi sabi and is an altogether lovely and elegant picture book. Ages 4-up. Read The Story Behind The Story from Ed Young. Recommendation by Greg Leitich Smith.

THE WAY THE STORM STOPS by Michelle Meadows, illustrated by Roseanne Litzinger (Henry Holt, 2003). In this every-beat-just-right debut picture book, Meadows crafts for young readers the beauty, excitement, awe, scariness, and comfort of a storm. Litzinger's soft art is just right for a rainy day or night. Wonderful and rare multicultural pre-K book with a universal theme. Ages 2-up. Read The Story Behind The Story from Michelle Meadows.

WIENER WOLF by Jeff Crosby (Hyperion, 2011). Wiener dog is bored with life with grandma. What he craves is excitement! But when he answers the call of the wild, he finds out the rebuttal is a little more than he bargained for… With expressive illustrations and a timeless story, WIENER WOLF brings to life one dachshund's quest for self-actualization in this thoroughly fun, hilarious, and engaging picture book. Ages 5-up. Recommendation by Greg Leitich Smith.
WE WANTED YOU by Liz Rosenberg, illustrated by Peter Catalanotto (Roaring Brook, 2002). Parents tell young Enrique how they looked for a child, waited for him. The poetic prose and simple text are sincere and affecting. Ages 4-up.
WESLANDIA by Paul Fleischman, illustrated by Kevin Hawkes (Candlewick, 1999). Wesley, who is lacking in friends, establishes his own nation—complete with staple crop, language and more. A joyful celebration of the power of individuality and a colorfully optimistic battle cry for the geek in all of us. Ages 5-up.

WHALE PORT by Mark Foster, illustrated by Gerald Foster (Houghton Mifflin/Walter Lorraine Books, 2007). In this 64-page picture book, the father and son Fosters explore the history of New England whaling through the fictional town of Tuckanucket, from the earliest European settlers through modern re-gentrification. The book is structured to include an overarching narrative, with breakouts explaining each picture in greater depth. The drawings themselves are incredibly detailed, including many cutaways and perspectives. A fascinating look at a now-defunct era in the history of America and technology. Ages 10-up. Recommendation by Greg Leitich Smith.
WHAT A TRULY COOL WORLD by Julius Lester, illustrated by Joe Cepeda (Scholastic, 1999). How did the world come about anyway? Did God have any input from Shaniqua "the angel in charge of everybody's business" or his secretary Bruce or Mrs. God? Find out! Ages 4-up.

WHEN FISH GOT FEET, SHARKS GOT TEETH, AND BUGS BEGAN TO SWARM: A Cartoon Prehistory of Life Long before Dinosaurs by Hannah Bonner (National Geographic, 2007). Ever wonder what the world was like before the dinosaurs? In this lively picture book, author/illustrator Bonner tellss of the Earth during the Silurian and Devonian periods of the Paleozoic Era, from about 430 million years ago to about 350 million years ago. Filled with fun facts about the evolution of fish, the development of forests, and how animals got feet. A quirky and engaging introduction to the development of life on land. Ages 7-up. Recommendation by Greg Leitich Smith. Read The Story Behind The Story from Hannah Bonner.
WHO TOOK MY HAIRY TOE? by Shutta Crum, illustrated by Katya Krenina (Albert Witman, 2001). Crum's just-scary-enough story of Old Tar Pockets is the perfect cautionary tale. Order a copy now, so you'll have it handy for read aloud come Halloween. Ages 4-up. Read The Story Behind The Story from Shutta Crum.
WILD DOGS: PAST & PRESENT by Kelly Milner Halls (Darby Creek, 2005). An extraordinary look from the ancient miacids (ancestors of cats and dogs) to the family poodle with an focus on the Canidae family. Readers are drawn into the world of the wolf, fox, dingo, and jackal. A feast for the eyes and mind. Ages 7-up. Read The Story Behind The Story from Kelly Milner Halls.
WILLIE WINS by Almira Astudillo Gilles, illustrated by Carl Angel (Lee & Low, 2001). When Willie brings an alkansia, formerly the shell of a coconut to school as a bank, Stan gives him a hard time. But when the moment comes to open all the banks, everyone is surprised that Willie's–which once belonged to his father–holds a historic treasure inside. Ages 4-up.
WONDERFUL WORDS: POEMS ABOUT READING, WRITING, SPEAKING, AND LISTENING edited by Lee Bennett Hopkins, illustrated by Karen Barbour (Simon & Schuster, 2004). A collection of poems that captures the wonder of language in a decidedly multicultural landscape. A triumph; should be required reading for every child. Ages 4-up.

WORDS WITH WINGS: A TREASURY OF AFRICAN-AMERICAN POETRY AND ART edited by Belinda Rochelle (HarperCollins, 2000). A magnificent feast of moving language and colorful imagery. All ages.