This bibliography is drawn from books published between 1995 and 2020. SEE ALSO Middle Grade Realism, Titles L-Z. Our intent is to highlight our own books along with additional titles our readers may enjoy. While some award-winners and bestsellers are included, part of the goal is to feature underappreciated gems. For more recent titles, visit Cynsations.
ALIA WAKING by Laura Williams McCaffrey (Clarion, 2003). Alia, 12, hopes to be chosen as a keenteen, or warrior woman, when she turns thirteen. But then Alia and her best friend, Kay, capture two of the enemy, a boy and girl about their age, and are assigned to care for them in prison. As she gets to know the prisoners, Alia is forced to question her own assumptions and prejudices. A fast-paced adventure for fantasy fans. Ages 9-up. Recommendation by Frances Hill.

ALL OF THE ABOVE by Shelley Pearsall (Little Brown, 2006). Most of the teachers at Washington Middle School are ready to give up, including math teacher Mr. Collins. In desperation, he proposes that his students build the world's largest tetrahedron. Told in alternating points of view of four students, Mr. Collins, and one or two other adults, this is a fun and heartwarming look at a group and community coming together for a cause. Ages 9-up. Recommendation by Greg Leitich Smith. Read The Story Behind the Story from Shelley Pearsall.
AMINA'S VOICE by Hena Khan (Salaam Reads, 2017). Amina has never been comfortable in the spotlight. She is happy just hanging out with her best friend, Soojin. Except now that she's in middle school everything feels different. Soojin is suddenly hanging out with Emily, one of the "cool" girls in the class, and even talking about changing her name to something more "American." Does Amina need to start changing too? Or hiding who she is to fit in? While Amina grapples with these questions, she is devastated when her local mosque is vandalized. Brings to life the joys and challenges of a young Pakistani American and highlights the many ways in which one girl's voice can help bring a diverse community together to love and support each other. Ages 8-12. More on this title from Cynsations. Compiled from promotional materials.
ANGELS ON THE ROOF by Martha Moore (Delacorte, 1997). Shelby tries to unravel the mystery of her father's identity and figure out why her mom, obsessed with Georgia O'Keefe, can't stay in one place. Ages 8-up.
ANYWHERE BUT PARADISE by Anne Bustard (Egmont USA, 2015). It's 1960 and Peggy Sue has just been transplanted from Texas to Hawaii for her father's new job. Her cat, Howdy, is stuck in animal quarantine, and she's baffled by Hawaiian customs and words. Ages 9-up. More on this author from Cynsations. Compiled from promotional materials.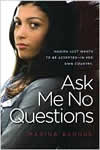 ASK ME NO QUESTIONS by Marina Budhos (Atheneum, 2006). Nadira, 14, has always been the plump one, the less-bright one, the dim light behind the shining star of her older sister Aisha, 18. After September 11, their family of illegal immigrants from Bangladesh seeks asylum in Canada. They are turned away at the border, and Abba (father) is arrested. As time passes and hope grows dim, it's Nadira who must find her voice and make people see her, believe in her–and accept. Ages 10-up. Read The Story Behind The Story from Marina Budhos.

ATTACK OF THE FLUFFY BUNNIES by Andrea Beaty (Amulet, 2010). Eleven-year-old twins Kevin and Joules Rockman have been dropped off at Campwhatsitooya by their parents, who are on their way to an international Spam festival. But instead of a summer of campfires and hiking and ghost stories, they find themselves in the middle of an invasion by big, giant bunnies from outer space! Can they save the earth from the leporine pestilence? A hilarious parody, offering a unique take on the tropes of both horror and summer camp movies. In brief, ATTACK OF THE FLUFFY BUNNIES is the funniest story of attack by giant rabbits since NIGHT OF THE LEPUS. Ages 7-up. Recommendation by Greg Leitich Smith.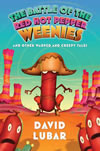 THE BATTLE OF THE RED HOT PEPPER WEENIES by David Lubar (Starscape, 2009). In his fourth Weenies collection, Lubar delivers another set of often funny, sometimes gross, and occasionally creepy Twilight Zone-ish short stories. From red hot pepper battles to spooky amusement park rides to mysterious things that will eat you in the night (and more), the new Weenies stories are guaranteed to amaze and horrify! Ages 8-up. Recommendation by Greg Leitich Smith.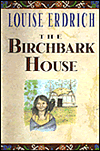 THE BIRCHBARK HOUSE by Louise Erdrich (Hyperion, 1999). Erdrich's answer to the imbalance in the way Native-white relations have historically been portrayed in children's literature. Readers will be engaged by appealing protagonist, Omakayas, educated by this glimpse at Ojibwe daily life, and perhaps inspired to look at history with an eye to different points of view. Elegant writing. Ages 8-12. Look for more books in the series.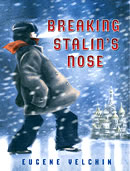 BREAKING STALIN'S NOSE by Eugene Yelchin (Henry Holt, 2011). Ten-year-old Sasha idolizes his father, whom Comrade Stalin himself awarded the Red Banner, for his work with State Security. Tomorrow, when Sasha will finally be allowed to join the Young Pioneers, his father will tie his red scarf around his neck. But that night, Sasha's father is arrested as an enemy of the people, which means Sasha is an enemy, too.  He will never be allowed to become a Young Pioneer and the safe world he thought he knew is gone forever. Chilling, fascinating, and at times horrifying. Ages 9-up. Recommendation by Greg Leitich Smith.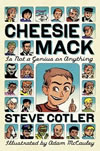 CHEESIE MACK IS NOT A GENIUS OR ANYTHING by Steve Cotler (Random House, 2011). Eleven-year-old Ronald "Cheesie" Mack is on the cusp of graduation from fifth grade. But to get there–and survive–he has to navigate an evil older sister, an idiosyncratic family, a best friend who's hatching a scheme to unleash mice on the school, a graduation party, and mysterious artifacts found in his best friend's basement. Cheesie is witty and his conversational voice and relationships ring true to middle school. Altogether, a fine novel of family, friendship and fifth grade angst and adventure. Ages 8-up. Recommendation by Greg Leitich Smith.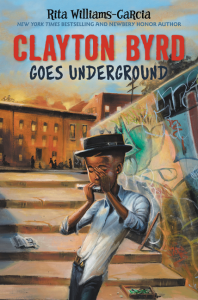 CLAYTON BYRD GOES UNDERGROUND by Rita Williams-Garcia, illustrated by Frank Morrison (HarperCollins/Amistad, 2017). Clayton feels most alive when he's with his grandfather, Cool Papa Byrd, and the band of Bluesmen—he can't wait to join them, just as soon as he has a blues song of his own. But then the unthinkable happens. Cool Papa Byrd dies, and Clayton's mother forbids Clayton from playing the blues. And Clayton knows that's no way to live. Armed with his grandfather's brown porkpie hat and his harmonica, he runs away from home in search of the Bluesmen, hoping he can join them on the road. But on the journey that takes him through the New York City subways and to Washington Square Park, Clayton learns some things that surprise him. Ages 8-up. More on this title from Cynsations. Compiled from promotional materials.
DANCING IN CADILLAC LIGHT by Kimberly Willis Holt (Putnam, 2001). It's the summer of 1968, and the street in front of Racine and Jaynell's house in Moon, Texas, is just about to be paved. Their grandpap leaves his "homeplace" and moves in with the family because they're afraid he's losing it. Grandpap likes to plant sugar cane, is civil to the Pickenses, and likes to visit the cemetery and talk with the occupants. Then he buys a '62 emerald green Cadillac, turns on the headlights for Racine to dance, and teaches Jaynell how to drive…. Ages 8-up.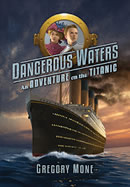 DANGEROUS WATERS: AN ADVENTURE ON THE TITANIC by Gregory Mone (Roaring Brook, 2012). Thirteen-year-old Patrick Waters secured a job as a steward aboard RMS Titanic in a highly unconventional manner. There he befriends a young book collector who carries with him a copy of Francis Bacon's Essaies that just might hold the key to alchemy. Also aboard are a stowaway and his partner, who are trying to secure the volume and the formula for turning base metals to gold for themselves. Can Patrick uncover the plot and divine the secret of the Essaies?  Or is he destined to go down with the ship? Treachery and adventure abound as readers are offered a glimpse into a bygone era. A fascinating look at the most famous shipwreck of the 20th Century, with an appealing protagonist, a richly-drawn setting and, yes, an iceberg.  Ages 9-up. Recommendation by Greg Leitich Smith.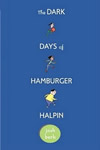 THE DARK DAYS OF HAMBURGER HALPIN by Josh Berk (Knopf, 2010). Will Halpin has left the School for the Deaf for Carbon High. At first, he struggles in his efforts to mainstream himself, warily becoming friends with Smiley, the weirdest kid in school. But then Pat Chambers, the school's star quarterback (and all-around jerk) is killed on a field trip to the local coal mine. Can Will and Smiley solve the mystery? Was it the pot-smoking bus driver? The sexy math teacher? The on-again, off-again girlfriend? Enemies of Pat's father, the casino owner? Or was it the ghost of Dummy Halpin, who died in a mining accident a century ago? Together, Will and Smiley unearth more than they bargained for… A wry mystery that illuminates the social intricacies and mayhem of high school. Will's attempts to both solve the puzzle and become something different are funny and well-wrought and should resonate with anyone who has ever tried to fit in someplace new. Ages 12-up. Recommendation by Greg Leitich Smith.

DARTH PAPER STRIKES BACK by Tom Angleberger (Amulet, 2011). In this sequel to THE STRANGE CASE OF ORIGAMI YODA, a darkness has descended upon Tommy's middle school.  Harvey, determined to prove that Origami Yoda is merely a hoax, brings his own Origami creation: Darth Paper, who is strong with the Dark Side. It's not long before Dwight gets suspended and all the good Origami Yoda did last year appears to be unraveling. Can Tommy and friends save Dwight and Origami Yoda?  Or will Harvey and the Sith prevail? A fun and satisfying follow-up to Origami Yoda, poking gentle fun at middle school angst, school bureaucracy, and the magic of finger puppets. Ages 8-up. Recommendation by Greg Leitich Smith.
DOVE DREAM by Hendle Rumbaut (Chickasaw) (Houghton Mifflin, 1994). In the summer of 1963, Eleanor "Dove" Derrysaw, age 13, is sent to live with her aunt in Kansas. Eleanor comes of age with her first romance, her first job, and a greater appreciation of her Chickasaw heritage while looking to her aunt's life for inspiration. Ages 8-up.

DUST FROM OLD BONES by Sandra Forrester (Morrow Junior Books, 1999). Simone Racine at first envies her lighter cousin Claire-Marie. But then Claire-Marie's Creole father leaves her and her mother in sudden poverty. This triggers Simone's realization that their lighter coloring is at best a mixed blessing as well as also the need to free the enslaved people they're intending to sell. Throughout, Simone struggles with her heritage — black and white — and the contrary rules for those living in between. A fascinating period in New Orleans history. Ages 10-up.
EACH LITTLE BIRD THAT SINGS by Deborah Wiles (Harcourt, 2005). Comfort Snowberger, age 10, and her family "live to serve." As owners of a small-town funeral home, they honor the dead and support those left behind. Comfort has grown-up sensitive but matter-of-fact about death, even when it strikes those she loves most. Her cousin Peach, on the other hand, is a messy, mortifying disaster, a burden and an embarrassment, and her best friend Declaration at times a prickly mystery. Not that Comfort is left to cope alone. She has a family, a whole community behind her, and the world's best funeral dog, Dismay. Ages 8-up. More on this title from Cynsations.
ESPERANZA RISING by Pam Munoz Ryan (Scholastic, 2000). Esperanza Ortega possesses all the treasures a girl could want: dresses; a home filled with servants in Mexico; and the promise of one day presiding over El Rancho de las Rosas. But a tragedy shatters that dream, forcing Esperanza and her mother to flee to Arvin, California and settle in a farm camp. There, they confront the challenges of work, acceptance, and economic difficulties brought on by the Great Depression. Ages 9-up. More on this title from Cynsations. Compiled from promotional materials.

EVERY SOUL A STAR by Wendy Mass (Little, Brown, 2008). Ally, who has lived at the remote Moon Shadow campground for as long as she can remember, is passionate about stars, comets, and asteroids. Bree, beautiful and popular, is on the cusp of (she thinks) a career in modeling and seeks only to maintain herself on the A-list of popularity. Jack, overweight and awkward, just wants to be left alone. But the occasion of the first total eclipse to be visible in the continental United States (in nearly a century) has drawn them (and thousands of others) together at the Moon Shadow campground, run by Ally's parents. Over the next two weeks, the three grow to appreciate each other, the search for exoplanets, and the wonders of the universe. Mass expertly weaves together the threads of the teens' lives and delivers an intricately-wrought story of unlikely friendship, discovering oneself, and star stuff. Ages 8-up. Recommendation by Greg Leitich Smith.

THE FANTASTIC SECRET OF OWEN JESTER by Barbara O'Connor (Frances Foster/FSG, 2010). In this quietly atmospheric short novel, O'Connor tells the tale of Owen Jester, his two best friends, and one nosy neighbor. Not long after Owen finally captures the biggest, greenest, slimiest bullfrog in Carter, Georgia, he hears a mysterious thud and a crash from the nightly freight train. When — in between taking care of the bullfrog — Owen's finally able to investigate, he discovers that a submersible tumbled off the train that night.Which means, of course, that he and his friends absolutely have to get it down to the pond and try it out for themselves…before anyone else finds out. Ages 7-up. Recommendation by Greg Leitich Smith.
F IS FOR FABULOSO by Marie G. Lee (Avon, 1999). Jin-Ha's teachers assume she must be performing amazing well in math class because . . . well, don't all Asian Americans? But in this stereotype-busting story, they're wrong. Jin-Ha is smart, but it doesn't come naturally to her, and having an incompentent teacher just makes matters worse. But when she lies to her immigrant parents about the F on her test, will a bully turn friend? And will Jin-Ha ever manage to set things right? A sweet, fairly quiet, sometimes funny novel. Ages 10-up.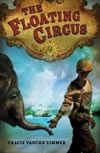 THE FLOATING CIRCUS by Tracie Vaughn Zimmer (Bloomsbury, 2008). Thirteen-year-old Owen and his eight year old brother Zachary are orphans in 1852 Pittsburgh. Not long after the pair are to be sent west on an orphan train (in the hopes that they will be adopted by farm families), Owen falls out of an elm tree and breaks his arm. Fearing he'll be crippled for life, and knowing that under such circumstances he'll be useless as a farm hand, Owen concludes that the only way for Zachary to be adopted is if he leaves. Owen absconds from the train as it's departing and ends up on a giant circus river boat. There, he's befriended by Solomon, a freedman who works as an animal keeper and general custodian/maintenance man. As the boat travels south to New Orleans, Owen is exposed to unexpected cruelties and kindnesses, and his eyes are ultimately opened to the realities of the itinerant circus life (as well as the horrors of slavery), as he comes to realize where he belongs in the world. In this bittersweet novel, Zimmer gives readers an unvarnished and textured glimpse into the world of 1852, as Owen encounters yellow fever, storms at sea, freaks, slave catchers, and auctioneers. The friendship between Owen and Solomon feels real and the characters are developed with virtues and vices alike, as the story builds to a poignant, yet hopeful, conclusion. Ages 8-up. Recommendation by Greg Leitich Smith.
FLYING LESSONS by Kezi Matthews (Cricket, 2002). After LaMarr's showgirl mother literally flies away with a boyfriend, she finds herself living with her supportive uncle and his judgmental wife. Here, LaMarr makes new friends, including a boarder, George McClendon Tyler, who writes pulp westerns, and the enigmatic Truly. A wonderfully character-driven southern story. Ages 10-up.
FREE BASEBALL by Sue Corbett (Dutton, 2006). Felix loves baseball and longs for the day when his father, who's a baseball star in Cuba, will join him and his mother in Florida. When a team with a couple of players who might be Cuban comes to town, Felix takes advantage of being mistaken for the bat boy to stow away in the team bus. Exciting and heartfelt–a home run! Ages 8-up. More on this title from Cynsations.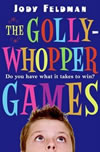 THE GOLLYWHOPPER GAMES by Jody Feldman (Greenwillow, 2008). Gil Goodman knows everything about the Golly Toy and Game Company, thanks in part to the fact that his father used to work there. At least, until the Incident. Now Gil would do anything to get out of Orchard Heights, the company town, and leave the entire Incident behind. His only chance of making that happen, though, is to win The Gollywhopper Games, a competition sponsored by the company and involving stunts, puzzles, and assorted other endeavors related to the company's history. Can Gil win the games and save his family? Imaginative and fun, the puzzles and stunts creative and thought-provoking. Readers will cheer for Gil to win. Recommendation by Greg Leitich Smith.
THE GRAND PLAN TO FIX EVERYTHING by Uma Krishnaswami, illustrated by Abigail Halpin (Atheneum, 2011). Eleven-year-old Dini and her best friend Maggie, both of Takoma Park, Maryland, are tremendous fans of Bollywood movies and, particularly, of the greatest movie star of all time: Dolly Singh. When Dini's parents announce that they're moving to Swapnagiri, India, for two whole years, Dini and Maggie are devastated. The only good thing the two friends can see is that maybe, just maybe, Dini will get a chance to meet the great Dolly Singh herself. So when her family finally arrives in the remote mountain town, Dini sets her plan into motion… Dini encounters monkeys, strangers, representatives of the India Post, and maybe, even, a movie star. Ages 8-up. Recommendation by Greg Leitich Smith.
THE GREAT GOOD SUMMER by Liz Garton Scanlon (Beach Lane, 2015). Ivy Green's mama has run off to The Great Good Bible Church of Panhandle Florida with a charismatic preacher who calls himself Hallelujah Dave. Ivy's been left behind to question her mama, her daddy, and everything she's ever counted on. But with her friend Paul Ivy hatches a plan that will not only rescue the summer but help them both reclaim their faith in the things that are most important of all. Ages 8-12. More on this author from Cynsations. Compiled from promotional materials.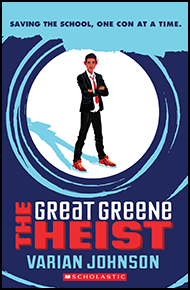 THE GREAT GREENE HEIST by Varian Johnson (Arthur A. Levine, 2014). Jackson Greene has reformed. No, really he has. He became famous for the Shakedown at Shimmering Hills, and everyone still talks about the Blitz at the Fitz…. But after the disaster of the Mid-Day PDA, he swore off scheming and conning for good. Then Keith Sinclair–loser of the Blitz–announces he's running for school president, against Jackson's former best friend Gaby de la Cruz. Gaby hasn't talked to Jackson since the PDA, and he knows she won't welcome his involvement. But he also knows Keith has "connections" to the principal, which could win him the election whatever the vote count. So Jackson assembles a crack team to ensure the election is done right: Hashemi Larijani, tech genius. Victor Cho, bankroll. Megan Feldman, science goddess and cheerleader. Charlie de la Cruz, point man. Together they devise a plan that will bring Keith down once and for all. Yet as Jackson draws closer to Gaby again, he realizes the election isn't the only thing he wants to win. Ages 10-up. More on this author from Cynsations. Compiled from promotional materials.
HUGGING THE ROCK by Susan Taylor Brown (Tricycle Press, 2006). When Rachel's mom runs away from home, she's left to make sense of it with her best friend, the family dog, and her father ("the rock"). This novel in poems is a rare and powerful father-daughter book. Ages 9-up. Read The Story Behind The Story from Susan Taylor Brown.
IN THE SHADE OF THE NISPERO TREE by Carmen T. Bernier-Grand (Orchard, 1999). Teresa, 9, is caught between the mother who wants her to attend an exclusive school as a member of high society, and her father, who doesn't want her to become a snob. Because of her own lies, she runs from her old life, following her mother's wishes, and losing the friend who is dearest to her. This poignant novel, set in 1960s Puerto Rico, is at once the story of one very realized girl and an exploration of the complexity of class and ethnicity. Ages 8-up.
A JAR OF DREAMS by Yoshiko Uchida (Atheneum, 1981). Rinko wishes that she didn't stick out because of her Japanese-America heritage. She wants to be like everyone else. A visit from Aunt Waka and her Japanese lessons and ways changes Rinko's mind about who she is. Set during the depression in California. Ages 8-up.

JULIA'S KITCHEN by Brenda A. Ferber (FSG, 2006). Cara was away, visiting her best friend on the night of the fire. That's why she wasn't at home, why she doesn't have all the answers. Why did her mom and little sister have to die? How could Dad have escaped when they didn't? Why won't he talk to her now? All these years, Cara thought she and God had an understanding. How could He have abandoned her family? As Cara struggles to understand, she realizes what she can do. She can save Julia's Kitchen, the baking business her mom left behind. An honest, heartfelt story of grief, healing, and wrestling with faith. Ages 9-up. More on this title from Cynsations.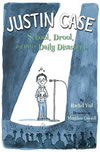 JUSTIN CASE: SCHOOL, DROOL, AND OTHER DAILY DISASTERS by Rachel Vail (Feiwel and Friends, 2010). Justin, about to enter third grade, is nervous, and has much to be nervous about. His sister is starting kindergarten, he didn't get the teacher he wanted, his best friend is in another class, his favorite stuffed animal has gone missing, and there's a monster in the basement. Which may have taken the stuffed animal (which he still cares about, even though he's "too old" for stuffed animals). How will he survive the year? Told in a diary format that brings the reader along with Justin on his third-grade travails, JUSTIN CASE is funny, charming, and heartwarming. Drawings by Matthew Cordell evoke Justin's angst and are a perfect complement to the text. Ages 7-up. Recommendation by Greg Leitich Smith.
JUST PEOPLE AND OTHER POEMS FOR YOUNG READERS & PAPER/PEN/POEM: A YOUNG WRITER'S WAY TO BEGIN WITH POEMS by Kathi Appelt, photographs by Kenneth Appelt (Absey, 1997). Great for teachers and writers of all ages. Ages 8-up.