Gail Giles is the author of SHATTERING GLASS (Roaring Brook, 2002). The delightfully disturbing, sharp-edged novel has generated a bounty of buzz. Guru Patty Campbell has compared it to William Gerald Golding's LORD OF THE FLIES and Robert Cormier's THE CHOCOLATE WAR. This interview was conducted via email in May 2002.
What books did you particularly love as a child?
Early on I loved animal stories. Weepers especially. Later I tended to like things that were unresolved. I liked trying to figure out what happened next rather than have the author tell me everything. And happily ever after kind of books never appealed to me. I have always liked funny books too and later learned to like dark humor.
What did you read as a teenager?
Back in the age of the dinosaur when I was a teenager there wasn't much YA stuff. So after outgrowing the Nancy Drew phase in about fourth grade, I was pushing into some easier adult stuff. My favorite as a teen was LORD OF THE FLIES and TO KILL A MOCKINGBIRD.
Who are some of your favorite authors today?
I'm a Hemingway fan and love Faulkner and Fitzgerald as well. As far as living writers, I love John Irving and yes, Stephen King. James Lee Burke is another favorite because he's a southern writer who SO gets the flavor of the South.
Did you begin writing early or were you a late bloomer? What inspired you to write for children and young adults?
I wrote since fourth grade. I went to Catholic school and tended to do my work at the speed of light then misbehave in class. My fourth grade teacher, a nun, was trying to find a way to direct my energies. She asked me to write a description of a family having dinner, from an ant's viewpoint. I was hooked. It also gave my whole way of thinking a spin. I still tend to look at something, then try to reimagine it from another, unexpected perspective.
Writing for young adults? I taught high school for years and that's who I saw daily, but also I find the age so fraught with possibility. The changes in people are huge and happen in such a tight time span during the teen years. And I think young adults start to see the masks people wear most clearly then—and start forming the person they really want to be.
In the past, you were a teacher. Could you tell us a little bit about that and how it informs your writing?
The things that anger, frighten, soothe and elate teens are totally different from adults. Adults mostly work on the bottom line ethic. How much will this cost me? Teens work from internal sources. That's the thing adults don't get to see. The language, dress, hair styles change rapidly but the attitude of teens I find amazingly constant. If you don't have regular contact with many groups of teens on a daily basis I think it would be hard to see how much things change and how much some things stay the same. I want to write about the things that stay the same.
How would you describe the person you are today?
I'm more cynical than most people. I know how very often people lie and I like to understand why they do. I think I'm a searcher. I love to find out new things. I kind of like to poke things with sticks and look in the dark places. But I tend to find humor in almost anything. But I'm cranky in airports. I don't know why.
Do you have any particular thoughts on the relationship between authors and teachers? What would you like to say to each group?
All teachers are authors. They might not write books but they add to the script of lives. I wish some teachers would take that more seriously. I'm not sure authors should be teachers in their books. Show what you see but don't judge your characters. I think the idea of teaching is that the teacher knows more than the student. An author shouldn't know more than his reader. They should be collaborators.
How would you describe your path to publication?
Long and full of rejection.
What advice do you have for writers just entering the professional children's market?
Submit your manuscript one more time.
Do you think that any particular themes run through your work?
Masks. People not being who they think they are or project themselves to be. Refusing to be a victim. Darkness runs in everyone—how one handles that darkness is what makes them good or evil.
For you, what is the hardest part of being an author?
Not being able to write all the stories that occur to me. There's just not enough time.
What do you love about it?
I love getting the story told. Having someone read it is pretty great too.
Where do you work now? How is the room conducive to productivity?
I'm nomadic. I have a study and I work at a desk a lot, but then I work on a lap top in bed, in the kitchen, on the porch, wherever. But my dogs and cats are always close by. I like to work in noise. I keep the TV on even if I can't tell you what's playing.
What are the challenges of writing upper level young adult novels?
Getting it right. Keeping it fresh. Going to the edge and not toppling over.
What about that audience appeals to you?
I think teens identify more when they read. I want that to happen. Adults stay a bit more removed.
What was your inspiration for writing SHATTERING GLASS?
I was substitute teaching eons ago. Three cheerleaders sat at an art table with a nerd. Male nerd. Less than zero. But from eavesdropping on their conversation I figured out that they kind of liked the kid and were working on a renovation. The kid was going along, but something about him told me that he knew that no amount of renovation was going to make him the prom date of any one of these girls. The evil twin that lives in my head starting thinking about the nerd having an agenda of his own and how that might play out. I also wanted a LORD OF THE FLIES kind of thing too—the power corrupts angle. I didn't even make notes. I wasn't really writing then. But one day, it all came back and I started the book.
What kind of a response has it generated from young readers?
Young readers have been really great about the fact that the book doesn't answer all the questions. It doesn't have a real moral. Things don't get wrapped up in a bow. The other most voiced comment is that the plot is strong but the characters still run the show. I know in literature the buzz is that everything should be about the character but I'm big about plot. You know what—the characters do have to drive the plot, but it has to GO somewhere.
Which character do you find haunts you most and why?
Young. I don't see a lot good happening to him. I think he's badly wounded and will carry scars that keep him from connecting with people on a personal basis. Rob—talk about denial—he's so shallow and won't ever get much better if five years after the killing he can still say he has nothing to do with it.
Which one do you most admire?
Ronna. She's the moral fiber in the book. And you gotta love Coop. He changes the most.
The story has a violent conclusion. Why do you think it's important for young adult literature to include this kind of realism?
I don't know that it's necessary in every book. It was necessary in this one. In my mind, there was simply no other way it could shake out. The next book, DEAD GIRLS DON'T WRITE LETTERS is dark and edgy, but not violent.
The novel has debuted as part of a new line, Roaring Brook. What can you tell us about that experience and RB as a new publishing entity?
This experience has been wonderful. Roaring Brook is headed by Deborah Brodie and Simon Boughton who worked for years with Viking and Knopf. They wanted an imprint where they could be hands on. I feel like I have a home and they have treated me like royalty. And they treat all their authors that way. They have a fabulous line and I think it's going to be wildly successful. Every writer should have a chance to feel nurtured by their house as I have been. I honestly can't think of enough superlatives to describe Deborah, Simon and the whole Roaring Brook experience.
What do you do when you're not writing?
I like to watercolor and am learning to play the guitar. My husband and the dogs prefer me to watercolor. I also read. Lot.
What's up next for your readers?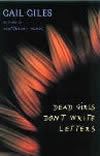 DEAD GIRLS DON'T WRITE LETTERS. I'll just let you muse on the title. It should tell you a lot. It's a suspenseful head trip.