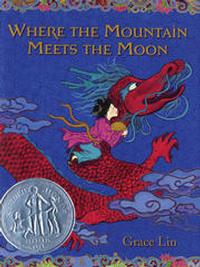 From Cynthia Leitich Smith's Cynsations
"What your child reads sets the path for their own self-worth as well as how they see others. Grace Lin is a children's book author/illustrator whose book, Where the Mountain Meets the Moon (Little, Brown), received the Newbery Book Honor. She shows how the books that are not on your child's bookshelf are just as important as those that are.
"Grace is an author and illustrator of books for children and teens. Where the Mountain Meets the Moon was a NY Times Bestseller and a Newbery Honor Book. Ling & Ting, was honored with the Theodor Geisel Honor.
"Grace's books typically focus on the Asian-American experience. She believes, 'Books erase bias, they make the uncommon every day, and the mundane exotic. A book makes all cultures universal.'"