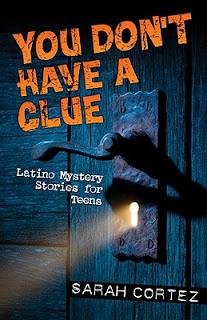 By Sarah Cortez
Rare is the person who doesn't remember his or her first experiences reading mystery.
Whether that person was a younger reader of Encyclopedia Brown or a slightly older fan of the Nancy Drew, Hardy Boys, Tom Swift, Cherry Ames, or Ruth Fielding series, the adult mystery-lover can effortlessly spin a list of a favorite sleuth's appealing qualities in these "juvenile series" books: an explorer's love of action, resolute bravery, independence, clear and logical thinking, a well-developed sense of fairness, a satisfying participation in justice, and firm loyalty to family and friends.
No wonder so many young readers believe these sleuths are "real."
An even more appealing, if not downright magical, characteristic of the mystery story in all its guises is its implicit invitation to each reader to step inside the story and solve the mystery along with the sleuth.
While all types of fiction must engage the reader in the created, i.e. imagined (but not necessarily imaginary), world that the author has written, it is only the mystery which says, "Step inside. Observe. Think. Figure it out."
What could be more engaging? What could be more fun?
And once this invitation is issued, the reader's attention must be kept through a clever plot, good characterization, believable dialogue, and an admixture of obvious and non-obvious clues leading to a satisfying resolution.
As the reader enters the mystery's world, he/she is challenged in a plethora of ways: to remember; to analyze conversation, clues, and personalities; to compare; to rearrange data; to construe; to sift facts; to draw conclusions.
And due to the mystery's intrinsic forward thrust on the page, the reader does all of this without bothering to think of those pesky, formalized "Essential Skills and Knowledge" goals, or their equivalents. Certainly, this is one of the minor miracles of a well-written mystery's interaction with a reader.
For tweens and teens, in particular, the dynamics contained within a mystery make the excitement of reading one both timely and compelling.
Part of this is because a mystery ultimately confirms the solidity of the moral axis of the world. Remember that a mystery demonstrates that violence and crime do not pay, that problem-solving skills based on close observation and thoughtful analysis win the day, and that justice prevails.
Another additional crucial reason why young adults gravitate toward reading mystery is the mirroring of the naturally occurring, age-related upheavals in the teen's life. At which other age are humans confronted with so many apparently unsolvable occurrences, i.e. mysteries, in daily life as when attempting to negotiate the transition from childhood to adulthood? At what other age do the parameters of social interaction, accepted and acceptable behavior, and occurrences of uncertain but intense mood swings weigh so heavily?
So, for the young adult, the pages of a mystery can be comforting due to the sure sense that justice will win and the mystery will be solved. The disrupted world of the sleuth will be normalized.
The pages of a mystery are a safe arena in which to glimpse a teen sleuth acting with more confidence, more bravery, or more independence than is yet available to the reader.
I would also like to point out that the expert mystery writer will leave ample space within the fiction not only for the reader to use logic, but also for the reader to use intuition, thus building on the young reader's previous experience with people and augmenting it.
So as a mystery story works its magic, the reader—again, without knowing it—uses both left brain and right brain hemispheres, responding to the implicit invitation to solve the mystery.
Luckily, many talented authors have created young adult fiction in the mystery genre. Who can resist the loopy, consumer-driven, yet fiercely loyal protagonist Heather Wells, created by Meg Cabot? For other readers, the single-minded, fierce oddity of Robert Cormier's characters in Tenderness (Bantam Doubleday, 1997) will be compelling. Perennial favorites include authors, Joan Lowery Nixon, Wilo Davis Roberts, Caroline B. Cooney, Lois Duncan and others.
Recently, I had the pleasure (and distinct honor) to be able to make an addition to the mystery stories available to the YA reader by selecting and editing the eighteen short mystery stories for You Don't Have a Clue: Latino Mystery Stories for Teens (Arte Público, 2011).
I originally conceptualized the project—the first of its kind—in order to create more resources for the legions of teachers and librarians across the U.S. who constantly ask Latino/a writers and editors for more books for Hispanic teens.
In issuing my challenge to Latino/a authors to write edgy, fast-paced mystery fiction for young adults, I was thrilled to receive compellingly crafted stories showcasing the unique realities and neighborhoods of Latino/a protagonists from the preppy, sophisticated, private school teen to the chubby, loyal and loving, only daughter in Los Angeles' sprawl to the Bronx rapper with a heart of gold.
In closing, I would like to invite you to enjoy the almost infinite pleasures of reading mystery. Thus, I have joined my explicit invitation to the implicit invitation of the mystery story.
The fictional world between the pages is calling you to enter, to observe, to think, to figure out clues, and to solve the mystery right along with the sleuth.
Cynsational Notes
In a starred review, Booklist says of You Don't Have a Clue: "This excellent collection, enriched by a thoughtful foreword by YA scholar James Blasingame, gives faces to Latino teens in a most original way."
Sarah Cortez is the author of an acclaimed poetry collection and winner of the PEN Texas literary award in poetry. She has edited Urban Speak: Poetry of the City and Windows into My World: Latino Youth Write Their Lives, winner of the 2008 Skipping Stones Honor Award. She has also edited Hit List: The Best of Latino Mystery and Indian Country Noir. She is a co-editor for the crime literary journal Lineup: Poems on Crime.
Sarah has been a police officer since 1993. She lives and works in Houston as a freelance editor and writer. She brings her French, Comanche, Spanish, and Mexican heritage to the page and serves as the national treasurer for the Wordcraft Circle of Native Writers and Storytellers.
Sarah graduated from Rice University and holds graduate degrees from UT-Austin and the University of Houston-Central. She has been named a Fellow at the Virginia Center for the Creative Arts and is the only scholar to have been named to two consecutive years of a Visiting Scholar appointment at the Center for Mexican American Studies at the University of Houston.